RECENT DV8 PRODUCT REVIEWS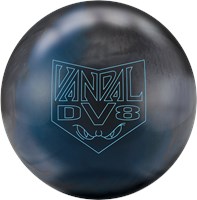 DV8 Vandal
Reviewed:

Saturday, Aug 29, 2015
Reviewer:

Andrew Adler from Tampa,FL
DV8 Vandal
The DV8 Vandal is new territory for the DV8 brand. It has a brand new assymetric cover with a composite pearl coverstock. This combination gives a most bowlers a benchmark-type ball reaction right out of the box. On fresh conditions I see this ball giving me great length with a strong arc motion going through the pocket. It is a ball reaction I didn't have in my bag before. I laid my Vandal out with the pin above the middle finger by about 1 ¾ inch. The cg is udner my ring finger and the mass bias point is right on the right edge of my thumb.… -

Bottom Line:

Yes, I would recommend this to a friend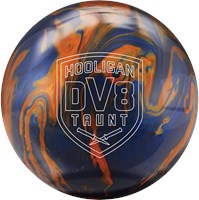 DV8 Hooligan Taunt
Reviewed:

Wednesday, Aug 26, 2015
Reviewer:

dustinbearden from geraldine alabama
Great for dry lanes
If you are looking for a ball to attack dry lanes, The Hooligan Taunt is for you. I have mine drilled with the pin drilled 1 inch above and 2 inches over to the right of the ring finger with the CG 3 inches directly below the pin. The ball is extremely clean through the front of the lane and makes a very controlled motion towards the pocket. The Taunt has fantastic hitting power and you will definitely not be disappointed with how it throws pins around. This ball is consistently 5 to 6 boards weaker than a DV8 Vandal that I own. The Hooligan… -

Bottom Line:

Yes, I would recommend this to a friend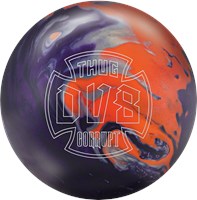 DV8 Thug Corrupt
Reviewed:

Friday, Jul 31, 2015
Reviewer:

Kayla from MN
Maximum Hook!
The Thug Corrupt is a must for anyone looking to maximize their hook and flip potential. This ball features a brand new hybrid composite coverstock and is the most aggressive ball to date. If you loved the Thug than you will love this ball! The Thug Corrupt will be about 2-6 boards more than the Thug and will provide more versatility on higher patterns.
Disclaimer !! The opinions expressed are solely those of the writer and not of the Brunswick -

Bottom Line:
Recent DV8 Product Reviews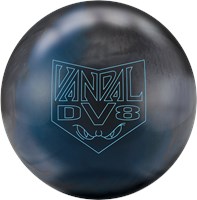 DV8 Vandal
Reviewed:

Saturday, Aug 29, 2015
Reviewer:

Andrew Adler from Tampa,FL
DV8 Vandal
The DV8 Vandal is new territory for the DV8 brand. It has a brand new assymetric cover with a composite pearl coverstock. This combination gives a most bowlers a benchmark-type ball reaction right out of the box. On fresh conditions I see this ball giving me great length with a strong arc motion going through the pocket. It is a ball reaction I didn't have in my bag before. I laid my Vandal out with the pin above the middle finger by about 1 ¾ inch. The cg is udner my ring finger and the mass bias point is right on the right edge of my thumb.… -

Bottom Line:

Yes, I would recommend this to a friend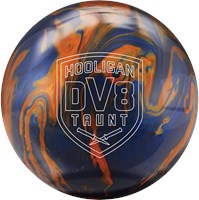 DV8 Hooligan Taunt
Reviewed:

Wednesday, Aug 26, 2015
Reviewer:

dustinbearden from geraldine alabama
Great for dry lanes
If you are looking for a ball to attack dry lanes, The Hooligan Taunt is for you. I have mine drilled with the pin drilled 1 inch above and 2 inches over to the right of the ring finger with the CG 3 inches directly below the pin. The ball is extremely clean through the front of the lane and makes a very controlled motion towards the pocket. The Taunt has fantastic hitting power and you will definitely not be disappointed with how it throws pins around. This ball is consistently 5 to 6 boards weaker than a DV8 Vandal that I own. The Hooligan… -

Bottom Line:

Yes, I would recommend this to a friend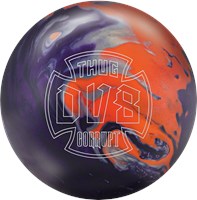 DV8 Thug Corrupt
Reviewed:

Friday, Jul 31, 2015
Reviewer:

Kayla from MN
Maximum Hook!
The Thug Corrupt is a must for anyone looking to maximize their hook and flip potential. This ball features a brand new hybrid composite coverstock and is the most aggressive ball to date. If you loved the Thug than you will love this ball! The Thug Corrupt will be about 2-6 boards more than the Thug and will provide more versatility on higher patterns.
Disclaimer !! The opinions expressed are solely those of the writer and not of the Brunswick -

Bottom Line: