We'd like to offer you $5 off your purchase of $50 or more today!
Coupon excludes instant bonus items, hot deal items, and gift certificates.
900Global Drift
The 900Global Drift is part of their Tour Preferred category of bowling balls. This ball features the Hula symmetric core that provides 5-6" or more of flare potential on the lanes. The S62 hybrid coverstock provides plenty of backend motion for when the oil moves down the lane later in tournaments. 900Global recommends this ball to be used on medium to dry lane conditions.
Color: Black Solid/Purple Pearl

All colors do vary somewhat from the picture shown.

Core: Hula Symmetric
Coverstock: S62 Hybrid
Finish: 1,500 Grit Polished
Flare Potential: 5-6? plus
RG: 2.54 (based on 15# ball)
Differential: 0.054 (based on 15# ball)
A few tiny pit holes in the cover stock of the ball are normal
SKU: GLBBMGDF
Product ID: 10149
Brand: 900 Global
Category: Bowling Balls
Ball Performance: Mid Performance Balls
Back to Top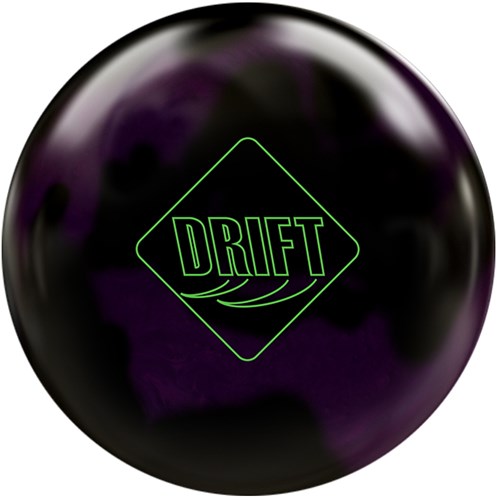 Similar Balls: Same Hook Potential, Lane Conditions & Coverstock as the 900Global Drift.
7/21/2016
By
G-Money
from Irmo SC
Bottom Line:
Yes, I would recommend this to a friend
Drift on down to the Pro Shop and get one of these
Drift
Coverstock: S62™ Hybrid
Finish: 1,500 Grit Polished
Color: Black Solid/Purple Pearl
Core: Hula™ Symmetric
2.54 Radius of Gyration
.054 Differential
Positive Axis point 5 7/16 by 1/4
Layout 5 x 4 x 4

The Drift is the newest release for 900 Global in its Tour Preferred Series! The Drift has a new cover and a new Hula core specially designed for medium to dry lanes! On some conditions I'm able to move considerably left when the lanes are broken down and be able to curve the pattern with ease. Other situations allow me to stay to the right much longer on those wet dry house shots you encounter on a weekly basis. Man does this ball have a nice look to it! The lane must encounter some friction for the Drift to work well..... so the next time you have to Drift left cause the lanes are starting to hook, pull out this ball to use and add more Performance for YOUR game. Greg Thomas 900 Global Staff

11/30/2016
By
thesorce
from Milwaukee, WI
Bottom Line:
Yes, I would recommend this to a friend
Great addition to the Global Line
The 900 Global Drift is a wonderful new release! If you are looking for an awesome benchmark ball that works on just about any condition, this is the one you have been looking for. The S62 Hybrid cover stock knows just how much you need to react to get to the pocket. The other amazing thing with this ball is just how hard it hits. If you miss a little out, the ball does not really roll out, and if you pull it inside a little it retains enough energy to strike consistently as well. I put a rather standard layout on the ball with the pin above my ring finger and slightly kicked out and stacked over the CG. If you can only pick up one new ball this year, make it the Drift. It is a ball that is just as effective on a league shot as it is on a tournament shot.

1/31/2017
By
srbowlr67
from Grafton, Ma
Bottom Line:
Yes, I would recommend this to a friend
900Global Drift
I am a RH Tweener and used a pin down 60 x 4.5. x 30, xtra hole on PAP layout to temper down the backend. My rev rate is around 330, speed 15.5, PAP 5 3/16 rt up 11/16. The Drift S62, 1500 polished, hybrid cover box surface was very smooth on the 38 ft house shot on older HPL using Kegel Ice oil. No squirt on the oil up front, smooth transition with a powerful arc to the pins. Using the Drift in the same house in 2 different leagues I have shot 746 and 762, adjusting a board or 2 left or right during the night. Great for shorter, medium to light volume patterns. For a little more bite up front, scuff a little shine off the ball.

8/1/2016
By
Sean Daniels
from Aloha, Or
900 Global Drift
Ball: 900 Global Drift
Coverstock: S62™ Hybrid
Finish: 1,500 Grit Polished
Color: Black Solid/Purple Pearl
Core: Hula™ Symmetric
2.54 Radius of Gyration
.054 Differential

Drilling: 4 x 4x 4
Pap: 4 3/4 x 7/8 up

Lane Condition: 40 Foot THS
A new core and cover combination, the Drift is a perfect option when the lanes break down and you need to move left and get something that clears the front part of the lane easily and still is able to bounce of the dry down lane. The purple color looks amazing going down the lane and the performance that you will get from this ball is unrivaled.

Compared to the X, the drift is longer and more angular and together they provide a great 1, 2 punch for your bowling needs.

Sean Daniels - 900 Global Staff Player
Aloha, Oregon

1/5/2017
By
Andrew Kenney
from Kansas City, Missouri
Bottom Line:
Yes, I would recommend this to a friend
900 Global Drift
Speed 16MPH
Rev rate 325
PAP 5 ¾ x 3/8 Up
Dual Angle Layout- 50 x 4 ¼ x 40
The Drift is in the Tour Preferred 700 series made by 900 Global. I drilled this ball 50 x 4 ¼ x 40 to give to me medium length with a strong, smooth backend. And boy does this ball do that and more! This ball just refuses to over hook! The Drift has very quickly become my benchmark ball in my bag. It is my first ball out in league because it gives me the right combination of length and continuation needed to score on a house shot. Combining the S62 Hybrid coverstock and the high RG, high differential Hula core gives you a very versatile, mid to late rolling ball with outstanding down lane motion and supreme continuation through the pins. This ball can be thrown on a variety of patterns and still give you the strong and smooth look that you need. This is a must have ball for your arsenal, so what are you waiting for? Get yours today!

Customer

Questions

& Answers

| Reviews