We'd like to offer you $5 off your purchase of $50 or more today!
Coupon excludes instant bonus items, hot deal items, and gift certificates.
900Global Respect Solid
This ball deserves nothing but Solid Respect! The 900Global Respect Solid bowling ball takes the Tetra symmetric core that provides a powerful roll the length of the lane and covers it with the S78 Dig coverstock that creates traction in heavy oil and huge hook potential.
Color: Black/Red/Yellow

All colors do vary somewhat from the picture shown.

Coverstock: S78 Dig Solid
Finish: 4000 Grit
Core: Tetra Symmetric
Recommended Lane Condition: Heavy Oil
RG: 2.49 (15# ball)
Diff: 0.052 (15# ball)
A few tiny pit holes in the cover stock of the ball are normal
SKU: GLBBMGRS
Product ID: 9750
Brand: 900 Global
Category: Bowling Balls
Ball Performance: Upper Mid-Performance Balls
Back to Top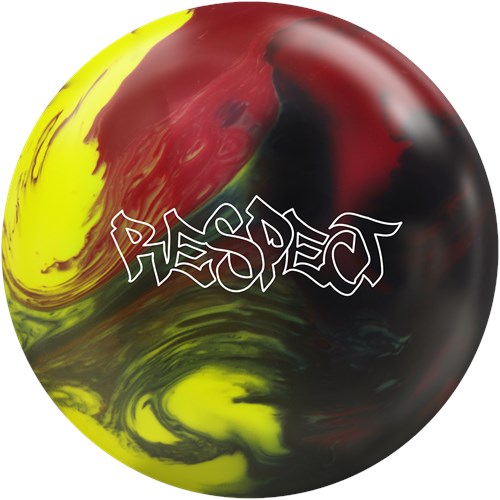 Similar Balls: Same Hook Potential, Lane Conditions & Coverstock as the 900Global Respect Solid.
12/22/2015
By
Kyle Wilkes
from Bellevue, NE
Pros:
Continuous, Predictable, Smooth Arc
Bottom Line:
Yes, I would recommend this to a friend
900 Global Respect Solid is solid!!
Watch video here:
https://youtu.be/EmCzLnZFlhs

Coverstock - 78 Dig Solid
Core - Tetra Symmetric
Finish - NeaT T (4000-grit)
Pin - 3.5"
Layout - 60x3.75"x60
Weight hole - 1.5" below PAP
RG - 2.49
Diff - 0.052
Flare Potential - 5-6"
Condition - 41' THS
Volume - medium/heavy
RH cranker
Ballspeed - 17-18 MPH

HEY! That looks like a Moxie! Yes it does, but this one is rock solid! Introducing, 900 Global Respect Solid. Same Tetra core as the Respect, Respect Pearl and Moxie, with the solid version of the 78 Dig coverstock. What a great way to fulfill the Respect lineup! The layout of the Respect Solid and the Moxie used in the video are the same 60x3.75"x60 dual angle, and show very similar motion characteristics. In reference to the Moxie, the Respect Solid caused a 4-board difference at the feet, and a 2-board difference at the arrows using the same breakpoint of the 10-board at 41' and a 2-board right difference at the pin focal point. 900 Global delivers yet another highly predictable ball movement with superb continual roll through the pindeck. Throw it to earn it! Respect Solid coming soon!

Kyle Wilkes
900 Global/AMF 300/3G Staff Member

12/15/2015
By
Jimmy Casteel
from Evansville, IN
Bottom Line:
Yes, I would recommend this to a friend
Respect Solid review by Jimmy Casteel
Speed 17MPH
Rev rate 450
PAP 4-7/8 and 1/3 up
Axis Tilt 15 degrees
Axis Rotation 30 degrees

Respect Solid 65x5x55
The Respect Solid brings back the Dig 78 coverstock that was on the Moxie. Overall, this ball is very similar to the Moxie, which was my favorite ball in recent memory, so when I saw that 900 Global was coming out with an upgraded version of the Moxie I was excited. The same tetra symmetric core that has been used in this line is still in the Respect Solid, but the cover has been changed to the 78 Dig Solid. This solid version of the 78 Dig will give you plenty of traction in the oil and a very smooth reaction off the backend. When the lanes are flooded and the angles are not wide open, the Respect Solid will be the first ball out of the bag to test the waters. One other aspect of this cover that I loved with the Moxie was that it was very welcoming to surface changes, so this ball could ultimately be your benchmark ball for just about any condition.

1/5/2016
By
Edrock1969
from indianapolis, indiana
Bottom Line:
Yes, I would recommend this to a friend
Another winner from 900Global
The Respect Solid is a ball that can be used on both Sport Patterns and THS. I used it on a Sport Pattern last night that was 40ft, 29ml of oil and 1.6 to 1 ratio. Was able to use it first two games going +80. The combination of the Respect Solid coverstock and core numbers, gives me that blended look down the lane coming off the back of the pattern that I love to see on more difficult patterns. And when ball hits the pocket it keeps the pins low. I have also used this ball on THS, this ball is awesome especially when you need to get inside the oil line when they are wet/dry. This ball also really responds well to coverstock adjustments, the ball was layed out with a 6 inch pin. This whole Respect line can handle any lane condition that is out there! Great job 900global.

1/13/2016
By
MSG Lefty
from Aberdeen, MD
Bottom Line:
Yes, I would recommend this to a friend
You Got to Throw It to Earn It!
Coverstock - 78 Dig Solid
Core - Tetra Symmetric
Finish - NeaT T (4000-grit)
RG - 2.49
Diff - 0.052
Flare Potential - 5-6"
Condition - USBC White

You can never get enough RESPECT! That's right 900 Global has brought back the 78Dig Coverstock to create the RESPECT Solid. This will be your Heavy Oil Ball that digs through the oil, but will give you a smooth and continuous backend reaction. The new solid version of the 78 Dig gives you an earlier mid-lane look with a more backend than the MOXIE. I used this ball on both the USBC White Oil pattern at a 6 game sweeper. My RESPECT Solid is drilled Pin Under the middle finger and CG kicked in. I was able to pitch the ball around 17-18 at the arrows and use 8-9 at the breakpoint and the continuation through the pins is tremendous. As the day went on the stronger the ball got, I shot 796 with a 300 game the last 3 games of the sweeper. I did throw my MOXIE with a similar drilling and I would say that my RESPECT Solid was a 4 and 2 difference overall. The Red/Yellow/Black swirl color scheme will look great and allow you to really get a good look at your ball reaction.

900 Global Performance for YOUR Game!

1/15/2016
By
Spank
from chicago
Pros:
The ball is strong on the fresh oil conditions.
Best Uses:
1st and 2ns game on the fresh
Bottom Line:
Yes, I would recommend this to a friend
900 Global did it again
I got the ball on Tuesday and in my 1st league of play i shot 227, 300, 227 with it.. i just kept moving left and the ball kept hitting..

1/24/2016
By
Duane
from Belpre,OHIO
Bottom Line:
Yes, I would recommend this to a friend
YES
Drilled my Respect solid pin down under bridge which gives me great mid-lane read and a smooth controlled backend reaction. The new Dig reactive cover allows the ball to read the mids with ease. I have used mine on several sport patterns and it gives me the consistantly a good look at the pocket. This ball is very easy to read like its counterpart the Moxie but this one has a liitle more backend reaction. I have also been killing tthe house patterns because the ball reatains it`s energy even when you move left. Bring Performance to your Game get and earn some Respect. Another great ball in the respect line from 900GLOBAL.

Duane Deem
900GLOBAL STAFFER

1/26/2016
By
Donny carr 900 Global Staff
from Ft. Meade md.
Pros:
Great fresh or med to heavy oil ball
Cons:
None
Best Uses:
For all styles
Bottom Line:
Yes, I would recommend this to a friend
The Respect Solid
The Respect Solid
A great compliment to the Respect and Respect pearl. This ball gives the Prime series
that one two three punch. When you have too play too deep with the Respect Hybrid or
it goes a little too long on the condition that you are playing you can jump back into your comfort zone with the Respect Solid. The Respect Solid will tame the condition and give you that even roll and hard arc to the pocket. A great ball to start off your session on medium to medium heavy conditions. Drilled mine at 40x4x40 I'm between a tweener and a stroker, I guess I'm a streener with 15mph ball speed. Get one you won't be disappointed.
Donny Carr 900 Global Staff

2/11/2016
By
JLes
from Atlanta, GA
Pros:
Early Rolling, Heavy Oil Lane Condtions, Smooth motion
Best Uses:
Heavy Oil
Bottom Line:
Yes, I would recommend this to a friend
900 Global's Respect Solid
The Respect Solid is a great addition to my arsenal. Not only is this ball a great looking ball with it's yellow swirl color scheme but the S78 Dig coverstock cuts through the oil providing me with a smooth hook to the pocket in heavier oil conditions. The Symmetric Tetra core transfers energy to the pins generating loads of pin action. With my PAP being a 4 7/8 over by 5/8 up My Respect solid was drilled with a 60x 4 3/4x 40 layout which gives me earlier movement and a continuous motion to the pocket through the deck. The Respect solid is defiantly a great addition to my lineup and was able to use it on fresh and break down conditions. I was recently using this ball on a 45 foot pattern that provided a different look than my Dream Big Solid and gave me more options to attack the lanes.
900 Global Regional Staff

3/29/2016
By
Lawrence
from Lakewood, CO
Bottom Line:
Yes, I would recommend this to a friend
Respect Solid
Respect Solid
Layout
50x4x50
PAP
4"over and 1-3/8" up

The Respect Solid is a very strong symmetric piece. This should be the first ball out of your bag on almost any pattern. This ball can handle almost any amount of oil out of the box and could see even more midlane with 2000 or 1000 grit. I plan on using this ball out of the gates at USBC nationals to break open the outside part of the lane. The smooth motion and hitting power in this ball is a must have. Go out and earn some Respect with the power of solid.

Lawrence Marquez
900 Global Regional Staff Member

4/26/2016
By
G-Money
from Irmo, SC
Bottom Line:
Yes, I would recommend this to a friend
Respect Solid
Respect Solid
Coverstock: 78 Dig™ Solid
Finish: NEAT - T (4000 Grit)
Color: Black/Red/Yellow
Core: Tetra™ Symmetric
Flare Potential: 5-6"
Radius of gyration 2.49
Differential .052

The latest 900 Global ball in the Prime Series is the Respect Solid. It has a definite appealing color combination which will definitely stand out on the lanes with its array of colors. I drilled two of these balls one Pin Up (5 1/2 X 3 X 3 1/2) and the other Pin down (5 1/4 X 3 3/4 X 4). This is by far the strongest symmetrical ball in the 900 Global line and may roll a tad earlier than the cores in the Engineer series (Dream). This ball has continuation in the mid lane and has a strong arcing motion in the back end also. Overall I like this ball a bunch when there is a high load of volume in the front of the lane! The Respect Solid will definitely add some Performance to your game, so don't miss out on this rock!

6/23/2016
By
900 global advisory staff...scott creed
from fort walton beach florida
Bottom Line:
Yes, I would recommend this to a friend
the 900 global respect solid is a smooth beast
i use this ball on fresh oil....around 15 board to 10 and smooth arch and reads the lanes very well crushing the pocket

Customer

Questions

& Answers

| Reviews
Question:
does this ball come in 5 inch plus pin
3/23/2016 - By
Larry W
Have an answer to this question?
Answer:
Hello! You will need to put your exact weight/pin/top weight in the blue box that says "click to request pin/top weight" right under the weight option.
3/23/2016 - By
Bowling.Com Staff
0

of

0

customers found this answer helpful. Did you? Yes | No
Did you find this answer helpful? Yes | No
Thanks for your feedback!
Question:
What name brand ball cleaner best for this ball ?
6/10/2017 - By
RED
Have an answer to this question?