We'd like to offer you $5 off your purchase of $50 or more today!
Coupon excludes instant bonus items, hot deal items, and gift certificates.
Brunswick Absolute Nirvana
Take your bowling game to a state of Absolute Nirvana! The Brunswick Absolute Nirvana bowling ball features the Nirvana Ultra Low RG core and surrounds it with the ECS (Enhanced Composite Segmentation) Hook coverstock. The ECS Hook coverstock technology allows this ball to produce a powerful mid lane motion with great continuation through the pin deck when used on heavy oiled lanes. The core is a single density rounded elliptical inner core that is uniquely created to optimize ball motion and allow various drilling options to gain pin action and higher scores.
Color: Black/Blue/Grey

All colors do vary somewhat from the picture shown.

Core: Nirvana Ultra Low RG (14#-16#)
Coverstock: ECS Hook
Finish: 500, 1000 Siaair Micro Pad
Reaction: Aggressive ball motion
RG: 2.477**
Differential: 0.054**
** RG and Diff are based off of 15 lb. balls
Hook Potential: 275 (scale 10-250)
Length: 95 (scale 25-235)
Breakpoint Shape: Angular
Recommended Lane Condition: Heavy oil
A few tiny pit holes in the cover stock of the ball are normal
SKU: BRU60105833
Product ID: 10030
Brand: Brunswick
Category: Bowling Balls
Ball Performance: High-Performance Balls
Back to Top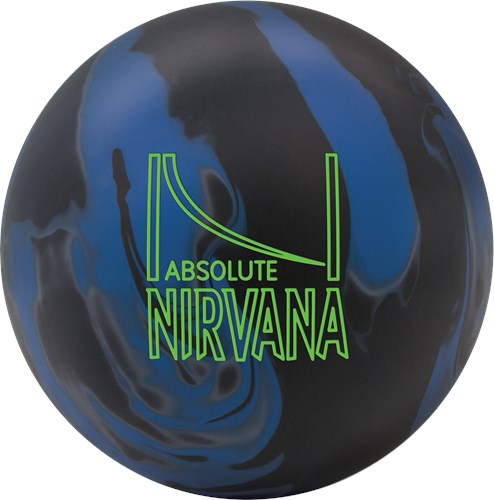 Similar Balls: Same Hook Potential, Lane Conditions & Coverstock as the Brunswick Absolute Nirvana.
8/4/2016
By
Alex
from Richmond va
Bottom Line:
Yes, I would recommend this to a friend
Underrated
Ball is more angular than the original in my opinion, people who like the original will love this one . If you never threw the original I strongly recommend this one , good compliment to the nirvana line .. I also find this ball to be more off the spot than the strategy . Which has a stronger end over end roll for me .

8/16/2016
By
ian
from nyc
Bottom Line:
Yes, I would recommend this to a friend
great piece for heavy oil
If you want a ball that's stong and has a nice predictable roll and backend than this is it. Comparing it to the original Nirvana I would say it hooks a good 4 to 5 boards with a stronger backend motion. By far the most hook Brunswick has to offer. Great for heavy oiled conditions.

8/21/2016
By
Cng260
from Greenville, SC
Pros:
Oil Handling Ability, Pin Carry, Early Hook
Best Uses:
Lower Rev Rates, Oily Lanes
Bottom Line:
Yes, I would recommend this to a friend
The Heavy Oil Ball You Have Been Looking For
BALL SPECS

Pin Length: 3.5"

Starting Top Weight: 2.7 oz

Ball Weight: 15 lbs 4 oz

DRILL PATTERN

Ball: 65 x 5 1/2 x 35

X Hole (if there is one): none

BOWLER STYLE

Rev Rate: 375 rpms

Ball Speed:17.5 mph

PAP/Track: 4 3/4 over 3/4 up

SURFACE PREP

Grit: 500, 1000 Siaair

Type: (Matte, Polish, Sanded): Sanded

LANE CONDITIONS

Lengths of patterns: 41 foot house shot and Shark

Volumes: moderate to high

Type: house and sport

BALL REACTION

Length: Clean through the heads with an aggressive midlane motion

Back End: Strong arc

Overall Hook: Strong

Midlane Read: aggressive

Breakpoint Shape: hard arc

COMMENTS

Likes: Overall hook and strength

Dislikes: none

The Absolute Nirvana is clearly the strongest ball in the Brunswick line. It appears to somehow retain more energy while hooking just as soon as the original. The Absolute is about 2 and 1 stronger than the original Nirvana and 4 and 2 stronger than the Ultimate Nirvana.. The ECS Hook coverstock grips the lane early and often. This ball recovers well from out of bounds areas and finishes well at the pins. If you are looking for help getting the ball to hook soon enough or are encountering heavier volumes of oil, this ball is the answer!

8/31/2016
By
Ry
from Fort Wayne, IN
Pros:
Hits like a truck, Strong Solid Assym that doesnt quit
Best Uses:
Longer Patterns, House Shot, Heavy Oil
Bottom Line:
Yes, I would recommend this to a friend
AMAZING
For being such a strong dull asymetrical ball this absolute has no quit in it! I can use this on the longer patterns and patterns with more volume and rolls great which is what its supposed to do. but i can also move in to the 4th arrow on a house shot and let it wheel. Ive never had anything this strong on oil that i can just let loose on a house shot and have it still make the corner and hit so hard. Was extremely impressed and happy with this ball!

9/7/2016
By
Ryano's Pro Shop
from Rocky Mount, VA
Bottom Line:
Yes, I would recommend this to a friend
Ultimate Nirvana is an Ultimate Beast
Drilled Ultimate with a 45 x 4 1/4 x 60 layout. Very predictable breakpoint in heavy oil conditions. Was recently used on the De@d Man's Curve pattern and from fresh through breakdown this ball read the lanes very well. Once the pattern broke down you could get in and bank it off 10-12 and it smashed the pins with ease. Carried corners extremely well. Overall very impressed with this bowling ball. Brunswick has definitely created a monster for the heavy/wet oil patterns.

10/21/2016
By
Jones
from Bloomington, IL
Bottom Line:
Yes, I would recommend this to a friend
Best/Strongest Ball I've thrown
The Absolute Nirvana might be the most angular sanded asymmetrical ball I've ever thrown. This ball hooks in all the right places. I drilled this ball 4 x 45, which puts the pin above the ring finger and the MB just to the right of my thumb. For a sanded ball this ball retains it energy and gets through the front part of the lanes very well and retains its energy and makes a good backend turn down the lane. The difference that I see with this ball vs other strong sanded asymmetrical bowling ball is the way it continues throw the pins. I hardly ever see this ball roll-out. I'm looking forward to using this ball on longer/heaver oil patterns.

Jason Jones
Pin Action Pro Shop
Bloomington, IL
Brunswick Regional Staff

1/11/2017
By
Jake Johnson
from Green Bay, WI
Bottom Line:
Yes, I would recommend this to a friend
First ball out of my bag
I absolutely love my absolute Nirvana! This ball is a hook in a box but extremely controllable. This is the first ball I grab out of my bag to start when I know there is enough oil. I watch other struggle to get back to the pocket but there's never that chance with this ball! I promise you that you can not go wrong with this Nirvana! Get yours today!

1/26/2017
By
groberts /#brunswick/radical/dv8 staff
from sapulpa oklahoma
Bottom Line:
Yes, I would recommend this to a friend
Brunswick absolute nirvana
Really smooth ball great pin action very predictably. Dilled mine pin under ring finger cg out 2inch weight hole five inch to right and 1 inch up had big games right out of box.

5/16/2017
By
Zadie
from Colorado Springs, CO
Bottom Line:
Yes, I would recommend this to a friend
Absolute Nirvana
This product packs a lot of power out of the box. Rolls well on heavy oil patterns

Customer

Questions

& Answers

| Reviews