We'd like to offer you $5 off your purchase of $50 or more today!
Coupon excludes instant bonus items, hot deal items, and gift certificates.
Brunswick Edge Blue Pearl
The Brunswick Edge series of bowling balls features a low RG symmetric weight block. The Edge Blue Pearl combines this core with their Relative Pearl coverstock. This pairing creates a ball reaction with exceptional length, angular backend motion, and strong hitting power when used on medium oiled lanes.
Color: Blue Pearl

All colors do vary somewhat from the picture shown.

Coverstock: Relativity Pearl
Core: Edge Low RG Symmetric (14-16#)
Finish: 500 Siaair / Crown Factory Compound
Hook Potential: High 205 (scale: 10-250)
Length: Medium 120 (scale: 25-235)
Breakpoint Shape: Angular
RG: 2.537 (for 15# ball)
Differential: 0.050 (for 15# ball)
A few tiny pit holes in the cover stock of the ball are normal
SKU: BRU60105907
Product ID: 10479
Brand: Brunswick
Category: Bowling Balls
Ball Performance: Mid Performance Balls
Back to Top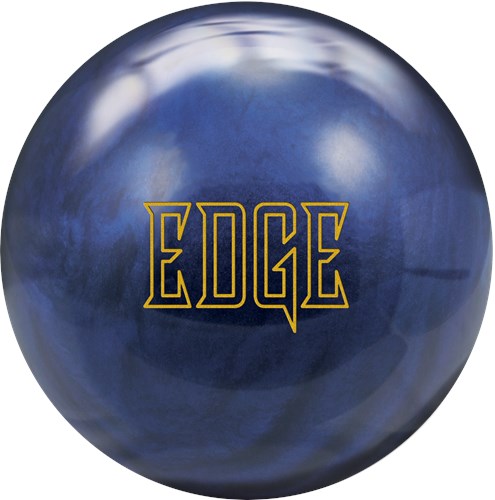 Similar Balls: Same Hook Potential, Lane Conditions & Coverstock as the Brunswick Edge Blue Pearl.
4/6/2017
By
Josh Lapham
from Fort Leonard Wood
Pros:
Great Length and Recovery, THS, Sport Shot, Flat Pattern
Best Uses:
Good for any bowler and style
Bottom Line:
Yes, I would recommend this to a friend
Edge Pearl is just like thhe Jab but cleaner
Edge Pearl 75x3 3/4x30
Edge Solid 75x3 3/4x30

Axis Tilt :13 deg
Pap: 4 1/8x 1/2 up
Rev rate: 440
Speed:16 mph off hand

THS ( 42ft @27.7 mil of oil )

I drilled the Pearl and Solid the exact same, and the pearl gave me more length and later breakpoint that was a quick response to Friction however, it was very controllable. It is a great ball to go to after the solid is hooking a little to early and you don't want to make a move. You know that the pearl will give you the length and recovery that you are looking for. On this shot I had room to the right as well as room to the left if I tugged it. I was very pleased how the balls went through the pin deck and were very controllable.

2016 Nationals Team pattern:

These ball allowed me to play up the board on the right side for a long period of time with room for error if I got a little slow or fast with my speed. For the pattern being flat I was extremely pleased with the motion I got that was easy to control and make adjustments. I was able to chase pattern in and play 20 to 15 and ball gave me great reaction that if I missed it left me makable spares.

Please do your self and go pre order yours at your local Proshop or go to In The Pocket Proshop in Gainsville Fl and come see me.

4/7/2017
By
Justin Knowles
from Okemos,MI
Bottom Line:
Yes, I would recommend this to a friend
Get The Edge On The Competition
Layout: Full Roller, length and backend; Specs: 18 mph, 500 RPM; Lefty Two-Hander
Melee Jab fans rejoice! The Edge Pearl brings back everything that was loved about the Jab and more. Very easy length through the fronts and mids, and a controllable, angular motion off the spot. This pearl will allow you to open up the lane and kick the corners out when the Edge Solid is a bit too early. I had a lot of success on both patterns with this ball, on the house shot allowing me to throw it to the dry and get it back, but also on the high volume sport pattern I tested as well allowing me to keep my angles in front of me when my Edge Solid was too early to do so and keep a high strike percentage. The Edge Pearl will definitely be a staple on house patterns and on breakdown on sport patterns. I also compared the Edge Pearl with my Fanatic Pearl, and found that the Edge Pearl is about 3-2 less and less angular, allowing me to switch to it when the Fanatic was too sideways off the end of the pattern. Very readable and controllable, yet still a strong pearl at a great price point!
-Justin Knowles, Brunswick Regional Staff Member

4/17/2017
By
Ian L
from nyc
Bottom Line:
Yes, I would recommend this to a friend
great ball
The edge pearl is a perfect compliment to the Solid version. When the solid starts to hook early and not turn the corner, the pearl would be the go to ball. Its extremely clean through the front part of the lane with a strong backend. If you liked the Melee Jab, you would love this ball! It has the same core with the new Relativity pearl coverstock.

4/19/2017
By
Mike SIpple
from Cumberland MD
Bottom Line:
Yes, I would recommend this to a friend
Edge Pearl!
BALL SPECS
Pin Length: 2 - 3
Starting Top Weight: 3.0 oz
Ball Weight: 16

DRILL PATTERN
Pin to PAP: 3.5

65 x 3.5 x 50

BOWLER STYLE: RH - Stroker – slightly speed dominant
Rev Rate: 360-390
Ball Speed: 16-17
PAP/Track: PAP: 5 13/16" and 3/4" up

SURFACE PREP
Box Finish: 500 Siaair / Crown Factory Compound
BALL MOTION
The Edge Blue Pearl combines our Relativity Pearl coverstock with our proven Edge low RG symmetrical core for a reaction very similar to our highly popular Melee Jab. The Edge Blue Pearl provides outstanding length, angular backend motion, and excellent hitting power on medium oil lane conditions.
COMMENTS
I drilled the edge pearl with a shorter pin to my PAP. I shortened the pin to my PAP because I have trouble with pearl covers giving me a big over under. I love the reaction I get with this ball. If you like the Melee Jab you will love this ball.


Mike Sipple
Brunswick/DV8/Radical Regional/Amateur Staff

4/25/2017
By
Brian "YETI" Rigler
from philadelphia
Bottom Line:
Yes, I would recommend this to a friend
New must have ball
Wow. Yes you must have this ball. Melee Jab fans there's a new ball in town. This ball I would say is 1-2 boards more then the jab smoother and a pinch earlier in the midlanes with great backend. This is very controllable and predictable off the press I went and bowled a tournament and game 3 with the ball shot 300. Very easy to get lined in with this ball and know consistently this ball will react the same shot after shot. The Edge Solid and Edge pearl are a great combo to have in the bag.

4/27/2017
By
Matty
from Wisconsin
Bottom Line:
Yes, I would recommend this to a friend
If you loved your Melee Jab you need this Ball
60x5-1/2x40
This edge Pearl performs very similar to the Jab but i would say it is a little cleaner through the fronts for me but could be pattern specific. Other than that it is a spitting image of the Jab. Great Piece for many conditions.

5/5/2017
By
cng260
from Greenville, SC
Pros:
Predictability, Sport Conditions, Value, Straighter angles
Best Uses:
Anytime control and predictabilty are needed
Bottom Line:
Yes, I would recommend this to a friend
The Edge of Value!
Pin Length: 2

Starting Top Weight: 3 oz

Ball Weight: 15 lbs 2 oz

DRILL PATTERN

Ball: 35 x 5 x 65

xhole: small hole high on the VAL

BOWLER STYLE

Rev Rate: 375 rpms

Ball Speed:17 mph off hand

PAP/Track: 4 3/4 over 3/4 up

SURFACE PREP

Grit: 2000 Siaair with polish

Type: (Matte, Polish, Sanded): Polished

LANE CONDITIONS

Lengths of patterns: 41 foot house

Volumes: Moderate

Type: house

BALL REACTION

Length: Long through the heads with a smooth backend

Back End: strong arc

Overall Hook: aggressive

Midlane Read: very strong

Breakpoint Shape: strong arc

COMMENTS

Likes: Easy length and predictability

Dislikes: none

The Edge Pearl is a smooth and predictable ball with good length. It is a good compliment to the Edge Solid and earlier midlane reacting balls like the Fanatic SS. I find it to be best used when there is friction up front and I need a softer move on the backend. For me it is about 5 and 2 right of the new Edge Solid on a house shot and about 4 feet later. The Edge Pearl is a great ball for playing more direct angles up the lane. If your looking for a ball to play straighter angles l and to stay near the friction on house conditions or to control the breakpoint on tougher shots, the Edge Pearl is a great choice.

Customer

Questions

& Answers

| Reviews
Question:
is the edge pearl asymetrical
5/3/2017 - By
skip
Have an answer to this question?
Question:
Can the factory crown finish be changed to 500/1000
7/2/2017 - By
Golfer
Have an answer to this question?