We'd like to offer you $5 off your purchase of $50 or more today!
Coupon excludes instant bonus items, hot deal items, and gift certificates.
Brunswick Nirvana
Take your bowling game to a state of Nirvana! The Brunswick Nirvana bowling ball features the Nirvana Ultra Low RG core and surrounds it with the ECS (Enhanced Composite Segmentation) coverstock. The ECS coverstock technology allows this ball to produce more friction and a wider sweet spot to eliminates the need for a lot of adjustments. This technology also produces a quicker refresh rate and an extended performance life for the coverstock. The core is a single density rounded elliptical inner core that is uniquely created to optimize ball motion and allow various drilling options to gain pin action and higher scores. This ball is finished with a 1500 grit Siaair Micro Pad that gives it length through the front of the lane, awesome midlane traction and exceptional backend continuation on medium to oily lane conditions.
Color: Red, Blue & Violet Solid

All colors do vary somewhat from the picture shown.

Core: Nirvana Ultra Low RG (14#-16#)
Coverstock: ECS (Enhanced Composite Segmentation)
Finish: 500, 1500 Siaair Micro Pad
Reaction: Easy length, mid lane traction, continuous backend
RG: 2.531**
Differential: 0.054**
** RG and Diff are based off of 15 lb. balls
Hook Potential: 250 (scale 10-250)
Length: 110 (scale 25-235)
Breakpoint Shape: Angular
Recommended Lane Condition: Medium-Heavy Oil
A few tiny pit holes in the cover stock of the ball are normal
SKU: BRU60105754
Product ID: 9440
Brand: Brunswick
Category: Bowling Balls
Ball Performance: High-Performance Balls
Back to Top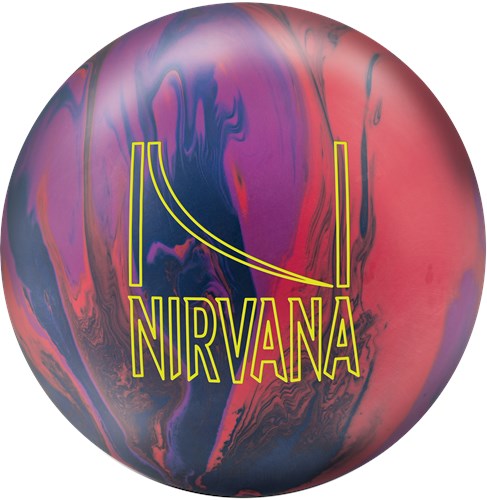 Similar Balls: Same Hook Potential, Lane Conditions & Coverstock as the Brunswick Nirvana.
9/16/2015
By
PremierBowlersProShop
from Westland, MI
Pros:
High performance, Backend, Great quality, Heavy Oil Lanes, Long Lasting, Hooks, Easy to drill
Cons:
Dry lanes
Best Uses:
Leagues, Coast To Coast, Down And In, Open Bowling, Tournaments
Bottom Line:
Yes, I would recommend this to a friend
This Ball Hooks!
The Nirvana is probably the strongest ball I've thrown to date. No matter how far I threw it out it always seem to have enough energy to come back. Compared to other asymmetrical solid bowling balls I've thrown this has the best recovery and most continuation through the pins! Perfect ball for heavy oil lanes!

9/20/2015
By
Tim Gillick
from Fairfield, CT
Pros:
Color, Midlane, Continuous, Hook, Backend
Best Uses:
Medium Revs, High Revs, Low Rev, Heavy Oil, Sport Shots, Medium Speed, High speed
Bottom Line:
Yes, I would recommend this to a friend
#HookIt
This ball is the real deal! After having mine for a couple weeks, I can't get it out of my hands!

Mine is drilled 70 x 4 1/2" x 35. I've thrown it on a couple different patterns: fresh house shot, fresh 2010 PBA Viper, and second shift house shot.

On the fresh house shot, the Nirvana was awesome. With our high volume, I usually lean towards throwing balls that roll earlier, but as they break down and I move towards the middle of the lane, the early rolling balls don't have enough "giddyup" to drive through the pins. The new NIRVANA reads the mids but turns and goes through the pins the exact same as it did when I started. For shiggles, I even tried standing in the left gutter and really flipping my hand around it to see if I can go coast-to-coast. The Nirvana just didn't stop! I can't emphasize enough how much this ball drives through the pins.

On the old Viper, I was very impressed that the Nirvana was still able to play. On that 37' version of the Viper, straighter angles are best, especially on the fresh. I wouldn't have thought a big hooking ball would do the trick, since they usually force me to open my angles. With a hand position that allows me to roll a little more up the back, I was able to stay in the area between 5-10 and control the pocket and still get great power and drive through the pins. I continued to use it all four games, making small 2 & 1 moves, and finished high in our sport league on the night by more than 70 pins.

The second-shift house shot is the only place I found the slightest bit of trouble with it. This league follows a women's league that primarily throws plastic balls down the middle of the lane. By the time we get on the lanes, a good chunk of oil is sitting right in front of the headpin, forcing people to play right and using the oil there as their hold area. At the beginning of the night, the story is the same; the Nirvana rolls great on the lane and drives through the pins. When the track area starts to hook from the increased lineage, the strong cover and asymmetric core are a little too much off the friction, but there is too much oil in front of the pocket. The best plan of attack is to try and stay to the outside as long as possible and keep using the plastic-ball carry-down, so when the Nirvana starts reacting too strongly, switching to a Vandal and staying put is a better bet.

The Nirvana is going to be THE choice for strokers, crankers, and everybody in between. We all want a ball that picks up, goes, and continues through the pins. This is IT and you need to have one.

9/26/2015
By
JaredWolf
from Lowell, AR
Best Uses:
Tournaments, Long oil, Heavy Oil
Bottom Line:
Yes, I would recommend this to a friend
Tons of Hook and Plenty of Downlane Motion
Bowler's Stats:
Speed: 18.5-19 mph
Rev Rate: 425-450 rpm
Axis Rotation: 30-60 degrees
Axis Tilt: 5-7 degrees
Ball Layout: 45* by 5" by 45*

Initial Thoughts: Based on the literature, I knew the Nirvana would be close to the top of my bag based on overall hook potential. The new ultra-low RG core plus the new ECS cover at 1500 grit means that this ball will be a go-to for longer and heavy volume patterns.

On the lanes: In the first few shots, it was obvious the Nirvana is just as advertised; loads of hook with more than enough of it coming downlane. I've yet to bowl on a pattern that would truly let me stick with the Nirvana for more than just a game as my league patterns around here are not very heavy and/or on softer lane surfaces. That being said, while tinkering around in practice I've seen great reaction so long as I keep in in the oil as long as possible. For the most part this means playing about 5th arrow out to about 10-11 at the breakpoint. Since even our fresh house shots aren't that forgiving from that angle, I can't wait to throw it on some real length and volume. Compared to the Radical Guru Master (layout of 45* by 4.5" by 70*) the Nirvana has similar overall hook potential just with more of it coming from further downlane. Hence if you find the Guru Master to be a little too rolly later in sets, I'd suggest you take a good look at the Nirvana. Compared to my Mastermind Einstein, the Nirvana is a good 3-4 boards move inside if I want to project the ball out to the same breakpoint. Therefore if you love your Einstein but are looking for a little more reaction on heavier oil then the Nirvana is also the answer here.

Closing Summary: With all of the buzz surrounding the Nirvana, it does an amazing job of backing it up. It's a super strong overall ball motion with plenty of downlane motion that is truly rare for such a strong asymmetric. Mine will be traveling with me quite a bit for longer and heavier patterns and I already plan on getting another one and drilling it pin down to allow me to play a little straighter to start out. Simply put, the Nirvana is a no-brainer if you're looking for an insanely strong ball that provides a more complete ball motion.

10/23/2015
By
Andrew Adler
from Tampa, FL
Bottom Line:
Yes, I would recommend this to a friend
First ball out of my bag!
Layout: Pin over bridge, CG kicked out to give 3/4 oz side weight. MB about 1 inch to the right of the thumb.

The Brunswick Nirvana really sets the tone for the new technology they're putting into their coverstock formulations. I have rarely seen a High Performance bowling ball have such forgiveness. It's clean through the fronts, drives really hard off the breakpoint and goes through the pins strong. I pull this ball out for game 1 in all of my leagues, at 3 different houses on 3 completely different lane surfaces. The motion is very controllable. The low RG and high differential core in this ball really shines when paired with this new ECS cover tech. Make sure you keep up with a cleaning regimen on this ball; it does get lane shine fairly quickly. It hasn't affected ball motion for me with 50 or so games on it, but it definitely gets shiny after 15 games or so.

11/12/2015
By
bowlingbubba
from Dallas, TX
Awesome
League Average: 225 PAP: 5 x 3/4 Ball Speed: 17 mph Style: tweener Bowling Hand: Left Handed Rev Rate: 390

What can I say the ball hits like a mack truck. The ball gets through the heads clean with good continuation in the mid lane. The back end though. Holly cow. the ball makes a right turn and keeps going. Throw it on one lane and strike on the lane next to it. No loss of hitting power or drive with this ball. I went with a neutral layout with the CG in the center of grip with the pin at 12 o'clock mass bias in my thumb. Simply put, this ball is an absolute monster. I have been able to use the Nirvana on a variety of conditions. I have not found a part of the lane I can not play with this ball. This ball is another winner for Brunswick and is now my bench mark ball. When you throw this ball you will be in Nirvana.

1/11/2016
By
Chris H
from Cincinnati, OH
Bottom Line:
Yes, I would recommend this to a friend
Nirvana = Sublime Choice!
Left handed, 15 mph, ~400 rev rate, PAP 4 1/2" over 1/2" up, drilled Nirvana 50*x5x35*.
The Nirvana is one of only 2 non-Radical bowling balls I have drilled in the past 2 1/2 years. This ball provides a shape I have not seen in any bowling ball in quite some time. Mind you, I am used to seeing Guru's curve a lot and maintain exceptional energy through the pins, this Nirvana is just sick! I have adjusted the cover to 4000 wet sand. As you know, some balls/drillings help you play straight, others help you curve the ball when the situation requires it. This is a ball that can cover some boards! I also have drilled a DV8 Vandal that allows me to move right and open the lane. When I move out of the Vandal's "sweet spot" and need to make a ball change, straight to the Nirvana I go and adjust a few boards as needed, boom time, right back to putting 10 back.
Brunswick, DV8, Radical are all making the absolute best covers right now, hands down. Variety to give a bowler everything they need and this happens to suit anyone who wants/needs to cover some boards to knock over a lot of pins. Don't just believe me, research some of the scores that have been posted with this ball. It really is special.

1/25/2016
By
Brunswick Bowler
from NC
Bottom Line:
Yes, I would recommend this to a friend
Brunswick Nirvana
The Brunswick Nirvana is one of my favorite Brunswick balls to date. It gives you length through the front of the lane with massive movement in the mid lane continuing throughout the backend.

10/1/2015
By
Kayla
from Minnesota
Bottom Line:
Yes, I would recommend this to a friend
Brunswick Norvana
The Brunswick Nirvana is a must have for any arsenal. The Nirvana is a very strong ball, but it can still get the heads cleanly and conserve a ton of energy for when it gets down lane and power through the pins. I recently used mine on the PBA Viper pattern and was more than impressed; I know that this ball will be making an appearance at almost every tournament that I compete in! This is a must have and this ball does not disappointment especially on longer or heavier oil patterns. The ball motion and ability of this ball to perform was more than I expected and it will impress you as well! Make sure you add a Nirvana to your arsenal!
The opinions expressed are solely those of the writer and not the Brunswick Corporation.

10/19/2015
By
Brandon Hinderer
from York, PA
Best Uses:
Heavier Oil
Bottom Line:
Yes, I would recommend this to a friend
More continuation and longer lasting coverstock
DRILL PATTERN

Ball # 1 Dual Angle Layout: 45 x 5 1/2" x 70, X Hole: P3, down on val; Surface: 1500, Royal Compound
Ball # 2 Dual Angle Layout: 75 x 5" x 45, X Hole: none; Surface: 1500, 4000

BOWLER STYLE

Rev Rate: Higher, between 370 and 410 rpm, aka Cranker
Ball Speed: 16.50 mph
PAP/Track: 5 3/8" over and 7/8" up with a high track

BALL REACTION

Length: 7.5 / 10, at least 40 feet before starting to hook
Back End: 9 / 10, Stronger than previous releases with more continuation
Overall Hook: 9 /10, Stronger backend motion but not early hook
Midlane Read: 7 / 10, Doesn't pick up early
Breakpoint Shape: 8 / 10, Stronger snap on the backend

The new composite coverstock technology combined with a brand new core gives this ball a stronger motion compared to the mastermind series. The cover takes well to surface adjustments and will not absorb oil as quickly allowing it to perform longer in between oil extractions with a revivor or detox machine. This ball doesn't start up early and retains energy for any style of bowler.

Ball # 1 (45 x 5 1/2" x 70) - I used this ball in box condition for a few games, and found it to be too strong of a motion with my rev rate. I put royal compound over the box finish, and it still had the strong motion downlane with continuation but allowed it to get through the front of the lane better. Now, I am able to use it on different lane conditions. Even with a pin down drilling, this ball still goes 40 - 45 feet before starting to hook.

Ball # 2 (75 x 5" x 45) - I drilled this one to go to when my pin down Nirvana starts hooking too much. Like the pin down one, I changed the surface to 4000 because the box was too strong for my rev rate. At 4000, it allows me to use it when the lanes start to break down and I need to move deeper on the lane but still have a strong downlane motion. I used this ball in league on a THS, and my low game the past 2 weeks is 213 with a 702 & 729 series.

If you are looking for a longer lasting, stronger backed motion, more continuation, versatile ball for heavier oil conditions, then the Nirvana is the ball for you!

10/20/2015
By
Brunswick bowler
from NC
Bottom Line:
Yes, I would recommend this to a friend
Nirvana
The nirvana is great for medium to high volume lane conditions! It is a lot stronger than the mastermind that it replaces. It allows you to stay in the same part of the lane for longer periods of time and it will also allow you to create your own area! I highly recommend this ball.

11/1/2015
By
Troy
from Neenah, WI
Bottom Line:
Yes, I would recommend this to a friend
Nirvana
Nirvana

With its new ECS coverstock Brunswick has developed one of its most impressive bowling balls to date. Along with this cover is the creative low rg asymmetrical core is designed to optimize the ball motion with several drilling options. Are you sick of your bowling balls losing their performance too soon? The new cover will allow for longer performance life, and the ability to respond effective to ball surface changes and alterations. This ball is incredibly predictable with the hook potential completely maxed out. This ball will hook in anything, there isn't enough oil to hold this ball. Its very impressive and predictable ball motion allowing every bowler to make quick and easy adjustments from its very predictable reaction.

I drilled my Nirvana 75 x 4 1/2 x 60. This caused the pin to be below which I really like because I think it matches the natural characteristics of the ball. However with the cover and core combination this ball is one of the most versatile ever for multiple drilling options.

Troy Schaefer
Brunswick Regional Staff Player
#bowlwithbruns #teamBrunswick

11/11/2015
By
Jon
from Newport News,VA
Bottom Line:
Yes, I would recommend this to a friend
Nirvana!!!
Hands down one of the best balls Brunswick has come out with!!! If your in the market for an aggressive ball that still gets down the lane this is the ball for you. This ball is suitable for all types of bowling abilities and styles not just one set of skills. The new ECS (Enhanced Composite Segmentation) coverstock is Brunswick's hottest innovation in performance enhancing technology. So if your looking for a ball on medium to heavy oil the Brunswick Nirvana is absolutely the one for you.

11/28/2015
By
Roger
from Oxon Hill, Maryland
Bottom Line:
Yes, I would recommend this to a friend
THIS BALL HOOKS
The new Brunswick Nirvana features a Ultra Low RG core with ECS (Enhanced Composite Segmentation) coverstock which
allows this ball to produce more friction and a wider sweet spot to eliminates the need for a lot of adjustments.

To take advantage of the aggressive RG/core combination, I drilled my ball 85 x 2 1/4 x 30 with no weight hole. This ball is clean thru the front, revs strong in the midlane and moves from the spot with a quick and aggressive motion. This ball covers a lot of area really quick and is very forgiving. For me, this ball does not deflect much and carries even the lightest of hits. This ball would be a welcome addition to your arsenal if you are looking for strong movement on your oily house condition or sport shot.

Roger Harley Jr.
Brunswick Advisory Staff
USBC Bronze Coach
IBPSIA Advanced Pro Shop Technician

12/6/2015
By
Rick
from Oxford,Pa
Bottom Line:
Yes, I would recommend this to a friend
Own more then one.
This is just what I was looking for in a ball.Brunswick's technology in cover stock and core matching is getting better and better with each ball.I love the way this ball reads the mid lane.And even with some carry done I get a true reaction.I am able to open up the lane and use different angles to the pocket with this ball while I watch others struggle to find a ball that will work for them.I highly recommend this ball for house shots to tournament play.You won't be sorry.

Customer

Questions

& Answers

| Reviews
Question:
will ball work for a fullroller
6/6/2016 - By
1300
Have an answer to this question?
Answer:
Yes, this ball will work for any bowler needing a ball to read the midlanes well and have a strong backend continuation on medium to heavier oil patterns. Most balls will have a drill pattern designed to work for full rollers which should help this ball work for your style.
6/10/2016 - By
Bowling.Com Staff
1

of

1

customers found this answer helpful. Did you? Yes | No
Did you find this answer helpful? Yes | No
Thanks for your feedback!
Question:
can you Polish this ball?
5/2/2017 - By
walleye
Have an answer to this question?