We'd like to offer you $5 off your purchase of $50 or more today!
Coupon excludes instant bonus items, hot deal items, and gift certificates.
Brunswick Soul Solid
The Brunswick Soul Solid uses the CPTv2-Control coverstock and the Soul Medium RG symmetrical core to provide continuous and controllable hooking motion on medium oil conditions. This bowling ball is finished with Brunswick's Royal Compound which allows it skid through the front of the lane then grip the mid-lane for a consistent breakpoint. This ball matches up well with rev dominant and slower ball speed players.
Color: Black Smoke Solid

All colors do vary somewhat from the picture shown.

Coverstock: CPTv2 - Control Reactive
Core: Soul Medium RG (14-16#)
Finish: 500 Siaair Micro Pad, Royal Compound
Hook Potential: Medium
Length: Medium
Breakpoint Shape: Medium
RG: 2.583 (15# ball)
Diff: 0.041 (15# ball)
A few tiny pit holes in the cover stock of the ball are normal
SKU: BRU60105726
Product ID: 8905
Brand: Brunswick
Category: Bowling Balls
Ball Performance: Mid Performance Balls
Back to Top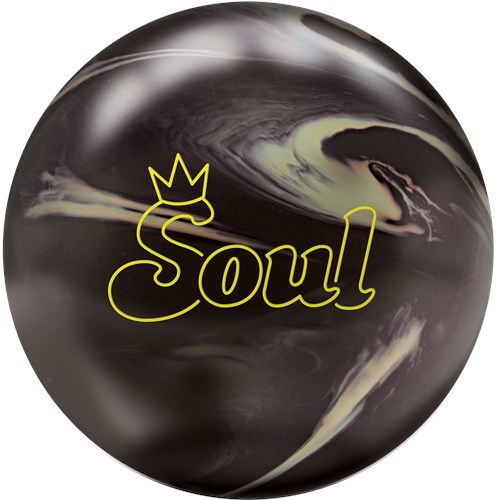 Similar Balls:
These have the same Hook Potential, Lane Conditions and Coverstock as the Brunswick Soul Solid.
4/28/2015
By
Greg
from Fresno, CA
Bottom Line:
Yes, I would recommend this to a friend
All New Brunswick Soul
LANE CONDITION

Length:Multiple Patterns

Volume: Varying Volumes

Type (THS, Sport Pattern etc):
THS and Sport

COMMENTS

Likes: Clean ball motion through the front with strong continuous motion through the pins without loss of downlane energy

I drilled the New Brunswick Soul with a 60 x 5.5x 40 layout. The Soul for me is a different motion than its predecessor in the ringer solid. Providing me with a cleaner motion through the front where the blue solid ringers tended to dig too early up front and lose too much energy too fast. I enjoy the ability with the soul to know that with my high rev rate the ball will not come off the spot too fast but will provide a strong continuous motion through the back part of the lane. This is to me is one of the balls strongest points. The new soul fits well into the Brunswick arsenal and for me is weaker than the Gold Rhino and earlier than the Brute. I see this ball fitting seeing a lot of time on the lanes in El Paso at the open Championships with the amount of friction there this year or perfect for controlling the house pattern at your local center .

Greg Geering
Brunswick Regional Staff Member

** "This review is my opinion and does not necessarily reflect that of the Brunswick Corporation."

5/4/2015
By
steven
from va
Bottom Line:
Yes, I would recommend this to a friend
best entry level ball out
My brunswick soul and soul mate have the exact same lay out with 45X4X45. I've been looking forward to throwing these new pieces as I loved the ringer line and these will be replacing that line. The soul was very similar to the solid blue ringer to me it push through the heads so well and still gives me amazing backend with great continuation through the pins. My soul is definitely strong off the spot than the soul mate for me. I drilled the soul up last week and have already shot 4 games with 11 strikes a game. If you are looking for something with a lower price point that will give you the reaction of the high end stuff the is the ball for you

5/8/2015
By
full_roller
from Macomb, MI
Bottom Line:
Yes, I would recommend this to a friend
Control the Back Ends!
The all new Brunswick Soul, with its control reactive coverstock, easily gets down the lane and has a very controlled and predictable back end motion. This ball at Brunswick's affordable price point is a fantastic piece for lots of conditions, especially those league conditions that tend to get really wet dry in the 2nd and 3rd games. This ball will tame that back end directional motion once it reaches the dry part of the lane, while other more aggressive balls will read that spot much too sharply. Even though it is a controllable ball, it doesn't sacrifice any hitting power either. If you haven't been to the USBC Nationals yet in El Paso, TX, you need to drill one of these up to take with you. The pattern out there is extremely tough, and you will need something smooth to control that pattern, and this is one ball that will help with that because of its predictability. This ball was especially good through the transition in El Paso after the first game and a half of doubles, when my LT-48 started reading a few feet too soon. After the ball change, I never needed to switch balls again though doubles or singles.

6/11/2015
By
sharkbite
from Cocoa, FL
Bottom Line:
Yes, I would recommend this to a friend
"Holds the line at 13-14 MPH"
The Brunswick Soul hits hard. I`m striking on shots that used to leave the 4 or 10 pin. First game I used it was on a very dry lane. I sent 6 shots out to the 1 board & they all came back: 5 strikes and 1 9 pin.

6/30/2015
By
piquabowling
from Brookville, Ohio
Pros:
Hook For The Price Point, Great benchmark ball
Best Uses:
Med-heavy
Bottom Line:
Yes, I would recommend this to a friend
Get Some Soul
Are you looking for a ball that is a great benchmark ball? Are you looking for a ball that has a lot of hook for a cheap price point? Drill up this the New Brunswick Soul. The Soul is the newest ball taking over the Ringer line which was a successful brand at Brunswick. I drilled my Soul Rico and I was so impressed how this ball got so clean thru the heads and still had a ton of energy and hitting power going thru the pins. This ball is the first out of my bag every time I go bowl my league since it is so predictable. So if you need some soul go get the new Brunswick Soul.

7/22/2015
By
Doug M.
from Anchorage, AK
Pros:
Versatile, Great price, User friendly
Best Uses:
Beginners, Medium to light oil, Tournaments, League, Recreation, Amateurs
Bottom Line:
Yes, I would recommend this to a friend
Great Price
I drilled my soul with one of my more typical pin up layouts (5" pin to pap with 40 degree VAL angle). The Soul is a very unique ball at this price point. It rolls much like a higher end midline piece for me. With this layout and box finish, it was pretty strong down lane. I used it mostly on fresher patterns so it tends to store a fair bit of energy when there is a good amount of volume which can make it a little less predictable. I don't think 41' heavier pattern I typically shoot on is ideal for this ball as it is just too clean with box finish. But as the center I bowled in transitioned to their "summer" pattern at 37' and medium volume, I found the Soul to give me the strong motion I would see out of a high end ball as if I were on heavier conditions. In this case, it was very predictable and better suited for this type of lane condition.

As for comparing this ball to other releases in the line, I'd say it's comparable to the LT-48, but a little less overall and more abrupt motion downlane. I think with the right surface this ball could be very versatile. Overall, its definitely a great ball for the price point. It introduces more of a high performance shape/hook potential for transitioning conditions versus trying to switch into typical entry-level type balls. This will still give you the confidence and reliability you would expect with high-end equipment at a fraction of the cost.

8/14/2016
By
Rif
from Phoenix, AZ
Bottom Line:
Yes, I would recommend this to a friend
I'm a Soul man.
I got Soul, for my birthday. It looks really cool. 50x4x45 layout.

My game is about 14.5 mph, medium rev. I have to intentionally snap a little bit more rev on it, to get it to do what I want, (which is fine.)

Love this ball. Steady, predictable, constant curve toward the pocket. Hits hard, all the way through the back. Rare 7's or 10's left. Ridiculously fun value, for such a low priced ball.

I'm a Soul man.

5/2/2015
By
sethc2013
from oxford, al
Bottom Line:
Yes, I would recommend this to a friend
get some soul!
If you are looking for a ball for drier to medium lane oil conditions, then this is the ball for you! This ball is extremely smooth and continuous. I really can see myself using it on many different patterns and playing different parts of the lane. It looks to be extremely versatile. So even if you are a rev dominant player and need something more controllable check out the new soul!

Brunswick Advisory Staff, Seth Carden

Customer

Questions

& Answers

| Reviews