We'd like to offer you $5 off your purchase of $50 or more today!
Coupon excludes instant bonus items, hot deal items, and gift certificates.
Brunswick True Nirvana
Take your bowling game to a state of True Nirvana! The Brunswick True Nirvana bowling ball features the Nirvana Ultra Low RG core and surrounds it with the ECS (Enhanced Composite Segmentation) Hook Pearl coverstock. The ECS Hook Pearl coverstock technology allows this ball to produce a powerful backend ball motion on oily lane conditions. The pairing a broader sweet spot with a stronger backend motion this should allow the user to require few adjustments, increase entry angle, as well as higher scores.
Color: Black/Chrome/Gold Pearl (Some balls may have a little pink hue in the swirl pattern)

All colors do vary somewhat from the picture shown.

Core: Nirvana Ultra Low RG (14#-16#)
Coverstock: ECS Hook Pearl
Finish: 500 Siaair/Crown Factory Compound
Reaction: Strong Backend Motion
RG: 2.477**
Differential: 0.054**
** RG and Diff are based off of 15 lb. balls
Hook Potential: 220 (scale 10-250)
Length: 125 (scale 25-235)
Breakpoint Shape: Angular
Recommended Lane Condition: Medium to Heavy Oil
A few tiny pit holes in the cover stock of the ball are normal
SKU: BRU60105875
Product ID: 10408
Brand: Brunswick
Category: Bowling Balls
Ball Performance: High-Performance Balls
Back to Top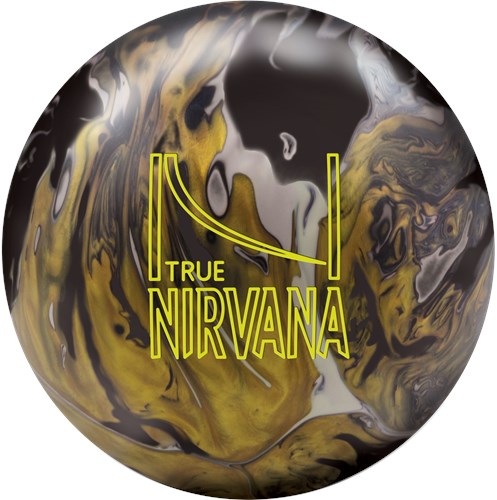 Similar Balls: Same Hook Potential, Lane Conditions & Coverstock as the Brunswick True Nirvana.
2/27/2017
By
Eric Wagner
from Brookville, Ohio
Bottom Line:
Yes, I would recommend this to a friend
Best Pearl Asym.
I haven't really liked Asym balls that much, but recently the R&D at Brunswick has me loving them more and more and they didn't disappoint on this ball. The True Nirvana is the pearl I was missing in my lineup. The True Nirvana gets down about 3-5 feet longer then my favorite Asym Ball in the Ultimate Nirvana but still has the energy to change directions down lane to crush the pocket in carry. If you are looking for a ball that is strong and goes long this is the ball for you.

2/15/2017
By
bowlingbubba
from Terrell Texas
Bottom Line:
Yes, I would recommend this to a friend
Simply Awesome!!!
League Average: 220 PAP: 5 x 3/4 Ball Speed: 17 mph Style: tweener Bowling Hand: Left Handed Rev Rate 400 Pattern: THS Med oil, Seoul sports shot

The Nirvana line is one of the best ball lines I have seen so far from Brunswick. The way these balls get through the heads is remarkable. The True Nirvana is so clean through the front part of the lane and makes its move in the mid-lane and the back end reaction is phenomenal. Good recovery and no loss of hitting power or drive with this ball. I went with a 70 x 4" x 25 Simply put, this ball is an absolute monster. I have been able to use the True Nirvana on a variety of conditions. Weather it is thrown on a house shot or a sports shot. I have found no difficulty getting it to the pocket. This ball is another winner for Brunswick and one everybody should have in there bag. It is becoming my benchmark ball.

2/28/2017
By
Joshua Lapham
from Fort Leonard Wood
Pros:
Has wide area of forgiveness, Keeps pins low to the deck, This things has great pin carry and forgiveness.
Best Uses:
Meadium/ Heavy Oil, Sport patterns, Typical House Shots
Bottom Line:
Yes, I would recommend this to a friend
True Nirvana brings the pain
Bowlers Stats:
Rev Rate: 440
Axis Tilt: 13 deg
Speed: 17mph off hand
Track: Medium track player

True Nirvana 55x3 3/4x30

I love the way this ball clears the fronts, and gets in a good mid lane read and just unloads on the back. This is a great pearl heavy oil ball that has great continuation. I liked this ball the best on sport patterns.

Chameleon Pattern:
This ball was amazing on this pattern and gave me a lot of room to the right. This ball cleared the fronts beautiful and read the pattern in all the right spots and always seems to exit the pattern on 20 board no matter how are left I moved. This things has great pin carry and forgiveness

THS: 42ft with 27 mil of oil

This ball was a must stand right and get it left on this shot. With that being said for me and my style it reached the best when I keep my angles tight. If I swing the ball to much I was not able to get ball to go thorough pins where I wanted it. I drove the the head pin off the left wall to take out the 9 pin from behind. This things has great pin carry and forgiveness.
Video Submitted by Reviewer:

3/29/2017
By
Brian Green
from Batavia, NY
Bottom Line:
Yes, I would recommend this to a friend
Get a True Nirvana, Don't be caught without one
Bowler Specs:
Left Handed
Rev Rate 450
Ball Speed 18mph
Axis Tilt 14 degrees
PAP 5 over ¾ up

Ball Specs:
Pin 3-4
Top 3oz
Pin 2-3
Top 2.5oz

I drilled 2 True Nirvanas 1st was drilled 75x 5.5x60 pin under middle finger cg in palm with no x hole. 2nd was drilled 55x4.5x45 pin over ring cg kicked out with p3 x hole.
True 1 is a great addition to bag as a step up from my benchmark danger zone... It clears the fronts with ease and has a very similar look on the lanes as my danger zone but it checks up just a touch sooner and as about 3 more boards down lane as compared to my danger zone.
True 2 is also a great addition to my bag. This true comes into play when I need to open up the lane and need recovery down lane but my Mastermind Brainiac creates too much angle. The Pin up True Nirvana reads about a foot sooner on the lane than the Brainiac and still creates enough angle to snap out the corners from inside. For me I throw the Brainiac on lighter volumes of oil and the True Nirvana on heavier volumes.

To sum it up, Get a True Nirvana and put your favorite layout on it and will be a favorite in your bag.... If you've been on the fence about drilling a Brunswick ball and can't decide what ball to drill, The True Nirvana is your ball...

5/2/2017
By
Norman E
from Toledo Ohio
Bottom Line:
Yes, I would recommend this to a friend
So impressed I've got two
Love the reaction very continuous very strong for a pearl I just couldn't believe it I had to get another one

Customer

Questions

& Answers

| Reviews