We'd like to offer you $5 off your purchase of $50 or more today!
Coupon excludes instant bonus items, hot deal items, and gift certificates.
Columbia Tyrant
Don't be afraid to be a tyrant on the lanes with the Columbia 300 Tyrant bowling ball. This ball takes the proven success of the Reflex Solid coverstock and takes it up a level by adding Columbia's Hypershock Technology. Hypershock Technology (HST) is a material that enhances the energy of the bowling ball by reducing recoil off the pins and retains energy. This coverstock will easily cut through heavy oil. The core in the Tyrant produces control, continuation, and versatility by combining a low RG, high differential, and medium mass bias. Those pins won't know what hit them!
Color: Black/Yellow/Blue

All colors do vary somewhat from the picture shown.

Core: Tyrant
Coverstock: Reflex Solid with Hypershock Technology
Finish: 500/2000 Abralon
Reaction: Powerful Overall Hook
RG: 2.48**
Differential: 0.056**
** RG and Diff are based off of 15 lb. balls
Recommended Lane Condition: Heavy oil
A few tiny pit holes in the cover stock of the ball are normal
SKU: COLSMTYRANT
Product ID: 10340
Brand: Columbia
Category: Bowling Balls
Ball Performance: High-Performance Balls
Back to Top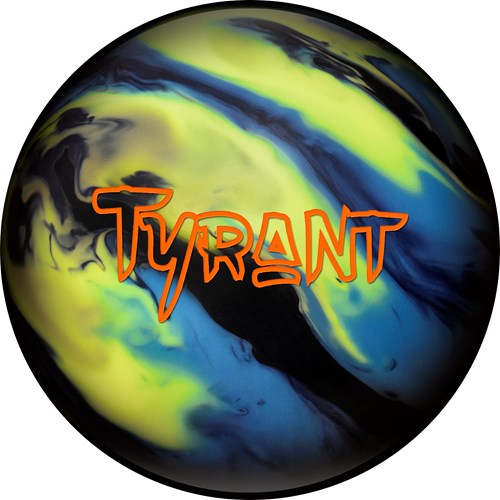 10/25/2016
By
Jay S
from DE
Bottom Line:
Yes, I would recommend this to a friend
power and control
truly something different. Ball for med-heavy. Duller ball that gets down the lane easy. myself being more of a rev dominate player it goes a couple more feet further downlane than expected before it turns. The shots I hit up on by mistake still don't over react. Power and control out of this ball.
ebonite staff
usbc silver coach

11/14/2016
By
Chuck T.
from White Hall, MD
Bottom Line:
Yes, I would recommend this to a friend
You have to have this one in your arsenal
I have found this ball to be very useful when I have push at the pocket. Being a senior, I sometimes get caught up in the wash from all the high rev bowlers and have found the Tyrant gives me that extra movement through the pocket that I need. Depending on your preferred lane play, the Tyrant will be a welcome addition to your arsenal.

11/28/2016
By
Ryan
from Kansas City, MO.
Pros:
Carry, Looks, Handles Transition, Versatile, Overall Hook
Best Uses:
Anything that you want to open the lane up on, Sport Patterns, Longer Patterns, Medium Patterns
Bottom Line:
Yes, I would recommend this to a friend
A Difference Maker on the Lanes!
I don't know if I have ever had a ball so strong that can also handle the transition of oil throughout a night and not lose energy and hitting power as the night goes on. I love to use aggressive equipment due to my speed and medium revs. The Tyrant is perfect for me to give me enough hook to compete with the heavy handers but also blends so well as the shot breaks down so that I can continue to use it most the night! The Hypershock is such a game changer and I wish I had it in every ball!

1/6/2017
By
BEGER
from Evansville,IN
Bottom Line:
Yes, I would recommend this to a friend
Very aggressive
This is a really strong piece to put in someone's arsenal. Tried mine on a few different house shots with ProLane and HPL surfaces. Based upon my ball speed (14-15) and rev rate (low end tweener) I had trouble matching up. If I squared up it took off too soon. If I opened up the lane it rolled out/didn't continue based upon my previously mentioned speed and rev rate.
However, I can see this piece being used by bowlers with higher ball speeds and or higher rev rates. For me, on a house shot, it was just too much ball. If you're one of the previously mentioned bowlers, this should be a great add if you're looking for a strong asymmetric piece or you're a tournament bowler that hits some really heavy patterns.
Brian Eger
Ebonite Advisory Staff Member

11/15/2016
By
Michael Thompson
from Sarasota, FL
Pros:
Looks amazing, Heavier Medium Lane Patterns
Bottom Line:
Yes, I would recommend this to a friend
Strong Rolling Ball from C300
The Columbia 300 Tyrant offers something different from the C300 line ~ STRONG w/ CONTROL motion for on heavier medium to heavy lane patterns. Various Ebonite International staffers have been using the new Tyrant at the Fall Swing and 2016 US Open in Las Vegas and I can see why this ball has been one of the favorites by them. This ball is a heavy rolling piece and offers great control where you need it, in the mid-lanes. For me this ball is a touch earlier than the Paradox with a smoother continuation down the lane. This ball is about 4-6 boards stronger overall than the C300 Raw Urge which is quite impressive. I am really enjoying the motion that I see with this ball and will be in my bag for future tournaments for sure! This ball matches up well with various styles of bowlers that have thrown this ball so far.
The new C300 Tyrant will be a great ball for the heavier medium / heavier lane patterns that offers a clean motion through the fronts with a strong controllable ball motion off the spot down the lane.
A very versatile ball… You will be impressed!

12/19/2016
By
Stefanie Johnson
from TEXAS
Bottom Line:
Yes, I would recommend this to a friend
Great for Medium to Heavier volume
Hey y'all.... Stefanie Johnson here.... this ball is all that it is hyped up to be. I was a little skeptical with the colors and how it would look going down the lane but it has not been an issue for me. I utilize this ball mostly when I am on a fresher medium/heavier volume pattern where I can keep my angles shut down and play the lanes to my strengths. I have not had a lot of success opening up my angles with this ball, however many higher rev players would say the opposite. As I mentioned, this ball is best used for me to keep my angles shut down to account for a smooth even reaction on higher volume patterns. Definitely has a place in my bag!

11/15/2016
By
Mark Trgovac
from Youngstown Ohio
Great heavy oil ball.
This ball is nothing short of Awesome on Long and or heavy oil patterns. I have been using it on Badger and have had the look out of anyone in my sport league. It hooks, it hit, it just flat out PERFORMS.

1/10/2017
By
Daston300
from Louisville, KY
Bottom Line:
Yes, I would recommend this to a friend
Going to need some oil for this one!
If you're looking for lots of hook, then this may be the ball you need. For myself this ball was drilled pretty strong for heavy oil volumes. Probably not a good choice if you're a high rev player for a THS but it would work well for a straighter player. Ball has lots of continuation through the pins and very smooth.

Hammer Staffer
Louisville, KY

1/23/2017
By
Jon Wilbur, Columbia 300, EBI Staff
from North Clarendon, Vermont
Smooth and powerful
This ball was a nice surprise for me. I don't have a lot of luck with high end balls just because i rarely see enough oil on most patterns i see in the region i live in. But, the Tyrant seem to save some energy for the back end of the lane even on medium lane conditions. The ball is best on higher volumes of oil, obviously, but, its always nice to see versatility and control out of a ball of this nature. Lower rev players should get a lot of use out of this ball on a broader range of patterns as well. Ball is very predictable for lots of styles with power and control.

Customer

Questions

& Answers

| Reviews
Question:
What is the actual hook rating(9.5, 10.0 or what
4/29/2017 - By
my other brother
Have an answer to this question?
Answer:
The total hook of the Tyrant is similar to the Swerve GT, but with a much earlier and smoother motion. This ball's large amount of total hook is best for when the oil pattern is very slick in the fronts and midlane. X Factor Hook Rating Scale (1-20): 18
5/1/2017 - By
Bowling.Com Staff
1

of

1

customers found this answer helpful. Did you? Yes | No
Did you find this answer helpful? Yes | No
Thanks for your feedback!
Question:
What is the different between the Tyrant, Tyrant Pearl and the Tyrant X-out
5/7/2017 - By
KAB
Have an answer to this question?
Answer:
X-Out means that there might be an irregular pin/top weight, an irregular overall weight or it might have a slight surface blemish. The Tyrant Pearl will have a later reaction than the Tyrant.
5/12/2017 - By
Bowling.Com Staff
0

of

0

customers found this answer helpful. Did you? Yes | No
Did you find this answer helpful? Yes | No
Thanks for your feedback!
Question:
Is this a hooking bowling ball
6/21/2017 - By
Bobby
Have an answer to this question?