We'd like to offer you $5 off your purchase of $50 or more today!
Coupon excludes instant bonus items, hot deal items, and gift certificates.
DV8 Deviant
Deviate from the competition with the DV8 Deviant bowling ball. This ball takes the Deviant Medium RG Symmetric core and covers it with a Composite V Solid coverstock and then is finished with a 500 grit Siaair pad and Royal Compound. This combination offers an all purpose ball with versatility that is best used on medium to oily lane conditions. The rules don't apply to this ball!
Color: Black/Dark Red

All colors do vary somewhat from the picture shown.

Coverstock: Composite V Solid
Core: Vandal Symmetric
Finish: 500 Siaair, Royal Compound
Reaction: All purpose ball motion with versatility
RG: 2.562**
Differential: 0.050**
** RG and Diff are based off of 15 lb. balls
Hook Potential: 205 (scale 1-250)
Length: 110 (scale 1-235)
Recommended Lane Condition: Medium to Oily
A few tiny pit holes in the cover stock of the ball are normal
SKU: DV60105764
Product ID: 9476
Brand: DV8
Category: Bowling Balls
Ball Performance: Upper Mid-Performance Balls
Back to Top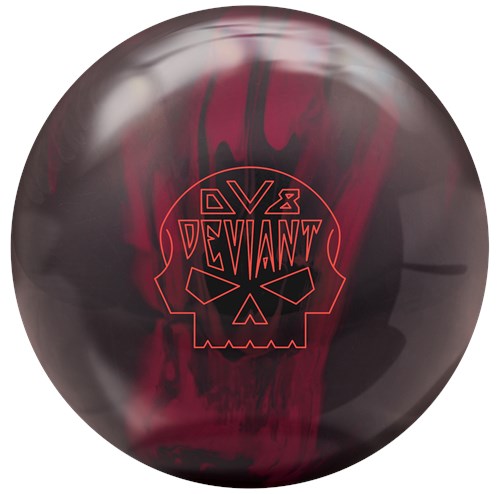 11/10/2015
By
Tim Gillick
from Fairfield, CT
Bottom Line:
Yes, I would recommend this to a friend
Super Versatility
The Deviant was punched up with my favorite symmetrical layout: 65 x 4 3/4 x 35...puts the pin near my bridge above the fingers.

The Deviant is the new benchmark ball in the DV8 line. It provides consistent ball motion shot-to-shot on all but the lightest and heaviest oil patterns. The colors make the ball very easy to read and know what adjustments to make. Compared to my Diva Divine, the Deviant is about 7-8 boards less aggressive, with more length and backend. The Hooligan Taunt shows similar length to the Deviant, but lacks the backend punch that makes the Deviant so versatile. The Taunt is about 3-4 boards straighter than the Deviant.

The Deviant will be a great ball for any style bowler. It is a must have for any player, especially the tournament/sport league bowler. The performance vs price comparison can not be beat!

11/13/2015
By
Melanie DV8 Regional Staffer
from Tampa FL
Bottom Line:
Yes, I would recommend this to a friend
A DV8 Must have
This ball is truly AWESOME!. I've had it since it came out and have consistently shot very well with multiple 270+ games. This ball is very controlable/predictable. You can play inside, outside, straight up the boards or whatever. It does not loose it's hitting power on the back end. When my bowling friends see me throw the Deviant, they all make comments about how they need to get this ball in their arsenal. Everyone seems to really be impressed with the hitting power and how it completes the job on the back end. This is an excellent ball developed by DV8. I have bowled for over 15 years and of all the balls I've thrown I like the control that this ball allows me to create. Sometimes you just gotta be the Deviant :)

11/14/2015
By
JaredWolf
from Lowell, AR
Pros:
Versatility, Control, Continuous
Best Uses:
Medium Length Oil, Tournaments, League, Medium Volume
Bottom Line:
Yes, I would recommend this to a friend
My new favorite symmetric!
DV8 Deviant

Bowler's Stats:
Speed: 18.5-19 mph
Rev Rate: 425-450 rpm
Axis Rotation: 30-60 degrees
Axis Tilt: 5-7 degrees
Ball Layout: 45* by 4.5" by 75*

With a medium-RG symmetric core and the composite V solid coverstock, the Deviant had "benchmark ball" written all over it for me. I went with the layout posted above to further enhance the control I expect in a ball that will often be the first out of my bag.

On the lanes, it didn't take long for me to see something I like. First game of league with this Deviant ended with a 300 on Kegel's Beaten Path. Medium midlane read with strong continuation through the rest of the lane gives me plenty of miss room. While I often find myself attached to these shapes on fresh flatter patterns (to smooth out the lane and increase my miss window), my Deviant has been very good about letting me square up a little more with house shots without as much worry of over-under reactions. The ball as a whole is very versatile and I was surprised how well it responded from numerous angles, even with my low tilt and more controlled layout. My Deviant did tend to get a little spotty on carry when moving way inside (5th-ish arrow and more) but I'm getting another Deviant to drill pin up (probably 45 by 5.5" by 45) to provide and easy 1-2 combo to play off of each other; especially when moving in a little too deep for the pin-down to carry.

It's hard for me to think of a ball to describe the Deviant as being similar to. Simply put, it's a look from DV8 that I've never seen. The best way I can explain is that is feels like a hybrid between the DV8 Vandal and something like a Brunswick original Red Melee.

Between my current pin-down and my future pin-up Deviant, 99.9% of my bowling travels will involve having at least one Deviant in tow. The ball is that good and the ball is that versatile. Although the pattern isn't released yet, I see this being THE ball for the 2016 USBC Open Championships provided that the pattern stays within the typical 38-42ft range. Smooth, controllable, and predictable ball motions typically equal $$$ on the flatter patterns and this ball will give you that plus some versatility to go around it if you need to. Players of all most all speed and rev rate combinations will be given a reaction shape by the Deviant that can serve as a benchmark.

10/15/2015
By
JRS8501
from Scranton, Pa
Bottom Line:
Yes, I would recommend this to a friend
DV8 Deviant Review
Layout:::: 45 X 4 1/2 X 30
Box Surface
Rev Rate ::: 300
Ball speed:::: 16 mph
Right handed
Positive Axis Point 4 3/8 over by 1/2 up
Condition:::::40 ft. House shot

I used my Deviant in league play this past Monday night. What I found on the fresh the Deviant is smooth through the heads and get more length compared to my Vandal. I was lined up on 20 and targeted 10. I changed my hand position from my normal position and tilt to more up the back of the ball. This played incredibly clean through the front of the lane, and makes a great, hard, turn at the breakpoint.

As the shot transitioned I then lined up on 30 and changed to my normal hand position and axis tilt. With this change the ball became a whole different ball. It still was very clean through the front but when it hit the breakpoint the ball reacted like it was shot out of a slingshot. The Deviant is very versatile .
With the new Solid Composite V coverstock and the Deviant Medium RG Symmetric core is a great combination ,and is giving a whole new look and performance never seen before in our products .
The Deviant gives me great confidence in the mid-range of my arsenal. The thing I'm most impressed with is this ball's predictability.

If you haven't pre ordered this ball yet do it today. I recommend everyone add the DV8 Deviant
to their arsenal.

The opinions expressed are solely those of the writer and not of Brunswick Products .

Jim Sabatell
DV8 Regional Staff
Perfect Shot Pro Shop
Mark's Pro Shop
#TeamDV8

10/29/2015
By
seabreeze
from Bonita Springs, FL
Bottom Line:
Yes, I would recommend this to a friend
Love this ball!
Was looking forward to this ball. I am a big fan of the Dude and really like the new composite cover stock on my Vandal. I drilled it 55x5 1/2x 35 same as my Dude and Vandal. This ball really reminds me of my Versa Max and that's a GREAT thing! Super clean up front and a few boards stronger than my Dude. Nice step down from my Vandal as they start to up. This ball is going to get a lot of play in my bag!

Perry G.
SWFL

10/29/2015
By
dustinbearden
from Geraldine, AL
Pros:
Great Drive Through Pins, Clean Through The Fronts, Great consistency
Cons:
None
Best Uses:
Almost Any Condition
Bottom Line:
Yes, I would recommend this to a friend
GREAT Versatility
The new DV8 Deviant is a great benchmark ball. It is extremely clean through the front of the lane and makes a very strong move to the pocket to be a solid. The new solid composite cover provides a back end shape and drive through the pins that I have never seen with a symmetrical core. I polished mine, and it seems to be a slightly stronger and better hitting version of my favorite all time DV8 release The Dude. The Deviant keeps pins low and moves them all over the deck as it drives through. The ball seems to react so well on almost any condition. Whether there is a little extra oil, or a little bit more friction, you can move your feet around and the Deviant will still keep its clean fronts, hard turn, and hitting power. I would recommend this ball to anybody. It has quickly become the first one out of my bag.

10/30/2015
By
bannachb
from Edgerton, WI
Great Benchmark Ball
At 70x5.5x75 I drilled my Deviant identical to my favorite Dude in hopes of replacing the worn out Dude. When compared to my Dude, the Deviant is about 2-3 boards stronger, and surprisingly quite a bit smoother. The Deviant is one of the smoothest balls I have thrown in a long time. It is not what I expected, but it was a pleasant surprise. The Deviant is going to be my new "get out of jail free" ball. When nothing else seems to work, I can go to my Deviant and control the lane and the pocket. It doesn't overreact and controls the lane even when the lanes are very dry.

11/3/2015
By
Kayla
from Minnesota
DV8 Deviant
The DV8 Deviant is a very versatile and predictable addition to the DV8 Line. It has a composite solid cover with a medium RG symmetric core. In my personal experience, I have been able to use this ball in all types of lane conditions with great versatility. This ball is very smooth and predictable; you will be able to get a great read of what the lane is doing, but will still pack a punch when it hits the pins. This ball is defiantly more than the price point shows, it will not disappoint!
The opinions expressed are solely those of the writer and not of Brunswick Products.

1/3/2016
By
Doug F
from Wisconsin Rapids, WI
Bottom Line:
Yes, I would recommend this to a friend
Must Have!
I have loved this ball since the first time I threw it. With the composite V solid coverstock this ball is a great ball for me to go to when my DV8 Vandall is too strong on the backend. They have been a great duo for me and have helped me win two tournaments. If you don't have one yet, you need to get one today!
Doug Forde
DV8 Advisory Staff

3/16/2016
By
Jr
from Michigan
Bottom Line:
Yes, I would recommend this to a friend
Best ball for the cash
Really nice

Customer

Questions

& Answers

| Reviews