We'd like to offer you $5 off your purchase of $50 or more today!
Coupon excludes instant bonus items, hot deal items, and gift certificates.
DV8 Freakshow Solid
Get freaky on the lanes with the DV8 Freakshow Solid bowling ball. This ball offers an aggressive hooking motion at a value price. This motion is created by pairing the Low RG/High Differential symmetric core with DV8's Class 8 Solid Reactive coverstock. This combination provides traction on medium oil conditions which creates a strong continuous backend reaction.
Color: Blue/Orange

All colors do vary somewhat from the picture shown.

Core: Freakshow Symmetric
Coverstock: Class 8 Solid Reactive
Finish: 500/1500 Siaair Micro Pad
RG: 2.481 (15# ball)
Differential: 0.054 (15# ball)
Hook Potential: 225 (medium-high)
Length: 125 (medium)
Recommended Lane Condition: Medium oil
A few tiny pit holes in the cover stock of the ball are normal
SKU: DV60105871
Product ID: 10353
Brand: DV8
Category: Bowling Balls
Ball Performance: Mid Performance Balls
Back to Top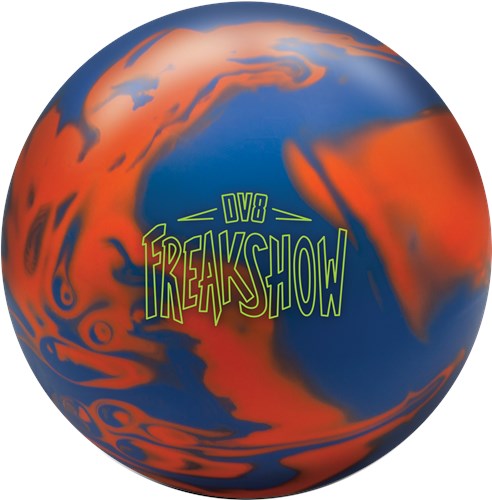 Similar Balls: Same Hook Potential, Lane Conditions & Coverstock as the DV8 Freakshow Solid.
10/30/2016
By
Jim S
from Scranton, Pa
Bottom Line:
Yes, I would recommend this to a friend
Freakshow Solid review
Layout:::: 50 X 4 3/4 65
Box Surface
Rev Rate ::: 300 - 325
Ball speed:::: 15.5 - 16 mph
Condition:::::40 ft. House shot

WOW ! The Freakshow Solid . I was very very suprised and pleased with the Freakshow solid with the amount of hook and ball motion it gives you at this price point.
Compaired to my Freakshow I am honestly 12 boards left of where I stand with my Freakshow. The Freakshow solid's Low RG/High Differential symmetric core combined with the Class 8 Solid Reactive coverstock I saw a very strong hook motion on Med - Med Heavy oil.
I gave me more room for error right than my original Freakshow. It comes off the breakpoint very strong and more continuation than I have seen at any ball in this price point.
Freakshow solid is going to be a ball I use when the lanes are fresh and then as they transition I can go to my Freakshow.
This is a must have ball in your arsenal. If you want hook that will not break your wallet, get the Freakshow Solid.
The opinions expressed are solely those of the writer.
Jim Sabatell
DV8 Regional Staff

11/30/2016
By
DV8lefty
from New Brighton, MN
Bottom Line:
Yes, I would recommend this to a friend
A lot of hook for a great price
This ball is very impressive for the price range and the hook potential it has. The Freakshow solid can handle a good medium to heavy oil pattern because of the cover and wow!, it rolls very hard on the backends! The most impressive thing I have seen out of this ball is its hitting potential. For as much as the ball has to work through the heads and mid-lane, this ball hits the pins with force!
Another neat attribute about this ball is the color scheme. As it's going down the lane, the colors are pretty awesome!

11/30/2016
By
Kayla
from MN
Bottom Line:
Yes, I would recommend this to a friend
DV8 Freakshow Solid
The DV8 Freakshow Solid is an absolute beast! The amount of hook that you can get out of this symmetrical ball is amazing, especially for the price point. I would say that it is at least 10 boards more than the original freakshow. It is very clean through the midlane with a strong backend motion that is versatile on all types of lane conditions. The Freakshow Solid does not disappoint!

12/1/2016
By
Dustin Bearden
from Geraldine, Alabama
Best Uses:
Medium Oil
Bottom Line:
Yes, I would recommend this to a friend
Great Starting Point
This is a great, "first ball out of the bag," for me. I polished mine, and I have it drilled with the pin directly above the bridge. The CG is about 1 inch below the bridge. The ball gets through the front of the lane easily, but picks up just soon enough to get that good roll off of a symmetric solid. It makes a good smooth transition and destroys the pins. This ball always seems to give me a little room on the lane. The cover is strong enough to help it recover, but the symmetric core seems to help it hold well in the oil. DV8 has a wonderful Product in the Freak Show Solid. I would recommend any bowler have this ball in their bag.

Dustin Bearden

12/20/2016
By
Shawna Strause
from Tucson, Arizona
Bottom Line:
Yes, I would recommend this to a friend
My go to ball!
I was so excited to receive the Freakshow Solid! I love a symmetrical core ball!! This ball has such a nice smooth arc and is not too jumpy in the back end. I have used this ball on multiple conditions, but in my opinion, it is fantastic when the backends are squirrely. I highly recommend having this ball in your arsenal!!
Shawna Strause
DV8 Advisory Staff Member
Tucson Az

1/5/2017
By
Mrrevsss
from Kalamazoo, MI
Bottom Line:
Yes, I would recommend this to a friend
Great Performance and value!
Great ball for any style

1/30/2017
By
Julioa1983
from Chicago
Bottom Line:
Yes, I would recommend this to a friend
FreakShow Indeed!!!
You wont be disappointed with the freak show solid. Its aggressive cover stock will hook on medium to heavy oil and its price point is great. You cannot get a deal this good. I drilled min pin above my ring finger. I bowl right handed with a speed of 16-17 MPH. Its my go to ball for game one. Go get one. You wont be disappointed.

2/9/2017
By
Randy
from Fort Worth, Tx
Bottom Line:
Yes, I would recommend this to a friend
Freakshow is a beast!
I needed something in my bag that would react to the slick conditions our center has been laying down recently. This ball fit the bill perfectly. I haven't had a ball this aggressive in my bag for some time, so I'm adjusting to it on the fly, and loving every minute of it!

2/25/2017
By
Texas Red
from Spring, Texas
Bottom Line:
Yes, I would recommend this to a friend
great ball in oil
This ball is very smooth and has a continuous ball motion from start to finish. Great for medium to heavy. I like the fact that it's a solid but still gets down the lane with no problem. DV8 has been producing some great equipment over the past few years. This is a great ball for league and tournaments.

4/19/2017
By
Duke S.
from Davis, IL
Bottom Line:
Yes, I would recommend this to a friend
It's Weird Alright!!
I got it because I needed a more pronounced angle into the pocket. It worked! Just tried it in league play last night.
Had it drilled with pin above ring finger and no x hole. Very different from my other ball. Hooks so much it took a while to figure out where to throw it. Once I found a spot I scored well. Was even carrying ten pins!

Customer

Questions

& Answers

| Reviews