We'd like to offer you $5 off your purchase of $50 or more today!
Coupon excludes instant bonus items, hot deal items, and gift certificates.
DV8 Pitbull
DV8 combines their Composite Bite coverstock with a new lower RG and high differential asymmetric core to produce the Pitbull bowling ball. This ball offers max hook even when faced with the heaviest oil conditions. When you need an aggressive ball in the fight make sure you have a Pitbull in your bag.
Color: Black/Violet/Neon Green

All colors do vary somewhat from the picture shown.

Core: Pitbull Low RG Asymmetric
Coverstock: Composite Bite
RG: 2.486 (15# ball)
Differential: 0.055 (15# ball)
Finish: 500/1000 Siaair Micro Pad
Hook Potential: 285 (scale 1-250)
Length: 95 (scale 1-235)
Ball Motion: Maximum Hook
Recommended Lane Condition: Heavy Oil
A few tiny pit holes in the cover stock of the ball are normal
SKU: DV60105865
Product ID: 10393
Brand: DV8
Category: Bowling Balls
Ball Performance: High-Performance Balls
Back to Top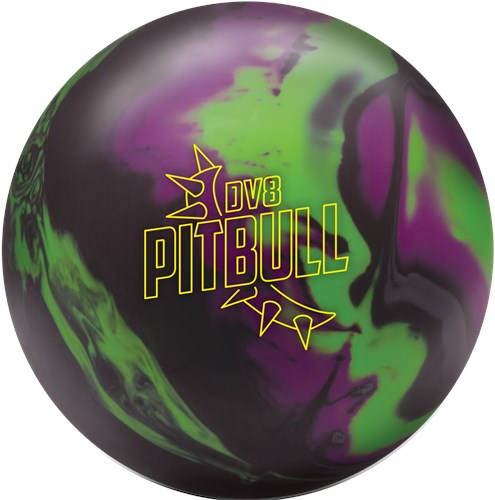 1/6/2017
By
Justin Knowles
from Okemos,MI
Bottom Line:
Yes, I would recommend this to a friend
Take a bite out of the competition!
Bowler Specs- Ball Speed: 17-18, Rev Rate: 500, Layout: Full Roller; pin out 3.5 inches, Pattern: House
To say the Pitbull adds a new dimension of hook to the DV8 line would be an understatement. I had this ball at least 4 boards more than my grudge with the same layout, but the same shot shape. The Pitbull is a great ball when you need help getting the ball to work in the mids and yet still be continuous at the pocket, or when you need the ball to control the breakpoint more than your big pearl. The biggest positive had from the Pitbull is that as hard as it worked in the mids, it didn't burn up as it got to the pins. I had no issues getting the Pitbull through the fronts even at box finish of 1000, and I also loved it with some polish, allowing the ball to be a little longer through the mids and a little sharper on the backend. I recommend this ball to all bowlers, especially those with higher ball speeds and those with lower rev rates.
-Justin Knowles, Brunswick Regional Staff

2/16/2017
By
S. Strause
from Tucson, AZ
Bottom Line:
Yes, I would recommend this to a friend
Dangerous Hook! Bites and doesn't let go!
Dangerous Hook! Bites and doesn't let go!
I have owned every DV8 for the past year. This is by far the strongest ball in my arsenal!! Unfortunately, in my area, I have not experienced enough oil to actually see how long I can use this ball in a set. Soon, on my PBA league, we will be bowling on the Shark ~ I am sure this ball will match up perfectly!! I have used this on a 47 ft flat pattern and the midland reaction is INSANE! When this ball grabs the lane, it doesn't give up! The continuous motion through the pins is quite impressive.
Shawna Strause, Brunswick/DV8/Radical Advisory Staff

2/1/2017
By
Dustin Bearden
from Geraldine, AL
Bottom Line:
Yes, I would recommend this to a friend
EXTREMELY POWERFUL!
I've owned every DV8 ball that has been made, and this ball is by far the strongest of them all. The pin, mass bias, and CG are stacked straight on my ball and I had it drilled pin about one inch above and to the right of the ring finger with everything else stacked in line below. It's a 3 inch pin ball. I haven't found a shot in my area, yet, that the Pitbull couldn't cut through. It picks up in the midlane, but does a great job of not burning out. It drives through the pins and packs quite a punch when it flies into the pocket. If you are having trouble dealing with oil, the DV8 Pitbull is definitely for you. It will cut through it and destroy the pins. This ball is truly as mean as it sounds.

3/29/2017
By
Brian Green
from Batavia NY
Bottom Line:
Yes, I would recommend this to a friend
Bowlers Best Friend in Heavy Oil
Bowler Specs:
Left Handed
Rev Rate 450
Ball Speed 18mph
Axis Tilt 14 degrees
PAP 5 over ¾ up

Ball Specs:
Pin 2-3
Top 2.5

I drilled My Pitbull 65x5x75. This put the pin under my fingers on my grip centerline cg kicked out slightly with no x hole. This ball is the strongest ball I have ever thrown…. The Pitbull needs oil and lots of it. I don't get to use this ball a lot as it is way too much for my game on the league shots I bowl on but when I get into a situation with long oil and heavier volumes this is my ball of choice because of how well it reads the lane in the oil.

If you are having trouble getting your current ball to react and want a stronger ball, the Dv8 Pitbull is the ball you should be looking at. If you have a lot of speed, low revs, or a combination of the two: The Pitbull should be at the top of your list. Get a Pitbull and it will be your best friend

2/1/2017
By
Sip
from Cumberland, MD
Bottom Line:
Yes, I would recommend this to a friend
Unleash the Pitbull
DRILL PATTERN
Pin to PAP: 5

75 x 4.25 x 30

BOWLER STYLE: RH - Stroker – slightly speed dominant
Rev Rate: 360-390
Ball Speed: 16-17
PAP/Track: PAP: 5 13/16" and 3/4" up

SURFACE PREP
Box Finish: 500 siaair/1000 siaair Micro Pad
BALL MOTION
The Pit bull is very aggressive and has continuous motion.
COMMENTS

I drilled the pit bull very strong and made this a specialty ball for heavy oil. This drilling and this ball rolls up pretty early in the midlane. I have used this ball a few weeks on the Shark. This ball is the perfect reaction for the first few games on fresh.

Mike Sipple
Brunswick/DV8/Radical Regional/Amateur Staff

4/4/2017
By
Norman E
from Toledo Ohio
Bottom Line:
Yes, I would recommend this to a friend
Need hook
This ball is great for what it's intended for hook hook and more hook

Customer

Questions

& Answers

| Reviews
Question:
Does this ball have suggested layouts available?
2/20/2017 - By
ROB
Have an answer to this question?
Answer:
Hello Rob. You can find the drilling instructions by clicking on the link that follows. http://dv8bowling.com/uploads/balls/DV8_Drilling_Instructions.pdf
2/24/2017 - By
Bowling.Com Staff
1

of

1

customers found this answer helpful. Did you? Yes | No
Did you find this answer helpful? Yes | No
Thanks for your feedback!