We'd like to offer you $5 off your purchase of $50 or more today!
Coupon excludes instant bonus items, hot deal items, and gift certificates.
14 Reviews | 5 Questions | Ask a Question
Note:

LIMITED QUANTITIES - SEE PROMO DETAILS BELOW.

Get Details & Specs
Ebonite Mission Unknown Limited Edition
Ebonite is reintroducing us to the Mission bowling ball through the Ebonite Mission Unknown. This bowling ball features the original Mission core but is now covered with their GB 12.7 coverstock. This combination gives this ball more length and angular motion. Don't wait around for this ball because it is a limited edition and won't last long! Ebonite is doing something very unique with this bowling ball. They are only making a very limited number. Most of the bowling balls will be black, less than 10% will be red, and less than 1% will be gold. These balls will be in boxes that will be completely sealed so no one knows what color the ball inside is. Will you be lucky enough to get one of the coveted red Mission Unknowns or maybe one of the ultra-rare gold balls? Those who receive a gold ball will be able to claim an additional black Mission Unknown and a Mission Unknown jacket (visit the Ebonite.com wesite for details on how to claim your prize). All consumers can register to win a Mission Unknown jacket at Ebonite.com (no purchase necessary).
LIMITED QUANTITIES - SEE PROMO DETAILS BELOW.
Color: Black or Red or Gold (randomly selected)

All colors do vary somewhat from the picture shown.

Core: Mission 1.0
Coverstock: GB 12.7
Finish: 500/1000 Abralon polished with PowerHouse Factory Finish Polish
Reaction: Length with Angular Backend
Recommended Lane Condition: Medium-Heavy Oil
RG: 2.49 (15# ball)
Differential: 0.050 (15# ball)
A few tiny pit holes in the cover stock of the ball are normal
SKU: EBOMMISSNUN
Product ID: 10305
Brand: Ebonite
Category: Bowling Balls
Ball Performance: Upper Mid-Performance Balls
Extra Information:

Back to Top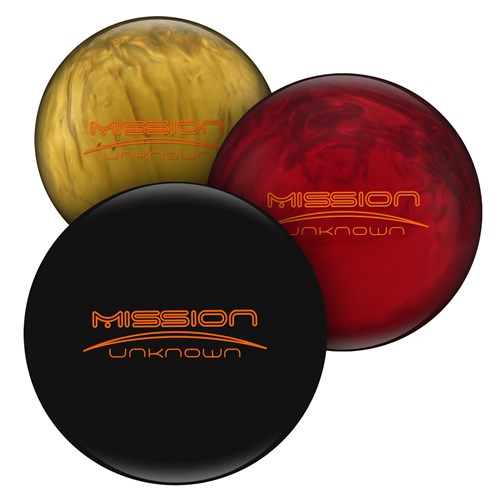 Similar Balls: Same Hook Potential, Lane Conditions & Coverstock as the Ebonite Mission Unknown Limited Edition.
9/22/2016
By
Jared B
from Minnesota
Bottom Line:
Yes, I would recommend this to a friend
I love this ball
Absolutely love this ball. So smooth through the front part of the lane, especially for an asymmetrical ball. I will be able to use this ball on many different lane conditions.

9/23/2016
By
A.J.
from Rockford IL
Pros:
Better length and forgiveness, Don't have to move as much as they dry out, When mids break down this ball becomes better
Cons:
None
Best Uses:
All games on THS, When a sport shot starts to dry up
Bottom Line:
Yes, I would recommend this to a friend
#OpenTheBox
With the suspense of knowing or not knowing which one you will open up. The Mission Unknown will perform very well for a majority of players. This ball is amazing! It allows you to play them a little straighter in the beginning of the night and slowly move in as the night goes on. I have found my Mission Unknown for me needs a little more hook in the middle of the lane in order to hit the pocket just right on the fresh. In a couple centers in Rockford, IL. It seems to roll better in games 2 and 3 as the lanes start to dry up a touch. This ball is very companion friendly with the new Track Cyborg and Track Paradox Trilogy. For me the Unknown is about 5-7 boards straighter on the fresh then the Cyborg and about 3-5 boards straighter than the Paradox Trilogy. If you want your chance at the Very Rare Gold ball or the Rare Red ball then I would order before the 20th of September for the opportunity to get the free gold Mission Unknown.

Andrew Jensen
Manager - BowlersMart Rockford Cherry Bowl
Track Staff

10/30/2016
By
JV
from Staten Island
Pros:
Rolls well, Goes through the heads
Cons:
w. polish finish, the ball wouldn't work for me
Best Uses:
when dulled, mashes any house shot
Bottom Line:
Yes, I would recommend this to a friend
Rough Beginning But Fantastic Ball
I bought the ball hoping to obtain a gold one and then get a black one and a jacket for free. Regardless, I knew the ball was going to be a good fit for me. I got black and I didn't mind one bit. Out of the box, it came finished as a polish cover stock. That didn't work for me. Constantly left wash-outs or splits so I had no faith in it. So we dulled the ball and after that I started averaging 215. Great ball would recommend.

9/28/2016
By
CLAW
from Lancaster ca
I have two red,one org and one purple mission
Very nice

10/5/2016
By
Craig Schmalz
from Greenwood Indiana
Worst reactive ball I've ever thrown.
I average between 215 and 220. I've thrown A LOT of bowling balls. This one is the worst. I throw it out..I see it transition..start to get into a roll....and then.......nothing. It just completely dies....dud. No pop whatsoever. ZERO BACKEND

10/11/2016
By
ten pin assasin
from orange city fl
icon is back
i use it to play the oil and easily is an advantage in heavy oil patterns.glides through fronts and thestarts up last third midlane for a very angular punch to the pocket.

10/11/2016
By
Brad Q
from Indianapolis
Bottom Line:
Yes, I would recommend this to a friend
By far my favorite ball this season
Love this ball, clean through the front of the lane with a strong continuous down lane reaction

10/12/2016
By
t.moni
from Phila, PA
Bottom Line:
No, I would not recommend this to a friend
Disappointed
I have the Mission 2.0. Love it to death. Almost used to it's death so was extremely pleased for the announcement of this ball. This ball's reaction is not nearly as strong as my original after all these years. As another reviewer said, there's absolutely no back end. Definitely not my go-to.

10/15/2016
By
Biff
from Southaven MS
Old school black bowling ball!!!!
This ball for me is great!! I love the roll a and pop when it hits the pin, but only draw back for me was pin above went a little too long for the conditions. I urge people to get this ball while you can!! #teamebi

11/11/2016
By
Shades
from PA
Bottom Line:
Yes, I would recommend this to a friend
Proven Core and Ball Motion
Same winning core technology but with a stronger cover and smoother cover out of the box. Expect increased skid phase which translates into more angle down the lane. Great idea bringing this core back out!

11/15/2016
By
BoilrBowlr; Ebonite Amateur Staff Member
from Lafayette, IN.
Bottom Line:
Yes, I would recommend this to a friend
A Great Motion to have in youraresenal
This ball offers the great Mission core with a very versatile cover stock. I personally had to sand the cover down to 1000 grit to get it to transition where I wanted it to. It offers a very clean motion through the fronts, with an angular motion down lane. It was much more angular than I thought it was going to be. I'm a left-handed player with about a 350+ rev rate. The box surface was just a little too clean. When the conditions are medium to light, I think this ball would be ideal. I recommended it to a friend to throw at an EBI Demo Day, as he did not have a ball in his arsenal that gave him great recovery. He immediately fell in love, as he was able to move in and open the lane up more, but was also able to play a little straighter as well, and didn't lose any carry with either line.

11/17/2016
By
Nick Cooper
from Clarkston MI
Bottom Line:
Yes, I would recommend this to a friend
Very versatile ball
As of right now, this ball is my absolute favorite and always a ball I think of to take out first. It's one of the most Versatile pieces from being a little firmer and straighter, to really getting around it and hooking the lane! It looks great from all angles and hits the pins like a truck.

This ball has 1.0 core in it which has a medium RG and high diff which creates the length in the mids and a strong angular motion on the back part of the lane. The mission also has the GB 12.7 cover that has some shine to it which helps with the length and saves a ton of energy all for the backend.

This ball is being liked from a variety of different styles and places on the lane. When you have a ball that's equally liked from a straighter player to a cranker, you definitely know you've hit a home run with this one! What's even better is that you may be lucky enough to #OpenTheBox and get the rare red one or the really rare gold one! Have fun Striking!
#EBITakeover #OpenTheBox #Black,Red,OrGold

1/6/2017
By
BEGER
from Evansville,IN
Bottom Line:
Yes, I would recommend this to a friend
Don't miss out on this one!
The Mission is back in an updated form for today's conditions as the Mission Unknown. You can't beat the classic look of a black bowling ball. Unless you were lucky enough to get one of the red or gold ones in the mystery unveil. I thought the promotion behind this ball was one of the better one's in a while.
The ball itself is awesome! I can't think of any bowlers that couldn't get some use out of this piece. I tend to stay with symmetrical pieces based upon my rev rate and speed. This is even one of those rare asymmetric pieces that I get to roll with success.
Used on several house conditions, ProLane, HPL and Wood surfaces and found a use for it each time. Even being able to get in between 4th and 5th arrow on the wood surface and score well. That's how continuous this piece is.
This is a limited quantity run. Don't miss out on your chance to own a Mission Unknown. You won't be disappointed.
Brian Eger
Ebonite Advisory Staff

1/10/2017
By
ZachFylling
from Kentucky
Bottom Line:
Yes, I would recommend this to a friend
Yes, I would buy again
The Mission Unknown is a very popular ball, as it should be. This ball has an extremely strong backend motion, almost too strong for what I was looking for out of this ball. However I broke the polish and put a 2000 surface by hand on it, it has the same shape as it had when it was polished but the small amount of surface has allowed it to become a more versatile piece in my bag by taming down its back end motion.

Customer

Questions

& Answers

| Reviews