We'd like to offer you $5 off your purchase of $50 or more today!
Coupon excludes instant bonus items, hot deal items, and gift certificates.
Hammer Bad Intentions Hybrid
The Hammer Bad Intentions Hybrid bowling ball will be truly offensive to your competition in more ways than one. This ball combines the Spheroid core and the Juiced Xtreme Hybrid coverstock to create a ball that will quickly show your opponents how badly you intend to beat them. The low RG core offers revs with a symmetrical design that offers versatility giving you strength and control. They hybrid coverstock creates less friction in the oil, but creates a strong backend motion. The 3000 Abralon finish gives this ball the ability to perform well on both medium and oily patterns. This high performance ball offers an aggressive back end motion, durability, and attitude. This bowling ball is Carbon Fiber Infused! Carbon fiber is one of the toughest materials on earth. Hammer decided to add this material to the inner core of this ball for added strength and durability allowing them to offer an incredible 3 year warranty.
Color: Black/Orange/Purple

All colors do vary somewhat from the picture shown.

Core: Spheroid with Flex-Resin Additive, Ceramix Surfacing Process, and Carbon-Fiber Outer Core
Coverstock: Juiced Xtreme Hybrid
Reaction: Strong Mid-Lane with Aggressive Backend
Finish: 500, 3000 Abralon
RG: 2.48 (15# ball)
Differential: 0.048 (15# ball)
Recommended Lane Condition: Medium-Heavy Oil
FCC Rating: Total- 25.75, Finish- 8.5, Core- 8, Cover- 9.25
Manufacturer's Warranty: 3 Year Limited
A few tiny pit holes in the cover stock of the ball are normal
SKU: HAMHMBADIHY
Product ID: 9454
Brand: Hammer
Category: Bowling Balls
Ball Performance: High-Performance Balls
Back to Top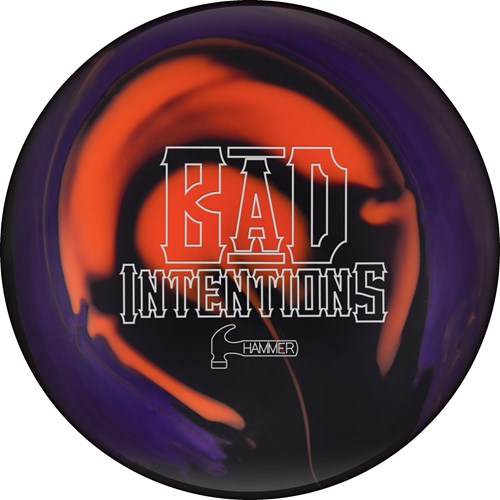 Similar Balls: Same Hook Potential, Lane Conditions & Coverstock as the Hammer Bad Intentions Hybrid.
9/30/2015
By
Chris Szymanski
from Miami, FL
Pros:
Aggressive, BEAUTIFUL, Back End, Versatile, Well Built / Quality, clean
Cons:
Not Released
Best Uses:
Cranker, Inside, Stroker, Tweener
Bottom Line:
Yes, I would recommend this to a friend
Hammer's new Benchmark
Pin to PAP (4 1/2" over) 5.5"
Dual Angle Layout - 65 x 5" x 45
Balance Hole - None

Surface Preparation - Took the Out of Box Finish and used a slightly used 3000 pad to add a little more length.

Impressions:

This ball is exactly what I needed to bridge the gap between the original Bad Intentions and the Red Legend Solid. With the same layout as my original bad intentions I was able to add an extra foot and a half down lane while creating that same strong continuous motion at the breakpoint. This ball hits extremely hard but keeps pins low to the deck so you can be sure there will be nothing left standing.

I have the Bad Intentions Hybrid 2 boards weaker than the Red Legend Solid but 4 stronger than the original Bad Intentions which instantly makes this my new benchmark ball. First night using it in league I was able to start the night 16 to 11 and end up moving in to 5th arrow and I never once lost the clean length down lane or the strong backend motion. If you need a ball that is versatile, strong, and absolutely beautiful going down the lane then the Bad Intentions Hybrid is a no brainer.

This has been a great year for #Hammernation and #EBI. Another great addition to the lineup.

10/6/2015
By
Sweetpea Bowl
from Worcester, MA
Pros:
Carbon Fiber Core, Carbon Fiber Cover, Hitting power
Cons:
Not For Short Patterns
Best Uses:
Heavy Oil, Longer patterns, Medium Length Patterns, Medium oil
Bottom Line:
Yes, I would recommend this to a friend
Right in between Bad A and original Bad Intentions
Here is my take on the new Bad Intentions Hybrid by Hammer. This new piece features the Juiced Extreme Hybrid cover reinforced with Carbon Fiber to insure durability. The ball comes finished at 3000 Abralon. The core is the same Spheroid Core used in the Bad Intentions also made with Carbon Fiber. Like all current Hammers, it features the industry leading 3 year warranty. The color of this new piece is a bright combination of black, blue and orange.
I have tried my Bad Intentions Hybrid several different house patterns and USBC White. I have tried it at box surface, 4000 Abralon, and polished with Factory Finish. I drilled my with a 55 x 5 1/2 x 40 layout with a weight hole on my PAP. My PAP is 5 5/8 over and 1/8 up with a rev rate of 405.
This ball truly fits in between the original Bad Intentions and the Bad A. If you are a fan of the original Bad Intentions, you will like this ball for when you are looking for more angular motion than the original Bad Intentions. The characteristic of the original Bad Intentions was an earlier roll with a smoother all around look for medium to heavy fresh patterns. The Bad Intentions Hybrid is definitely cleaner through the front with a stronger recovery in the back end. I feel the backend motion in the ball is better than the Bad A simply because the backend is easier to read and note as touchy. I personally preferred the 3000 Abralon surface to the 4000 Abralon or polished surface as the ball showed more definition for me at the breakpoint with 3000 Abralon. The new Bad Intentions Hybrid allows, in my opinion, a ball with a stronger backend so that the player may stand further left and send the ball to the right. That being said, I still feel that the Hybrid is best suited for medium to heavy volume patterns and medium to longer distance patterns. For shorter patterns, unless you have the ability to throw very hard, I would consider other alternatives in the Hammer line such as one of the Virals or the Low Flare series balls. This ball could easily be a benchmark ball for someone looking for a strong symmetrical piece with defined backend. In that this is a strong symmetrical piece, I believe that many different styles can throw the new Bad Intentions Hybrid with success and a variety of motions can be achieved depending on the layout used.
See your local proshop operator for the newest release by Hammer- the Bad Intentions Hybrid.

10/13/2015
By
Plowboy300
from Sarasota, FL
Pros:
Looks great, Medium Heavier Patterns, Strong Rolling Backends
Cons:
Drier Lanes
Best Uses:
Medium Heavier Pattern
Bottom Line:
Yes, I would recommend this to a friend
Strong Rolling Versatile Ball
The new Hammer Bad Intentions Hybrid has a cross-breed of the original Bad Intentions & other ball in this line; therefore fits in between the 2 original releases perfectly. I loved the way the original ball rolled, but it was a little too over/under at times, and the Bad Intentions was a little too early rolling without the kick in the backends. The Hybrid brings out both qualities and offers a stronger ball that can turn the corner when you need to get move left when the pattern breaks down. The BI Hybrid shows a stronger defined motion off the spot.
The Bad Intentions Hybrid is best suited for medium & medium longer patterns and/or heavier medium volume patterns. I tried changing the surface on this ball with 1000 w/ FF polish and went back to the 3000 Abralon surface gives me the best look for the patterns that I need it for.
The BI Hybrid is the 1st ball that has the Carbon Fiber mixed in WITH the coverstock and with the new 3 year warrantee that Hammer provides for this ball; this is the BEST bang for your buck!

This ball has a great motion that does not stop rolling in the backend - it really continues through the pin deck! Very versatile ball for all styles of bowlers...

2/23/2016
By
Tom the tumbler
from Cabot,Arkansas
Bottom Line:
Yes, I would recommend this to a friend
I would buy this ball again and recommend to anyone.
Remember it's only the person behind the ball that makes it work. If you have good lift and follow through and can hit your mark it will do as advertised.

10/2/2016
By
Newbie
from Texas
Bottom Line:
Yes, I would recommend this to a friend
A good ball even for a newbie
I just began bowling 4 months ago. Bowled in a 3 month summer league. Decided to purchase a good ball after a month and upon reading the reviews, purchased the BI Hybrid. Love the rear end movement and power hitting the pins. After bowling an 84 in my very first game with a house ball, I bowled a 217 in my final league game with the BI Hybrid. Long way to go on improving but this ball has helped a newbie tremendously.

11/18/2015
By
Trey
from Temple, TX
Pros:
Excellent carry, Very forgiving, even in heavy oil
Best Uses:
Heavy to medium oil
Bottom Line:
Yes, I would recommend this to a friend
Very solid ball.
I have my Bad Intentions Hybrid (from here on out BIH) drilled to begin to read the mid-lane earlier which allows me to mark my feet as if I'm a cranker but I promise I AM NOT!! This baby turns!! And when it rolls through, that sucker brings the HEAT! Don't know that I've been this impressed with a ball before. I'm certain this ball can be drilled for whatever style one prefers to play and will give superb performance. I'm not a high rev bowler but the BIH makes me look like one by the way she turns to the pocket. In short, this has to be one of the top balls out.

Lastly, I'm not a Hammer Rep or anything of the sort. I go around from house to house shooting on the nights where there's either dollar games or AYCB. I live in central TX about an hour north of Austin. Most of the houses around my home are heavy oil. Only one goes medium to light and I'm able to shoot on their lanes with no problem. The BIH should definitely help anyone looking to take their game up a level or two.

11/11/2015
By
Bubba
from Washougal Washington
Bottom Line:
Yes, I would recommend this to a friend
Great ball $
The ball hooks really well

10/13/2015
By
jkaseehammer
from Knoxville, TN
Pros:
Carbon Fiber Cover, Well Built / Quality, clean
Cons:
Not For Short Patterns
Best Uses:
Med-long Patterns And Vol
Bottom Line:
Yes, I would recommend this to a friend
jkaseehammer
This ball is amazing! I drilled mine using a 60 x 5 1/2 x 40 layout which put this pin above my ring finger. This ball is a great compliment to my bad intentions because the hybrid is cleaner through the fronts with stronger back-end motion. This will be a great 1st ball out of your bag if you need something that isn't too early.

10/23/2015
By
qballtway
from ohio, ohio
Pros:
Carbon Fiber
Cons:
None
Best Uses:
Medium oil
Bottom Line:
Yes, I would recommend this to a friend
Big strong backend, INFUSED New Cover stock
BOWLER SPECS
BALL WEIGHT: 14#
REV RATE: 435
BALL SPEED: 17.5
DUAL ANGLE LAYOUT: 60 X 5 X 35
PATTERN: 45'
PATTERN TYPE: Sport
BALL SURFACE: FACTORY
COMMENTS:
LIKES: Great colors, awesome ball motion and continuation off the break point. Easy to read lane transition

DISLIKES: NONE!
OVERVIEW:
With the NEW juiced extreme hybrid cover it is very clean thru the fronts and mids a pack a powerful recovery on the backend. This is the first ball that HAMMER has infused the carbon fiber into the cover of the ball. I was able to play a variety of angles with this ball. It was really east to read transistion on the lanes. I found that this ball will fit between BW Red Solid and the original Bad Intentions.

2/10/2016
By
drew
from cambridge, ma
Bottom Line:
Yes, I would recommend this to a friend
Great ball. Game changer
love the ball. Great snap and great feel. Brought my game back to life.

Customer

Questions

& Answers

| Reviews