We'd like to offer you $5 off your purchase of $50 or more today!
Coupon excludes instant bonus items, hot deal items, and gift certificates.
Hammer Black Widow Dark Legend
Hammer continues to make the stuff of legends but this one is on the dark side.The Black Widow Dark Legend takes the proven history of the Black Widow line and continues to tweak it. This ball has the Gas Mask core which is covered by the Semtex Hybrid and finished with a 1000 grit Abralon pad and polish. This core and cover combination offers unparalleled mid-lane and backend continuation for a spectrum of bowlers with increased traction on medium to heavy oil conditions. This bowling ball is Carbon Fiber Infused! Carbon fiber is one of the toughest materials on earth. Hammer decided to add this material to the inner core of this ball for added strength and durability allowing them to offer an incredible 3 year warranty.
Color: Black/Purple Pearl

All colors do vary somewhat from the picture shown.

Reaction: Strong mid-lane with continuous backend
Coverstock: Semtex Hybrid
Core: Gas Mask (includes Flex-Resin additive, Ceramix surface process, and Carbon-Fiber outer core)
Finish: 500/1000 Abralon Polished with Powerhouse Clean N'Sheen
RG: 2.50**
Differential: .058**
** RG and Diff are based off of 15 lb. balls
Hook Potential: High
Length: Medium
Recommended Lane Condition: Medium-Heavy Oil
FCC Rating: Total- 25.75, Finish- 7.5, Core- 8.75, Cover- 9.5
Manufacturer's Warranty: 3 year
A few tiny pit holes in the cover stock of the ball are normal
SKU: HAMHMDKLEGD
Product ID: 9783
Brand: Hammer
Category: Bowling Balls
Ball Performance: Upper Mid-Performance Balls
Back to Top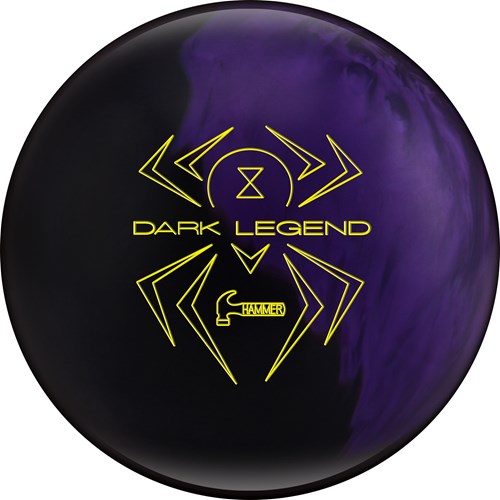 Similar Balls: Same Hook Potential, Lane Conditions & Coverstock as the Hammer Black Widow Dark Legend.
2/8/2016
By
jkaseehammer
from Knoxville, TN
Bottom Line:
Yes, I would recommend this to a friend
Looks and rolls amazing!!
Another home run from the widow series! I drilled my ball using a 65 x 5 x 35 dual angle layout and this ball doesn't disappoint. Not only does this ball look amazing with the black and purple colorway, it rolls just as well. With the hybrid version of the Semtex cover this ball is very clean through the front/mid lane and has a smooth reaction down lane. In comparison, this ball hooks about three more boards than my Black Widow Legend.
jkaseehammer

2/16/2016
By
Plowboy300
from Sarasota, FL
Pros:
Medium - Medium Heavier patterns
Bottom Line:
Yes, I would recommend this to a friend
Strong Versatile Ball from Hammer
The Dark Legend reminds me very much of the original Black Widow ball motion. The Dark Legend fits in between the Red Legend Solid & original Red Legend where it is still clean through the front part of the lane and provides a smooth, yet strong motion in the backends. For me, this ball is about 3-4 boards weaker overall than the Red Legend Solid, but offers a bigger backend motion and is about 3-4 boards stronger than the Red Legend Pearl. This ball will work well with all styles of bowlers and offer a strong backend continuous motion for when you need more angle down the lane.

With the new 3 year warrantee that Hammer provides for this ball, this is the BEST bang for your buck!
I think this ball will be a must have ball for those that are looking for something similar to the original Black Widow or a versatile ball for the tournament patterns. This ball has a great motion that does not stop rolling in the backend - it really continues through the pin deck! Very versatile ball... You will be impressed!

4/10/2016
By
Beginner bowler
from Wisconsin
Bottom Line:
Yes, I would recommend this to a friend
I would recommend it.
Great for people that ride the outside lanes.

4/21/2016
By
db12590
from Tampa
Bottom Line:
Yes, I would recommend this to a friend
What a difference
I'm just a rec league hack who started bowling about 18 months ago with a 14 lb hammer amp, first with a traditional grip, then going to fingertip which helped raise my average into the mid 160s to low 170s. I tried a dark legend during a demo day and had to buy one. I went with a 15 lb and what a difference the ball is making for me. I'm stringing together strikes in a way that I never could with my amp. First day out I had a 640 series, which for me is great, and included 11 strikes in a row. My league average is suddenly in the 190s and I couldn't be happier that I made the switch. I can't talk of the science or reaction of this ball, just that it knocks down pins far more efficiently than my former ball.

5/8/2016
By
Bowlingnut
from IN
Bottom Line:
Yes, I would recommend this to a friend
Barely out of the box and already LOVE it!
Just tried it out for the first time and after tuning into the lane conditions, rolled my highest game of 243. It doesn't over read the oil and gas a smooth hook into the pocket. Played down and in Norm Duke style and consistently hit pocket, however left more single pins than I would look. Used it to shoot spares and picked up almost all of them. Working on amount up the revs to see how much it will hook!

8/5/2016
By
Freeswing
from Washington, DC
Bottom Line:
Yes, I would recommend this to a friend
Dark Legend Wants You To Come To The Darkside.
Pattern Fresh USBC Blue 42ft
The other Legend bowling series bowling balls were a little early for me. I have seen plenty bowlers get them down the lane without an issue. When I rolled with the Dark Legend I saw nice length and that smooth backend reaction I love to read once it starts to exit the pattern. I was able to bowl with the Dark Legend for all 3 games that night in league and I continued to move left but I didn't get a chance to get really deep and watch it bend the corner. However I will say I am still impressed with the stored energy and the length the Dark Legend gets. If I had to pick a word to describe the Dark Legend Predictable is a good one, I feel like when I pick it up I know what I will see.

9/22/2016
By
Stefanie Johnson
from TEXAS
Bottom Line:
Yes, I would recommend this to a friend
Extremely Smooth
Hey Y'All Stefanie Johnson here... Are you looking for a ball that is extremely smooth, yet still hits like a truck???

THIS IS THE BALL YOU HAVE BEEN WAITING FOR!

I was a huge fan of the Red Legends so I couldn't wait to give this one a try and it did not disappoint.

Mine is currently drilled with the pin under the bridge and has a small weight hole. I have used it on my league house shot and a couple of the medium WTBA sport patterns and this ball has been very successful.

This ball allows me to play straight up the lane (which I love!) and trust that it's not going to over react in the back - it is super clean going through the heads and mid lane yet stores enough energy to get through the pins.

Definitely a must have if you're looking for that ball that's super predictable and doesn't do anything craZy :)

2/12/2016
By
Sweetpea Bowl
from Worcester, Massachusetts
Pros:
great shelf appeal, strong continuous midlane read
Best Uses:
variety of pattern lengths
Bottom Line:
Yes, I would recommend this to a friend
Another winner in the Widow Legend series!
The new Dark Legend by Hammer- The core is ever famous/highly proven gas mask core found in the Widow/Taboo/Legend series of Hammer equipment. The coverstock is the Semtex Hybrid cover. The new Dark Legend, true to its name, features a vibrant purple & black cover and box surface is 1000 Abralon with a Clean N' Sheen finish. Like with all Hammer equipment featuring carbon fiber, the Dark Legend comes with the industry leading 3 year warranty.
My "vital statistics" are that my PAP is 5 ½ over and 1/8 up with a rev rate of 405. Additionally, I have thrown this ball on USBC White pattern as well as a variety house shots/surfaces. I have thrown the ball at box surface. I drilled the Dark Legend with a 95 x 5 ½ x 35 layout.
The Dark Legend is a valuable addition to the Legend line. The Dark Legend has a HYBRID version of the Widow Limited that had a Semtex PEARL cover on it. As such, I found the Dark legend to have a bit more overall hook/stronger read in the midlane & back end. This ball is also stronger in my opinion in comparison to the Red Pearl Legend. It is definitely cleaner and more angular than the Red Solid Legend. Thus, if I were to put in order from strongest to weakest in the current Legend series, it would be Red Solid Legend, Dark Legend, Widow Limited and Red Pearl Legend. Like with most Legend series balls, the ball reads the midlane very well & has strong continuous motion through the backend of the lane.
This ball will suit a variety of styles/rev rates. Except for very short or very long patterns, I believe this new Dark Legend will be able to handle most pattern distances & should excel on medium to medium heavy volumes of oil. If you are bowling on a dead flood or very long pattern, consider the Red Solid Legend or the new Hammer Scandal. If you are bowling on a very short pattern & do not have faster speed, consider trying a weaker Hammer such as a Viral Solid,Low Flare or Black Urethane.
See your local proshop for the new Dark Legend by Hammer!

11/23/2016
By
ramiro
from Palmhurst texas

Customer

Questions

& Answers

| Reviews