We'd like to offer you $5 off your purchase of $50 or more today!
Coupon excludes instant bonus items, hot deal items, and gift certificates.
Hammer Diesel
The Hammer Diesel is back! This bowling ball has the same popular Diesel core as the original but this time it is wrapped in Hammer's NBT Hybrid coverstock. The intended reaction of this ball is a strong continuous hook when used on medium to heavy oil conditions. This bowling ball is Carbon Fiber Infused! Carbon fiber is one of the toughest materials on earth. Hammer decided to add this material to the inner core of this ball for added strength and durability allowing them to offer an incredible 3 year warranty.
Color: Black/Red/Orange

All colors do vary somewhat from the picture shown.

Core: Diesel
Coverstock: NBT Hybrid
Finish: 500/2000 Abralon
Reaction: Strong Continuous Hook
RG: 2.51**
Differential: 0.046**
** RG and Diff are based off of 15 lb. balls
Recommended Lane Condition: Medium to Heavy Oil
FCC Rating: Total-23.75, Finish-9, Core-7, Cover-7.75
A few tiny pit holes in the cover stock of the ball are normal
SKU: HAMHMDIESEL
Product ID: 10615
Brand: Hammer
Category: Bowling Balls
Ball Performance: Mid Performance Balls
Back to Top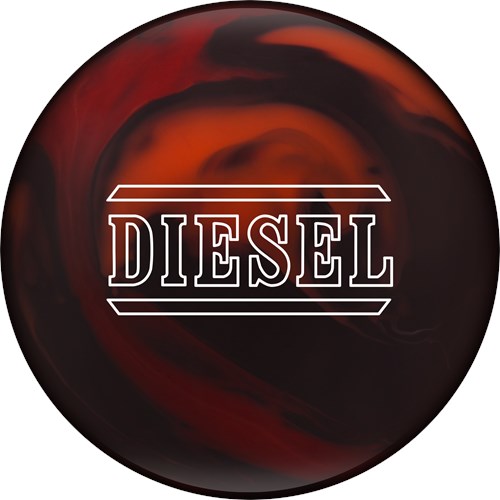 Similar Balls: Same Hook Potential, Lane Conditions & Coverstock as the Hammer Diesel.
6/26/2017
By
jkaseehammer
from Knoxville, TN
Bottom Line:
Yes, I would recommend this to a friend
Hammer Diesel!
I drilled my Diesel by using a 60 x 5 x 65 layout which put the pin under my bridge. This ball was a surprise! Considering it is listed as a mid performace ball, the Diesel gives a lot of hook for that price point! With the trusted Diesel symmetrical core this ball has a strong continuous hook. For me, this ball is about 3-4 boards weaker than my Hammer Rhodman. This ball also has the carbon fiber outer core which carries a 3 year warranty! I will try to load a ball reaction video. If it won't load you can search Average Joe Review on YouTube to see it go down lane.

8/11/2017
By
Stefanie Johnson
from Texas
Bottom Line:
Yes, I would recommend this to a friend
Hits like a DIESEL truck!
Hey Y'all.... Stefanie Johnson here... all I can say is that this ball exceed my expectations! I currently have two in my arsenal with one pin above the bridge and one pin below the bridge.

I tend to lean more towards the aggressive balls due to me low rev rate and higher ball speed, they just seem to roll the best for me and go through the pins the right way.

Pin up: I have used mostly for medium patterns to get through the heads and have some energy to continue through the pins down lane.

Pin down: I have used this on medium/heavier patterns as to get the ball in to a roll sooner yet still have a continuous smooth reaction down lane.

This ball hits like a truck for me and doesn't "plaque" like others. Certainly a winner if this is what you are looking for !

6/20/2017
By
Deeeee Dot
from Ridgefield Park, NJ
Bottom Line:
Yes, I would recommend this to a friend
Welcome back Diesel!!!
Today's the day!!! The Hammer Diesel is available in your local pro shops. I have thrown the Diesel on various house shots, and will give my review. They matched the old Diesel core and wrapped it in their successful NBT Hybrid Coverstock. The results...wow. A very responsive surface ball with typical great Hammer hitting power. best part, it is a MP bowling ball!!! Don't let this bowling ball pass you by...
#teamebi #diesel

7/6/2017
By
Sweetpea Bowl
from Worcester, MA
Pros:
Shelf appeal, Strong, continuous motion
Best Uses:
Medium to heavy volumes
Bottom Line:
Yes, I would recommend this to a friend
The Diesel is back!
Here is my take on remake of the Hammer Diesel. The new Diesel features the exact same symmetrical core of the original Diesel from approximately 13-14 years ago. Additionally, the new Diesel has the NBT Hybrid cover, the same cover featured on the ever popular Widow Legend. The ball comes with an industry leading 3 year warranty and its color is a striking swirl of Black/Red/Orange. Box finish is 2000 Abralon.

My "vitals" are a rev rate of 405 and a PAP of 5 9/16 over and 1/8 up. I used a 45 x 5 x 40 with a P4 weight hole layout in the remake Diesel. I've tried this ball on THS, 2015 USBC Masters pattern and Kegel Abbey Road. I have thrown the ball at box and 1000 Abralon on these patterns. My intent for this ball was to have a strong, controllable ball for heavier volumes...yet still have enough to go away from the pocket and get it back. I have been with Hammer staff for 13 seasons.

At box surface and at 1000 Abralon, the Diesel does require some volume to the pattern for it to be in play.(Though I could easily see this ball in play on more medium patterns with a smoother surface.) That being said, the Diesel came through for its intended use. I'd put this ball shape wise as earlier and smoother than an original Rebel, but with a stronger backend motion than a Rhodman. I had good success with the Diesel on Abbey Road at box and on Masters pattern with a little more surface. Either way, with an appropriate hand position, I was able to go away with the ball and still get it back. In combination with an original Rebel or new Cherry Vibe for when the pattern breaks down or lighter volumes generally, there is an excellent 1/2 punch in the Hammer line.

The new Diesel or the new Blue Vibe can be excellent choices for a new benchmark ball to start the upcoming season. The Diesel will be at its best on medium to heavier volumes and drilled properly, this ball should match up with different styles and rev rates.

The Diesel is currently available!

7/28/2017
By
Michael Thompson
from Sarasota, FL
Best Uses:
Heavier Lane Patterns, Medium Lane Patterns
Bottom Line:
Yes, I would recommend this to a friend
Strong Rolling Hybrid from Hammer
BALL LAYOUT: 65 x 5 3/8 x 30

The Diesel is a modified / stronger Hybrid version of the popular Rebel series earlier this year and from last year. The new core matches up with all styles of bowlers and will provide a stronger continuous motion in midlanes that does not stop in the backends. The Diesel hybrid cover was very surprisingly stronger will allow you to play on heavier medium lane patterns and does adjust very well with surface changes if needed. I love the strong mid-lane motion of the Diesel and think this will be a great 1st ball out of the bag which that will control the mid-lanes on various medium lane patterns. Amazing amount of control throughout the lanes and will be a great addition for the league/tournament bags.

A very versatile ball... You will be impressed with the Diesel, which is available now at your local pro shops!

8/6/2017
By
Kim Mann
from Wooster, ohio
Bottom Line:
Yes, I would recommend this to a friend
Looking for strong, look no further
This ball really shocked me by just how strong but, predictable it is. Drives so hard through the pins and I have yet to see this ball puke or roll out on me on the backend.. can't say enough how much I am in love with this ball!! Similar motion to my Rhodman but, a good 5 boards stronger and that is huge for a straighter player like me!

8/15/2017
By
Gobeavers92
from Clackamas OR
Bottom Line:
Yes, I would recommend this to a friend
Love the Hammer Diesel
I drilled my Hammer Diesel 60x5x75 (pin under middle finger) box finish.

I was not sure what to expect when I first tried the new Hammer Diesel but I was very happy to see the smooth, predictable down lane reaction. The ball easily floated through the front part of the lane and then picked up a nice heavy roll without losing any hitting power. On the fresh the ball performs very well you can square up to the right keeping your angles in front you and control the pocket. As the lanes break down you can move in and open up your angles without losing hitting power.

I love this ball and it will be in my bag for a long time to come.

#teamebi
#diesel

Customer

Questions

& Answers

| Reviews