We'd like to offer you $5 off your purchase of $50 or more today!
Coupon excludes instant bonus items, hot deal items, and gift certificates.
Hammer Viral Solid
By combining the popular Vibe core with the hugely successful Violent Flip Reactive Solid coverstock that was used on the original Black Widow series this Hammer ball is sure to go viral, again. The Hammer Viral Solid develops a strong read at the mid-lane while conserving for a powerful move at the backend. This ball is best used on medium to light oil conditions. This bowling ball is Carbon Fiber Infused! Carbon fiber is one of the toughest materials on earth. Hammer decided to add this material to the inner core of this ball for added strength and durability allowing them to offer an incredible 3 year warranty.
Color: Blue/Green

All colors do vary somewhat from the picture shown.

Coverstock: Violent Flip Reactive Solid
Finish: 500/1000 Abralon Polished with Powerhouse Factory Finish Polish
Core: Vibe with Flex-Resin Additive, Ceramix Surfacing Process, and Carbon Fiber Outer Core.
Reaction: Skid / Flip
RG: 2.51 (for 15# ball)
Differential: .042 (for 15# ball)
Recommended Lane Condition: Medium-Light Oil
FCC Rating: Total- 19, Finish- 7.25, Core- 6.5, Cover- 5.25
Manufacturer's Warranty: 3 year limited
A few tiny pit holes in the cover stock of the ball are normal
SKU: HAMHMVIRSLD
Product ID: 9330
Brand: Hammer
Category: Bowling Balls
Ball Performance: Mid Performance Balls
Back to Top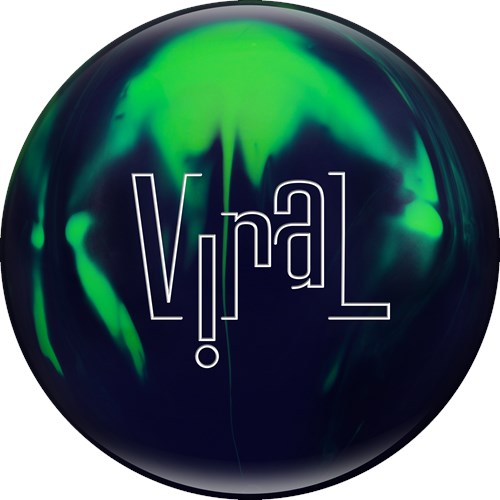 Similar Balls: Same Hook Potential, Lane Conditions & Coverstock as the Hammer Viral Solid.
9/14/2015
By
Plowboy300
from Sarasota, FL
Pros:
Versatile, Nice Backends, Medium-lighter Pattern
Cons:
heavy oil
Best Uses:
MEDIUM, Medium-lighter Patterns
Bottom Line:
Yes, I would recommend this to a friend
Versatile Ball - Stronger Vibe
The Viral Solid continues with the great Vibe core with a SOLID reactive coverstock to be a little smoother down the lane than the original Viral which came out last year. For me this ball is about 2 boards stronger overall than the Viral Pearl, but smoother in the backends than the original. I like to use this ball when the lanes are medium to lighter medium where I need to control the mid-lane / backend reaction. This ball is one of the balls that will be staying in my tournament bag – so versatile!

Dislikes: Only dislikes are the heavier lane patterns, but would not use this ball on this pattern.

With the success of the Viral from last year and the classic Vibe core, the Viral Solid is a great rolling ball that is versatile and really plays well for all styles of bowlers. You can chase the oil line inside and with the SOLID coverstock, this ball will still be strong enough to turn the corner when playing inside. This is one of those balls that you have in the bag for various medium – medium lighter lane patterns and does not provide over/under like most other weaker core balls might have. Very consistent rolling ball – highly recommended!

7/8/2015
By
Sweetpea Bowl
from Worcester, MA
Pros:
Carry And Power, Carrystriking Power, Ball Motion, 3 year warranty, Shelf Appeal
Best Uses:
Medium Volumes, Variety Of Pattern Length
Bottom Line:
Yes, I would recommend this to a friend
A Stronger Viral
Here is my take on the new Hammer Viral Solid. It features the Viral core (originally the highly successful Vibe core- carbon fiber) with a solid version of the Violent Flip reactive cover. Like all Hammer balls, it comes with a 3 year warranty. The color of the new Viral Solid is bright green and black.
I used a 60 x 5 ¼ x 70 layout with a weight hole 4 inches over and 2 inches down from my grip center. I left this ball at box surface and have thrown it on THS and PBA Wolf. Most recently, I tried the ball with 3000 Abralon on THS and WTBA Athens.
There has yet to be a Vibe/Viral I did not like and the new Viral Solid is no exception. Compared to an original Viral, the Solid is stronger overall. I prefer the ball at the 3000 Abralon surface as it eliminates any "squirt" through the front and/or over/under in the back and generally gives a more defined breakpoint to the bowler.(I found the same to be the case for the original Viral as well) This ball, compared to the original Viral (both at 3000) is definitely about 3-4 boards stronger and does read earlier. I see this ball, like all previous Vibes/Virals, to be very "user friendly" in that it will be successful with many different styles of bowler and can be drilled to achieve many different ball motions. I expect that this ball's strong suit will be the lighter to medium volume patterns on a variety of lengths.Depending on the starting pattern length/volume and surface preparation, the new Viral Solid could be used on broken down patterns. On heavy volume patterns or very long patterns, I believe that a stronger ball will yield better results such as the new Red Legend Solid, original Legend, or Bad Intentions, all made by Hammer.
See your local pro shop for more information about the new Viral Solid by Hammer.

9/18/2015
By
hammertime
from Parkersburg WV
Pros:
Carry Controllable
Cons:
heavy oil
Best Uses:
Medium Patterns
Bottom Line:
Yes, I would recommend this to a friend
Overall Stronger Viral
The new Viral Solid is an overall stronger version of the original viral. The new solid has a lot more midlane reaction, compared to the original. This prevents any squirt that the original may have given you. The new solid by far is most versatile ball I have thrown. It rolls great on medium patterns as well as house shots. The cover is easily adjusted to match what pattern you are bowling on. I drilled mine with a pin down drilling under the bridge with a hole down. This gives me great midlane control with readable down lane motion. The Solid is the first ball out of the bag when bowling tournaments. It gives me a great read of the lanes. The solid is a very controllable ball reaction. The carry of the Solid is another strength of the ball. It has hammer's carbon fiber which comes with a 3 year warranty.

9/21/2015
By
KB
from Baltimore MD
Pros:
Stronger Back End, Stronger Through The Pins, Great length, Better Shape Than Viral
Best Uses:
Good For Medium Patterns
Bottom Line:
Yes, I would recommend this to a friend
Viral Solid review
This ball is amazing for your ths patterns and medium to longer sport patterns. The length and back end from this piece make for an amazing ball reaction.Sharper off the breakpoint and violent through the pins. This ball is a must have.

Amateur staffer Kyle Brooks

9/21/2015
By
RustyB
from Shreveport,, LA
Bottom Line:
Yes, I would recommend this to a friend
A Must For Your Arsenal
This ball is amazing.I loved the original Viral, but this one is much different in a good way. The continuation though the pins is better than any ball I have seen or used in a long time. I have fairly slow ball speed and not a lot of revs, but in the last 15 games, I have only left 7 ten pins with this ball. It works great on medium and drier conditions playing around third arrow, and will still finish on wetter patterns from outside 10. Just can't believe how good this one is. Keep it up Hammer.

10/17/2015
By
jkaseehammer
from Knoxville, TN
Pros:
Arch, House Shot, Control
Cons:
Not For Higher Volume, Not For Longer Patterns
Best Uses:
THS, Shorter Patterns
Bottom Line:

Vibe Core!!!
Likes:This ball continues my love for every ball with the Vibe core. Overall this ball is stronger than my original Viral but is a different motion. My Viral is very strong and sharp on the backends where this ball is smoother. This ball will roll great on THS, shorter patterns, or later block games.

Dislikes:Had to put a little surface on it to get it to corner and will not be good on patterns with heavy volume or longer patterns

10/23/2015
By
qballtway
from ohio, ohio
Bottom Line:
Yes, I would recommend this to a friend
big hook little money
BOWLER SPECS
BALL WEIGHT: 14#
REV RATE: 435
BALL SPEED: 17.5
DUAL ANGLE LAYOUT: 75 x 5 3/8 x 30
PATTERN: 42'
PATTERN TYPE: THS
BALL SURFACE: 2000 aberlon
COMMENTS:
LIKES: Great colors, good length with strong backend. Lots of hook for price.

DISLIKES: NONE!
OVERVIEW:
I really love the cover on this ball. It was the same cover used on BW sting. I elected to crack the cover to 2000 aberlon it gave me a better overall consistant reaction. (this is normal for me, there is not a lot of polished balls that I throw) With the surface change, I felt like I could create more area, which of course is a big benefit on any lane condition. This ball is a great compliment to 1st release in the series. This would be a ball out of my bag on the fresh and as the lanes changed I could go to 1st Viral. This ball is great for medium patterns, with factory polish I would use it on lighter volumes.

3/15/2017
By
Ozzie
from K.C., Kansas
Pros:
Very Aggressive
Cons:
It was not as advertised for oil usage
Bottom Line:
No, I would not recommend this to a friend
No I would not. For me it is not a good ball.
I am 74 years old and was looking for a ball that I could stand a little left on the approach and throw the ball down the right side. I tried this and the ball went left of the headpin way before it got near the pins. I moved farther left and tried to throw the ball and had no success. If I could throw the ball 18 MPH I could use it. It is not being taken to the bowling alley where I bowl anymore and my teammates suggested I not use it to shot 130 games. I have been using another ball and my average is near 190.

4/19/2017
By
JR
from Blue Ridge, GA
Bottom Line:
Yes, I would recommend this to a friend
Super ball on dry lanes
The house I bowl in is an old wood house.oil is very light. I was looking for a ball that would get down the lane and retain enough energy to drive through the pins. The only change I made to the ball was to go to 4000 grit and finish with factory finish. This ball really delivers,

Customer

Questions

& Answers

| Reviews