We'd like to offer you $5 off your purchase of $50 or more today!
Coupon excludes instant bonus items, hot deal items, and gift certificates.
Motiv Chronic Paranoia
Cause some Chronic Paranoia on the lanes with this versatile ball from Motiv. The Chronic Paranoia takes the dual density Oblivion core and pairs it with the Agitator Solid Reactive coverstock that is finished with a 4000 grit LSS. This combination gives the bowler the ability to strike from various angles on a range of medium oil patterns. This medium angular bowling ball not only works on a variety of patterns but offers great ball motion for a variety of bowlers.
Color: Violet/Lime Solid

All colors do vary somewhat from the picture shown.

Core: Oblivion
Coverstock: Agitator Solid Reactive
Finish: 4000 Grit Laser Scan Sanded
RG: 2.53**
Differential: 0.047**
** RG and Diff are based off of 15 lb. balls
Recommended Lane Condition: Medium Oil
A few tiny pit holes in the cover stock of the ball are normal
SKU: TLMTVBPPGS
Product ID: 10386
Brand: Motiv
Category: Bowling Balls
Ball Performance: High-Performance Balls
Back to Top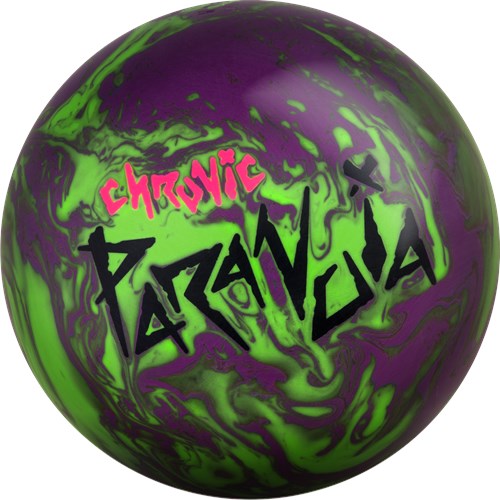 11/18/2016
By
Adam Chase
from North Babylon, NY
Pros:
Angualar through the pin deck, Compliments the Paranoia and Forza GT, Continuous, Good benchmark ball for medium oiled lanes
Bottom Line:
Yes, I would recommend this to a friend
Chronic Madness
The new chronic madness is a new benchmark style ball that will work on many conditions and with many styles. The chronic madness is controllable in the midlane yet angular through the pin deck giving this ball great pin carry. For me, this ball reads the body of the lane about 3 feet sooner and is much smoother compared to the original paranoia. This ball will give a little more pop on the backend then the Forza GT but is still very continuous as well. The best part about this ball is how it blends the lane out and significantly reduces the wet/dry ball reaction. For those, who bowl on those types of conditions or who need a ball that's a little more controllable then the paranoia, will really love this ball.

11/23/2016
By
Mags
from Metro Detroit
Bottom Line:
Yes, I would recommend this to a friend
#Chronicmadness
This release is very simple...it's a benchmark ball and it's designed to be used on all but extreme conditions. The Chronic Paranoia is meant for many scenarios:
1) Angular balls are responding too fast to friction, or
2) Smooth balls are responding too slow to friction, or
3) Light to light/medium oil balls are too weak, or
4) Heavy oil to medium/heavy oil balls are too strong
The Chronic Paranoia is going to be an asset whether you're bowling on a house pattern to the most difficult of patterns. I've found that the Chronic Paranoia is very user friendly when it comes to surface alterations. I personally really like to stick with a particular surface on a ball once it is successful. However, I've actually liked the Chronic Paranoia out of the box, adding additional surface and even polishing it thus far. This is something crucial in a successful benchmark ball. I've always had MOTIV's benchmark ball in my bag, from the Sigma Sting to the Forza Redline, I have had great success with these balls. I feel the Chronic Paranoia is going to replace those very well, being stronger in the oil than it's predecessors in order to conquer modern day oil.

Mike Magolan
MOTIV | Turbo | Bowlifi | Genesis | Bowlerx.com Regional Staff

12/13/2016
By
Rick Zak
from Ohio
Bottom Line:
Yes, I would recommend this to a friend
Chronic Paranoia
Wow.. What can I say - for anyone who knows me they know the Yellow ball (Forza Redline) is always difficult to pry from my hand. For some reason that ball has always had everything I need from a benchmark ball and a ball that just seems to knock down the pins when I need them the most. I never thought I could replace it. Well along comes the new Chronic Paranoia and just like that - not only a replacement but an upgrade as well.
The Chronic Paranoia features the wildly innovative Oblivion core and new Agitator™ Solid Reactive cover stock, delivering impressive ball motion. This medium oil monster should be the first ball out of your bag each week and will provide you with many options on many different types of lane patterns. Rev dominant players will be able to open up the lane while speed dominant and straighter players will notice the length and stronger delayed hook and continuation the Chronic Paranoia brings.
Sometimes you find a ball that fits in many instances. This is a ball that you may not want to ever put down because of its versatility. Its consistency off the spot down lane and ability to still read the friction off the back of the pattern when playing deeper angles makes this one a must have and always the first ball out of your bag! Motiv has done it again!
Rick Zakrajsek
Motiv Staff- Ohio
www.motivbowling.com

2/27/2017
By
wya_rya
from Temple, PA
Bottom Line:
Yes, I would recommend this to a friend
Chronic Paranoia!
Paranoia... it can be a terrible thing when it consumes someone. Nothing can compare to it in that person's mind.... It can be seen as if it may never go away... long-lasting... chronic (see what I did there). Never fear my friends, such a thing would not be something for you to bare. No, No. The same cannot be said for your opponents however... MOTIV's new piece to their ever expanding arsenal force them to speak the very problem they will be face with once you pull it out of your bag, Chronic Paranoia.
Building off of the success we have seen with the original Paranoia, MOTIV has decided to take Oblivion core and warp it in a solid coverstock! The beauty of the new Agitator Solid Reactive cover is that it is capable of providing incredible versatility that we can expect from what we are considering a new benchmark piece in your bag.
What I have seen with the Chronic Paranoia is that it comes 'As advertised', and that is what I love most about it. I have always favored smoother ball reactions as you have seen in my previous reviews. A bowler's competiveness/longevity can always be measured by their versatility. When a ball can allow you to blend out patterns and play from different angles; that is the essence of versatility, which the Chronic delivers on. I have my Chronic specifically placed aside and reserved for my tournament bag for this very reason. I have thrown it in league play and the ball reaction does not disappoint, its transition through the mid-lane does not waiver in the slightest regardless of the angle I take, more squared up shot versus opening up the pattern. Although I have not rolled it on a shot were the heads were rather toasty, the Chronic is one of the first pieces out of my bag when I want to play the lanes more squared up and basically 'Keep it simple stupid'. This approach allows me to keep my moves and adjustments minimal as long as possible until finally I need to make the big jump.
Ryan Wyandt
MOTIV Staff Member
West Lawn, PA

Customer

Questions

& Answers

| Reviews
Question:
How to choose the top/pin weight
12/12/2016 - By
Bobby
Have an answer to this question?
Answer:
Hello Bobby! You can request for a pin/top weight by clicking on the blue tab that says "click to request pin/top weight" located under the weight selection tab.
12/14/2016 - By
Bowling.Com Staff
0

of

2

customers found this answer helpful. Did you? Yes | No
Did you find this answer helpful? Yes | No
Thanks for your feedback!