We'd like to offer you $5 off your purchase of $50 or more today!
Coupon excludes instant bonus items, hot deal items, and gift certificates.
Powerhouse Adrenaline Ball Steroid Wipes
Powerhouse Adrenaline Ball Steroid Wipes
THERE'S A DIRTY LITTLE SECRET in the bowling industry, and it affects bowling ball performance. Powerhouse now introduces the product bowlers have been waiting for to improve their ball's performance – Adrenaline Ball Steroid Wipes. The invisible enemy of your ball's performance is the oil applied to the surface of the lane, which soaks into the porous surface of the ball and negatively affects its performance. There are numerous cleaners (Powerhouse's most popular is called Energizer) and polishes that remove some oil from the surface of the ball, also removing any dirt and residue on the surface of the ball. Powerhouse's new Adrenaline is the first product in the history of bowling that helps to remove oil caught deep within the pores beneath the surface of the ball. Powerhouse Adrenaline Ball Steroid Wipes use a micro-pore penetrating action that safely restores and increases oil absorption in all reactive bowling balls. In addition to increasing oil absorption, research shows that over time, without re-surfacing a ball, Adrenaline enhances ball reaction. These work by increasing your ball's oil absorption which creates increased friction. That increased friction gives a better hook which leads to a better entry angle and more STRIKING POTENTIAL. You should manage your ball's performance by cleaning every 3-6 games with an approved cleaner like Powerhouse Energizer Cleaner and wiping your ball with Powerhouse Adrenaline Ball Steroid Wipes every 3-6 games to enhance and prolong your ball's performance. Be sure to visit your pro shop to have your ball resurfaced every 50-60 games to keep a consistent surface texture.
Resealable pouch for easy storage means no leaks or spills.
Travels well for tournament bowlers.
Made from environmentally-friendly, natural elements.
10 per package
SKU: EQ156ARDREA
Product ID: 7107
Brand: PowerHouse
Category: Bowling Accessories
Back to Top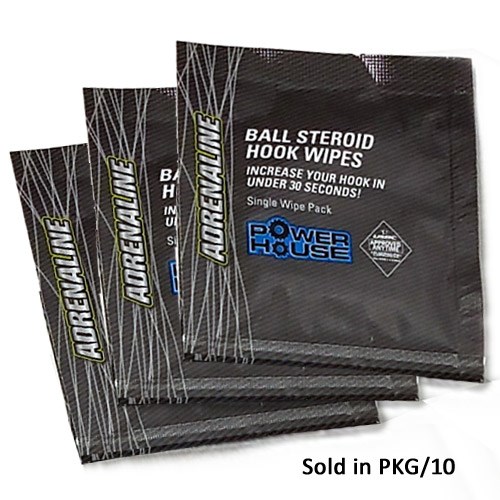 5/8/2012
By
ninja24
from jilton ny
Bottom Line:
Yes, I would recommend this to a friend
really works
I got a free one that came in the mail it really works great

7/16/2012
By
Matt whipple
from Crestview, Fl
Bottom Line:
Yes, I would recommend this to a friend
Excellent cleaning product
I work at a bowling alley and the guy who runs our pro shop asked me if I needed my ball cleaned. He used these steroid wipes and the next day at league I shot a 686 set. This brought almost all the reaction I got out of my ball when it was brand new. Definetly a great cleaning product.

4/8/2014
By
Atlanta Bob
from Atlanta GA
Pros:
None anymore
Cons:
They Cut Down On Wetness, They Dry Out In New Case
Best Uses:
In The Bafhroom
Bottom Line:
No, I would not recommend this to a friend
Not what they use to be!!!!
Since they went to the hard case they dry out quickly. The envelope had a better seal and fit in your bag better. They also cut down on the amount of solution in the package. Before I could wipe two to three balls with one wipe, now I am lucky to wipe one.

3/10/2015
By
Tolf
from Hope Mills, NC
Pros:
Draws Out Lane Oil, Cleans Surface
Cons:
Fumes Are Awful
Best Uses:
Cleaning
Bottom Line:
Yes, I would recommend this to a friend
Excellent Product
I use this product after I have already removed oil from my ball with my Innovative ball rejuvenator, then resurface and fill in the factory engraving with engraving filler. After the paint/filler dries I use this product as a final touch to the surface and it removes any excess paint left on the surface as well as conditions.

2/9/2016
By
Gato-Joss
from Belgium
Bottom Line:
No, I would not recommend this to a friend
Wipes in bags were better than in the new box.
These wipes in the box are definitely worse than the old pink ones in the pouch. Besides a pouch was easy to close, fit in the bag. I always cut the wipes in seperate wipes at home and put them back in the pouch.
The new ones feel sticky on your hands and I really feel the old ones removed the oil/dirt better.

12/30/2011
By
Bill the Bowler
from De Pere, Wi.
Bottom Line:
Yes, I would recommend this to a friend
Very pleased with first use.
Used it while resurfacing my Critical Theory. Wiped ball down after 1000, 2000,4000 grit abralon pad usage and wipe turned black from removed oil. Used it in league play the next day and the ball finished beautifully. Will need to wait and see how often to use wipes. Package says legal to use at any time while league bowling.

3/3/2015
By
Sad Bowler
from Northeast Ohio
Bottom Line:
No, I would not recommend this to a friend
New packaging has ruined this product
This used to be a great product when the wipes, thoroughly wetted, came in a pouch. They could remove oil rings on the ball that other products didn't touch, and ball reaction was definitely improved. Now they come in a canister and arrive dried out and worthless.

9/22/2014
By
scruffyman
from New Market, Al
Pros:
Good cleaner
Cons:
Old Version Was Better, S Good As The Old Version, Towel Comes Apart
Best Uses:
Use Every 3 To 6 Games
Bottom Line:
No, I would not recommend this to a friend
Not as Good as it use to be
towels come apart when using. Irritating. Old pink towel was better. The old ones I can get a good deep clean on the ball too that cleaners couldn't get.

12/11/2014
By
Mac the Knife
from Valley Stream, NY
Bottom Line:
Yes, I would recommend this to a friend
It really works!!
Have scored 15 to 20 pins above my average since I started using this product!!

1/3/2015
By
nick
from chicago
Bottom Line:
No, I would not recommend this to a friend
this is nothing but acetone.
The product came in a sealed container?

Customer

Questions

& Answers

| Reviews
Question:
Why aren't they obtainable
3/26/2017 - By
Ed
Have an answer to this question?