We'd like to offer you $5 off your purchase of $50 or more today!
Coupon excludes instant bonus items, hot deal items, and gift certificates.
Radical Jackpot
Radical created the Jackpot to meet a need of typical league bowlers. This ball not only hits an affordable price point but it also executes well on the usual house shot. The Jackpot core is covered with a coverstock designed to provide a powerful but controlled motion. This ball is the Jackpot for any league bowler!
Color: Icy blue/Chrome Pearl

All colors do vary somewhat from the picture shown.

Core: Symmetric with Scoop Technology
Finish: 500 Siaair/Royal Compound
RG: 2.573 (15# ball)
Differential: 0.056 (15# ball)
A few tiny pit holes in the cover stock of the ball are normal
SKU: RB60105805
Product ID: 9803
Brand: Radical
Category: Bowling Balls
Ball Performance: Mid Performance Balls
Back to Top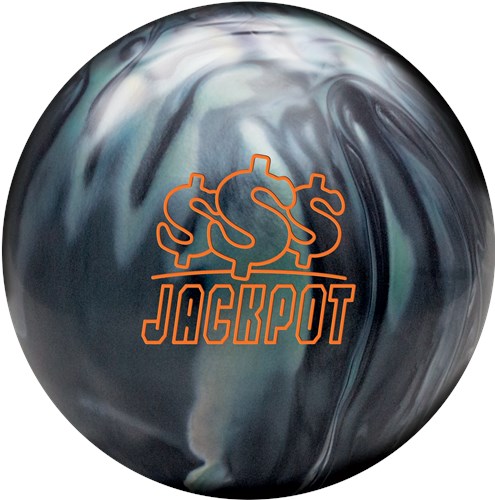 Similar Balls: Same Hook Potential, Lane Conditions & Coverstock as the Radical Jackpot.
4/7/2016
By
Chris H
from Cincinnati, OH
Bottom Line:
Yes, I would recommend this to a friend
Jackpot with the Jackpot!!
Specs: Left Handed, 15 mph, ~400 rev rate, drilled my Jackpot 45*x4x70* (PAP is 4 1/2" over, 1/2" up). This puts the pin below the bridge for me...I needed a weight hole as well. I chose this drilling because I had already drilled my Rave and Rave On with the pin above the fingers. I wanted to add some additional options to the lower end of my arsenal.

This new pearl cover along with drilling the pin down has given me a completely new look. This has allowed me to stay closer to the lower volumes of oil and expect a slightly earlier, cleaner roll, than what I see out of the Rave On. The pearl allows this ball to push and change direction, the weight block controls this change of direction.

For comparison purposes, this can be used whenever I have to ball down from the Rave or Rave On, it could also be used if I need to ball up from my Rack Attack, where I need to read the lanes from front to back. Sometimes length and strong reaction on the back are not the right look for being able to carry all 10 pins in all scenarios. Variety is the spice of life....Variety is also essential if you want to have a chance to always compete at any tournament you go to! The Jackpot is the latest release in the EZ Use Line. I strongly suggest you get yourself one.
Win the Jackpot with a Jackpot!

4/26/2016
By
pbaway
from sanford,NC
Bottom Line:
Yes, I would recommend this to a friend
Jackpot
Jackpot
I just drilled up this ball. It is very continuous on my house shot. The pearl cover allows it to clear the fronts. It picks up in the meds. And continues on the backend. I have layout of 85x3 1/2x40. I have try it on the usbc nationals patterns 2016. Once the lanes open up. This ball worked pretty good.
Another great addition to the Radical Bowling Technologies line of bowling balls.
Robert Way

5/7/2016
By
PeeDee02
from Trois-Rivières, Qc, Can
Bottom Line:
Yes, I would recommend this to a friend
Hit the Jackpot!
The new one in the Radical family, the Jackpot is providing a strong but controllable motion on the lane. The pearl coverstock gives you a better read on the midlane than most of pearl-cover ball in that price point. Plus, even if you are a "low rev, low speed" player or a "power, 2 handed" bowler, that ball will fit your game. That ball complements the Rave line pretty well.
In my case, considering I'm a "Cuba Hooking Jr" type of player, I went with my "go-to" layout and just adjust the pin distance, 60x4.75x40. It fit right between my Ridiculous (50x4.75x70) and Rave (50x5x70). It gives me an earlier read on the lane than my Rave and a bit more overall hook. Comparing to my Ridiculous, it give me a bit less overall hook and a more controllable backend. I kept the OOB surface with a little little scuff because it gives me the midlane I was searching.
Like I said, no matter what type of bowler you are, the Jackpot will fit your game and your arsenal. Now, it's only you to decide if you want to it the Jackpot or not! Think about it twice. Stay Radical my friends!

5/17/2016
By
Tony H.
from Herscher, IL
Bottom Line:
Yes, I would recommend this to a friend
The Bowler's Ball
The Jackpot is going to be the "bowlers" ball. This is going to be that great league ball that everyone needs. For me, this ball gives me the ability to play the lanes straighter with the length I have been looking for.

For the layout, we went pin over center and kicked 45 degrees.

This was a great ball when the lanes began to break down. I was also able to have a great look with this ball on Cheetah.

This ball will the best go to ball when the lanes become difficult.

6/16/2016
By
Josh Lapham
from Fort Leonard Wood Mo
Pros:
Great motion through the pocket, Great shelf appeal
Best Uses:
THS, When you need to open up your angles
Bottom Line:
Yes, I would recommend this to a friend
Great ball for THS for any skill level.
This ball is a monster through the pin deck. This ball allows me to open up my line and not have to worrie about ball not coming back. Ball gets into a roll in the midlane and destroys the pocket.
My pap is 4 11/16x 1/2 up layout is 70x3 3/4x30
This ball is a must have in your bag.

10/28/2016
By
Pbaway
from Sanford
Bottom Line:
Yes, I would recommend this to a friend
Jackpot
Radical Jackpot
This ball has good length thru the front part of the lane. It picks up in the mids. And has a controllable backend motion. It's a great ball for those players looking to play straighter or those players that are looking for a little less angle that the Ridiculous. I think it a great addition to the Radical Technologies line of balls.

Robert Way

Customer

Questions

& Answers

| Reviews