We'd like to offer you $5 off your purchase of $50 or more today!
Coupon excludes instant bonus items, hot deal items, and gift certificates.
Radical Ridiculous
The backend reaction of this bowling ball is ridiculous, hence the name Radical Ridiculous. You will have to see it to believe this new ball motion!
Color: Black

All colors do vary somewhat from the picture shown.

Core: Symmetric with Scoop Technology
Finish: 500 Siaair Micro Pad, Royal Compound
Reaction: Strong backend
RG: 2.585**
Differential: 0.040**
** RG and Diff are based off of 15 lb. balls
Recommended Lane Condition: Medium Oil
A few tiny pit holes in the cover stock of the ball are normal
SKU: RB60105770
Product ID: 9502
Brand: Radical
Category: Bowling Balls
Ball Performance: Upper Mid-Performance Balls
Back to Top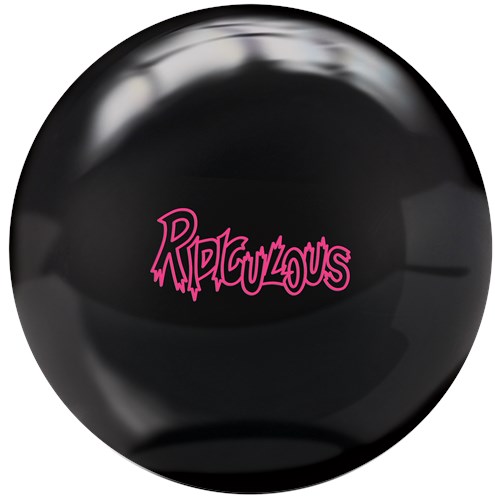 11/2/2015
By
Pure Terror
from Fayetteville, NC
Pros:
Strong back end, Worth the money, Awesome Ball
Cons:
None yet
Best Uses:
Med-heavy oil
Bottom Line:
Yes, I would recommend this to a friend
I would buy this product again and again
out of the box I shot a 716 series

11/10/2015
By
Brandon Hinderer
from York, PA
Best Uses:
League, Tournament
Bottom Line:
Yes, I would recommend this to a friend
The name is correct because of the ridiculous backend
DRILL PATTERN

Dual Angle Layout: 60 x 4 1/2" x 30
X Hole (if there is one): P2

BOWLER STYLE

Rev Rate: Higher, between 370 and 410 rpm, aka Cranker
Ball Speed: 16.50 mph
PAP/Track: 5 3/8" over and 7/8" up with a high track

SURFACE PREP

Grit: Box - 500, Royal Compound
Type: (Matte, Polish, Sanded): Polished

BALL REACTION

Length: 8 / 10
Back End: 9 / 10
Overall Hook: 8 / 10
Midlane Read: 7 / 10
Breakpoint Shape: Angular

The Radical Ridiculous does live up to it's name with a ridiculous backend motion. This is the most angular symmetrical core ball that Radical has made to date. With the black coverstock, it will allow you to read the ball motion easier to make the adjustments necessary to strike. It works really well on medium oil patterns and when you need that skid / snap reaction with a solid coverstock. Even with a Skid / Snap reaction, it still has enough energy to carry the 10 pin and drive through the pins. I have used this ball in league on an THS and it allows me to play a little farther to the right with my angles closed down but still have plenty of downlane motion. I have also used this on a 38 foot sport pattern which allowed me to stay farther right but still have continuation. As the lanes broke down, I was able to open up my angles a little and still have that strong recovery down lane. It takes well to changes to the coverstock to give you an earlier read compared to the box condition. Also, it would be a good benchmark ball to give you a good read to see how much friction is downlane.

11/11/2015
By
pbaway
from Sanford,NC
Bottom Line:
Yes, I would recommend this to a friend
Ridiculous
Ridiculous
Looking for a ball for broken pattern. Well this is the ball for you.
This ball is very clean through the fronts. With a smooth backend shape. Its stronger than the Rack Attacks. Weaker than the Primo. I think this ball works well on light volume patterns and broken down house shots. Also love the colors black and pink.
Robert Way

11/14/2015
By
JaredWolf
from Lowell, AR
Pros:
House-shot Killer, Versatility, Control
Best Uses:
Medium oil, League, Tournaments
Bottom Line:
Yes, I would recommend this to a friend
Ridiculously Good
Radical Ridiculous

Bowler's Stats:
Speed: 18.5-19 mph
Rev Rate: 425-450 rpm
Axis Rotation: 30-60 degrees
Axis Tilt: 5-7 degrees
Ball Layout: 45* by 5.5" by 45*

Radical's philosophy on most of their products is to cater to the reactions most needed by bowlers. For most bowlers on house shots, that means strong while remaining angular and versatile. The Ridiculous pushes Radical's territory in angularity to new lengths while preserving ease of use. The layout above was used to make the most out of what this ball is supposed to be – a house shot killer.

On one of my local houses I've been struggling at, the Ridiculous gave me a new look and more miss room than most of my other equipment. My strong equipment is too over-under on the fresh and too strong after a game or so anyway. The weaker stuff leads to odd carry issues in this house even if the over-under is controlled. The Ridiculous for me is the best of both worlds because I can start with a ball that I know is going to read well and recover and this stay with that ball throughout the night as I creep inside. Most importantly, I've noticed my Ridiculous is keeping pins very low at this house compared to other balls which we all know helps with carry percentage (almost like "trucking through pins" instead of "blowing the rack up").

I imagine the Ridiculous would work wonders for almost all house shot bowlers. It's angular yet versatile reaction allows you to trust and stay with the ball longer throughout the night.

11/23/2015
By
Rory
from Wisconsin
Pros:
Clean Through The Front, Great backend shape
Cons:
may have to surface prep for high volumes
Best Uses:
Medium Conditions
Bottom Line:
Yes, I would recommend this to a friend
Impressive backend motion
Impressive backend motion with this ball. Extremely versatile as well. Drilled this pin down, 3.5" pin. Very clean, but predictable through the front with a great motion down lane. Great on medium conditions and can easily surface prep for high volumes.

1/22/2016
By
Adam Ferri
from Pennsylvania
Bottom Line:
Yes, I would recommend this to a friend
The Name Says It All
This ball is absolutely RIDICULOUS!!! For the first time, Radical has released a mid-range ball that has both versatility and hitting power. The pin up drilling will allow it to clear the fronts and make a ridiculous backend motion, while the pin down option gives control with still enough pop off the spot to crush racks. If you haven't tried Radical equipment, this would be a great introduction.

-Adam Ferri
Pennsylvania

2/24/2016
By
Charles W
from Grovetown, GA
Pros:
Very, Very Versatile, Very strong on backend, Medium to Heavy Oil Ball
Bottom Line:
Yes, I would recommend this to a friend
This ball is stupid RIDICULOUS
The Radical Ridiculous is the best benchmark ball in the Radical line to date. The Ridiculous is so versatile it can pretty much be thrown on a variety of oil conditions, it's clean and very smooth off the transition in the backend. I laid mine out to roll early in the midlane but store and keep its energy to continue in the backend through the pins. This ball is a MUST in every arsenal because it will give you the motion you have all been looking for.

10/30/2015
By
PeeDee02
from Trois-Rivieres, Qc, CAN
Pros:
Control, Backend, Versatility
It's......RIDICULOUS
You wanted it, you needed it, you asked for it and you even dreamed about it! That's anything but RIDICULOUS! The new Radical Ridiculous is what every bowlers want in a ball: length, versatility, control and BACKEND! That ball is one for the ages. With the finger scoop technology, the Ridiculous will provide a lot of drilling option to fit your game and your need.

That kind of ball was missing in my arsenal since I drop, with regrets afterward, my Yeti Untamed. I was looking for a strong, solid coverstock, symmetric ball and I found the one! The second I saw it my idea was made for the drilling: 50x4.75x70. The reason behind that choice, complement my Primo. These two balls are a great 1-2 punch. The second I need a bit more pop at the back of the lane, the Ridiculous is the first ball out of my bag. I can say that I have 2 benchmark balls: Primo and Ridiculous. Like any Radical ball, the Ridiculous is very surface-adjustment friendly. Don't be afraid to hit it with 4 even 2k pad to adjust the length or overall hook of your ball. Mine is at 4000 and it hits like a truck. Pin carry isn't a problem with that ball.

Available since October 27th, the Radical Ridiculous is worth seeing if you are looking for whether a benchmark ball, a fit in your arsenal or a ball to start with. You'll not regret it. That's RIDICULOUSly RADICAL!

11/14/2015
By
Phil
from Orange Park Florida
Bottom Line:
Yes, I would recommend this to a friend
Best ball I have ever owned!
I recently ordered a Ridiculous and shot 795 out of the box. 258 258 279
Love how ball gets through the head with ease and has amazing back end reaction! Ball hits like a truck!!!

3/1/2016
By
Charles
from South Carolina
Bottom Line:
Yes, I would recommend this to a friend
Ridiculous!
When I first heard about this ball, I couldn't wait to get my hands on it. The ball has exceeded my expectations. I went with one of my favorite layouts (Pin in Ring / CG about 3/4 right of centerline). The Ridiculous clears the front part of the lane with ease with a VERY strong move off the spot. I feel like I can bring this ball back from anywhere on the lane. Unlike most angular balls I have thrown, the Ridiculous is still very predictable and has proven to be versatile on a wide range of conditions. This ball is quickly becoming one of my all time favorites.

Customer

Questions

& Answers

| Reviews
Question:
Do you drill this ball? How do I order it drilled
4/22/2017 - By
Jerry
Have an answer to this question?
Answer:
Hello Jerry. We do offer drilling for this ball. The drilling will be custom drilling for $39.95 and you can enter in your measurements when you are about to check out.
4/24/2017 - By
Bowling.Com Staff
0

of

0

customers found this answer helpful. Did you? Yes | No
Did you find this answer helpful? Yes | No
Thanks for your feedback!
Question:
have it in 13 lb
5/11/2017 - By
cook
Have an answer to this question?
Answer:
At this time, the Radical Ridiculousness is a Closeout Item. Closeout Items are usually being discontinued and are no longer being manufactured. At this time, the weights available will be 16 pounds.
5/12/2017 - By
Bowling.Com Staff
0

of

0

customers found this answer helpful. Did you? Yes | No
Did you find this answer helpful? Yes | No
Thanks for your feedback!