We'd like to offer you $5 off your purchase of $50 or more today!
Coupon excludes instant bonus items, hot deal items, and gift certificates.
Radical The Cash
You want hook, we got your hook! Radical's The Cash is a big hooking bowling ball due to a newly designed asymmetric core and a reactive coverstock formation that boasts to be highly aggressive. This ball thrives on heavy oil and hooks like no other.
Color: Orange/Black Solid

All colors do vary somewhat from the picture shown.

Core: Asymmetric
Finish: 500, 1500 Siaair Micro Pad
Hook Potential: High
RG: 2.504**
Differential: 0.048**
** RG and Diff are based off of 15 lb. balls
Recommended Lane Condition: Heavy Oil
A few tiny pit holes in the cover stock of the ball are normal
SKU: RB60105879
Product ID: 10398
Brand: Radical
Category: Bowling Balls
Ball Performance: High-Performance Balls
Back to Top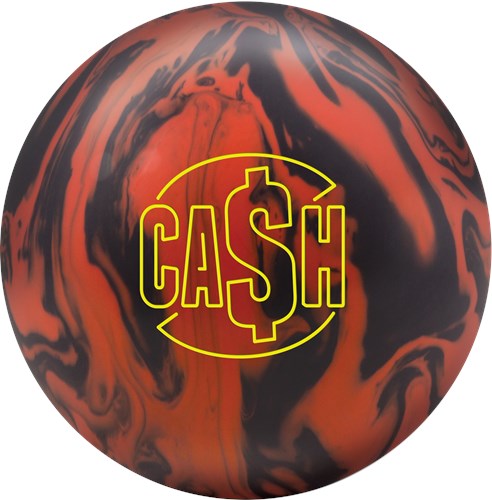 Similar Balls: Same Hook Potential, Lane Conditions & Coverstock as the Radical The Cash.
1/16/2017
By
Rory
from Wisco
Pros:
Good down lane motion, Good in oil
Best Uses:
Higher volumes are preferred
Bottom Line:
Yes, I would recommend this to a friend
Don't let the Hook Rating scare you
I will admit that I was first a little disappointed that this release "broke the hook rating." Usually, that does not bode well for a good ball motion and results in to early burn and no down lane reaction. However, this is not the case with the Radical CA$H.

I ended up drilling the ball 50x4.5"x35. I was quite surprised at the ball reaction, while the ball looks extremely dull, I was able to get length through the front part of the lane while not losing any down lane reaction. It appears this is the best of all the previous scenarios utilizing the 'Guru' core. More down lane motion than the Supreme, clears the front way better than the Master, and can fight the oil better than the Original.

1/17/2017
By
Bryan Bannach
from Edgerton, WI
Bottom Line:
Yes, I would recommend this to a friend
Tournament Season Ball
Radical has raised the bar again when it comes to hook. The Cash has recieved the highest hook rating ever given out by the Bowlers Journal at 64.5. Being the type of player that likes to keep my eyes a little further right, and also a higher rev player, I traditionally do not go crazy with layouts in these big strong balls. I decided to use my favorite layout of 70x3 ¾"x35 which is the same layout used in my all time favorite Guru Supreme. The Cash gave me exactly what I expected. A strong ball that can handle a lot of volume, and the layout allowed it to get down the lane where I do not have to open up my angles more than I prefer to. I have used the Cash on a variety of patterns so far from a Typical House Shot, to a 41 foot Tower of Pisa Pattern, all the way down to a 37 foot Broadway Pattern. The Cash was versatile enough to work well on each of the patterns. The benefit I see in the Cash over the previous hook title holder (Guru Supreme) is the ability to be a little cleaner through the heads and continue through the pins better. Just in time for tournament season, anyone looking for a ball for heavy volumes, the Cash is your ball!

2/10/2017
By
Joe bowler
from Michigan
Pros:
Doesn't burn up, just jeeps hooking
Best Uses:
Heavy oil
Bottom Line:
Yes, I would recommend this to a friend
Allows me to play like power player!
I'm a moderate revving full roller 15-16mph. The ball let's me play inside and swing like a power player but it also has a very predictable motion. Hits like a tank and just continues through the back of the deck.

2/27/2017
By
Robert way
from Sanford,N.C.
Bottom Line:
Yes, I would recommend this to a friend
Radical cash
Radical Cash

This ball is hook in a box. I'll drilled up my with a double thumb layout. For your bowlers at bought a original Guru. Well this is a Guru on steroids. It's very strong ball in the fronts and still has plenty of backend reaction. I have try it out on the typical house shot. It needs a little bit more oil. Or take the surface up to 4000. I have try it on a long sport pattern (shark). Well it gave me the shape I needed to start with on this pattern. Radical did a great job on designing this ball. I'll be buying another one and trying the 90 x 2 1/4 x 50 layout for short patterns.

Robert Way

3/1/2017
By
NormanE
from Toledo Ohio
Bottom Line:
Yes, I would recommend this to a friend
More hook
If you need movement down Lane this will be the ball for you

3/15/2017
By
terminator
from bel air maryland 21014
Bottom Line:
Yes, I would recommend this to a friend
if you want hook cash in on this ball
bought this ball 3 weeks ago shot 634 out of the box and I had missed two 10 pins or it would have been a higher series. two days later had the pro shop tweak the ball a lil bit added a weight hole shot 743 with two splits in my second game back to back or that would have been a a lot higher series ball hits like a tank drives thru the pins well. mine is drilled with layout option A

7/6/2017
By
Pbaway
from Sanford,N.C.
Bottom Line:
Yes, I would recommend this to a friend
Cash
Radical Ca$h,

My Doubles partner and I drilled up Cashes. Our layouts are 90 x 1 1/4 x 50 for him. And my is 120 x 2 1/4 x 45. This was a great shape for doubles and singles at the Usbc Open Championship. With this layout we were able to keep the ball in front of us. And play up the boards. I also used another Cash for the team event. This layout is 60 x 4 x 30. With this ball and two different layouts gave me a one - two punch. Another great ball from Radical Bowling Technologies.

Robert Way

Customer

Questions

& Answers

| Reviews
Question:
I'm a low rev low speed bowler that just purchased the Cash to use at the USBC Nationals in April. I plan on taking Radical Ridiculous, Xeno Pearl, Awesome Flip, Storm IQ and spare Ball. What do you recommend for a layout for the Cash i bought, I was looking at layout A but your opinion would help.
3/5/2017 - By
Art
Have an answer to this question?
Answer: The Layout A could be a great option and would match well with some of the other balls you have. However, this ball is already designed to read a little earlier on the lane and if you want to make this strictly your heavy oil only ball, you could also go with Layout C for more flare. Here is a link to the drilling layouts: https://radicalbowling.com/uploads/downloads/radical_drilling_instructions-cash.pdf
3/7/2017 - By
Bowling.Com Staff
1

of

1

customers found this answer helpful. Did you? Yes | No
Did you find this answer helpful? Yes | No
Thanks for your feedback!