We'd like to offer you $5 off your purchase of $50 or more today!
Coupon excludes instant bonus items, hot deal items, and gift certificates.
Track Legion
Track has created the Legion bowling ball to empower its legion of bowlers. This ball features the LT-2 core which has a medium RG to produce strong revs for the length of the lane. This core helps conserve the ball's energy for the breakpoint which gives it a powerful entry angle to the pocket. The Legion is covered with the proven MR-6 Hybrid coverstock which offers a strong mid-lane roll with fierce move at the breakpoint when used on medium oil conditions.
Color: Red/Black/Yellow

All colors do vary somewhat from the picture shown.

Core: LT-2
Coverstock: MR-6 Hybrid
Finish: 500/1000 Abralon Polished with Powerhouse Factory Finish
Recommended Lane Condition: Medium
Reaction: Skid/Flip
RG: 2.50 (15# ball)
Diff: 0.046 (15# ball)
A few tiny pit holes in the cover stock of the ball are normal
SKU: TKTMLEGION
Product ID: 9325
Brand: Track
Category: Bowling Balls
Ball Performance: Upper Mid-Performance Balls
Back to Top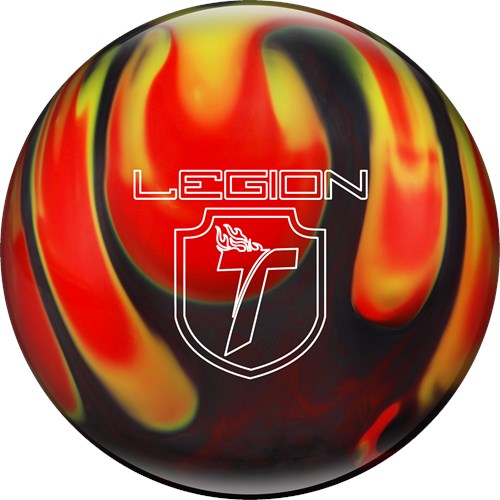 Similar Balls: Same Hook Potential, Lane Conditions & Coverstock as the Track Legion.
8/5/2015
By
Dave Han
from Orlando, FL
Pros:
Continuous, Predictable
Cons:
Prefer Without Polish
Best Uses:
Medium Patterns, Transition
Bottom Line:
Yes, I would recommend this to a friend
Benchmark Ball
The Track Legion is a very good benchmark ball. I would highly recommend this ball for the league season and for medium sport patterns. The coverstock is the same as the Track MX10 - but with a different core. My experience with the MX10 was that I could use it well in its polished condition and could expect a skip-flid type motion that worked well for me after the lanes had transitioned.

My Legion is drilled with the pin down below the middle finger; the CG is 3" from the pin and lands just right of my thumb. The MB is about 1 ½" below the right corner of my thumb hole, and a weight hole is used around P2. With the out of box surface, I found I was using this ball similar to my MX10 with the ball rolling a bit sooner in the mid-lane and a more continuous motion in the back end. However, when I took the polish off and applied a 2000-grit, I found a more pleasing motion in oil where I could expect a predictable move both through the mid-lane and through the pins. The predictability of the roll without the polish has made this a good benchmark ball on league night to read the lane.

If you are looking for a medium strength ball with a predictable back end and plenty of punch, get yourself a Track Legion in time for the fall season.

Dave Han
Track Advisory Staff
Vise Regional Staff

8/10/2015
By
Trackbowlr
from Neenah, WI
Transition Ball
Ball: Legion
Layout: 65 x 5 x 40 - Pin above bridge
Surface: Box

Bowler specs

Rev Rate: 335 RPM
Ball Speed: 15 MPH
Pap: 5-3/8 - 1-1/8 UP

Comments
I drilled the Legion pin up and left it at box finish and plan on using this ball as a skid flip piece when the lanes start to transition. This ball does not disappoint, the carry is great and the ball continues thru the pins very well. Another great piece from Track.

Dan Paul

9/17/2015
By
Freeswing
from Washington, DC
Pros:
Skid Flip Drive
Cons:
None at the time
Best Uses:
MEDIUM
Bottom Line:
Yes, I would recommend this to a friend
Colors on the cover hitting the pins looks so pretty
I kept the Legion at box finish I will say when I rolled the Legion and watched it go down the lane I was not sure what shape I would see, the reaction that I saw was smooth not extremely sharp off the dry spot for me. I was standing 18 looking at 10 at the arrows and the ball wouldn't stay on the right side of the head pin. I moved between 5-10 boards left targeting 10 at the arrows and now I was able to see the Legion work really well. I also got the Legion in the oil to early a couple times and it still roll into the 1-3 pocket without a problem and finished. The Legion is a good ball for those medium, medium volume patterns the heavier volume the reaction might be their however I think too much oil for the Legion is not going to show off its true talent. I had a couple shots I got the Legion to far right and the movement to the pocket was stronger and continuous, which tells me the for the reaction that I like to see I don't want to get to the friction and or the dry to early. The Legion can easily be that first ball out the bag reason being its readable reaction throughout the lane and the strong finish through the pins.

9/22/2015
By
Amber
from Indianapolis, IN
Pros:
Skidflip, Strong Down Lane Motion, clean
Cons:
COLOR
Best Uses:
Light Oil, Medium oil
Bottom Line:
Yes, I would recommend this to a friend
Very similar to the 811A/SE
I use the Legion on a typical house shot for the most part. I have had the most success with this ball. This ball gives me a clean look through the front part of the lane and makes a nice solid move off the friction. Some people may want to knock a bit of the shine off to smooth it out a little if it seems to be a little jerky. Overall this ball gave me a look and shape that I didn't have in my bag.

9/22/2015
By
steven biffle
from southaven, MS
Pros:
Very Clean Thru Heads
Cons:
Not Good On Heavy Oil
Best Uses:
Medium oil
Bottom Line:
Yes, I would recommend this to a friend
Track Legion
I put a very basic label drill. More for a banana type arc. If I find heavy oil I have to put it up till lanes break down. I like the hitting power but if I get to deep I start leaving ten pins.

10/11/2015
By
Matty Z
from Buffalo
Pros:
Good On Early Burn, Good On Fresh, Good On Transition
Cons:
Not For Extreme Dry, Not For Extreme Oil
Best Uses:
Medium Length Sport Patte, Typical house patterns
Bottom Line:
Yes, I would recommend this to a friend
Very versatile
If you are bowler who can manipulate your release the Legion covers a lot of different conditions. When you add rotation it hooks in the oil and when you take your hand out of the release the dry is playable. I be leave this ball can be a great to any bowlers style.

8/11/2016
By
Rpcube
from Ladson, south carolina
Not the same as the pictures shown. Its not all accurate
The quality is good but the image that shown here is noy accurate

Customer

Questions

& Answers

| Reviews
Question:
I bought a 13 pound legion and I don't see a mass bias pin, is their a different core in the 13 pound balls ?
9/26/2016 - By
GD
Have an answer to this question?
Answer:
It seems the 12 and 13 pound balls will have a different weight block to account for the difference in the overall weight. This should still have a Pin and CG marker but if the weight block is symmetric then there would not be a mass bias marker.
10/13/2016 - By
Bowling.Com Staff
0

of

0

customers found this answer helpful. Did you? Yes | No
Did you find this answer helpful? Yes | No
Thanks for your feedback!