We'd like to offer you $5 off your purchase of $50 or more today!
Coupon excludes instant bonus items, hot deal items, and gift certificates.
Track Mako
The Mako shark is one of the most intelligent and most deadly sharks in the water. That is why Track named this high performance ball the Track Mako. This predator of a ball contains Track's second generation of their dual density core. The Mako core is wrapped in the QR-10 Solid coverstock making this ball ready to thrash in some heavy oil. This ball offers a quick response in oil as well as a continuous down-lane motion.
Color: Blue/Purple/Black

All colors do vary somewhat from the picture shown.

Coverstock: QR-10 Solid
Core: Mako (Dual Density)
Finish: 500 / 2000 Abralon
RG: 2.48 (15# ball)
Differential: .053 (15# ball)
Reaction: Strong Overall Hook
Recommended Lane Condition: Heavy Oil
A few tiny pit holes in the cover stock of the ball are normal
SKU: TKTMMAKOBL
Product ID: 10401
Brand: Track
Category: Bowling Balls
Ball Performance: High-Performance Balls
Back to Top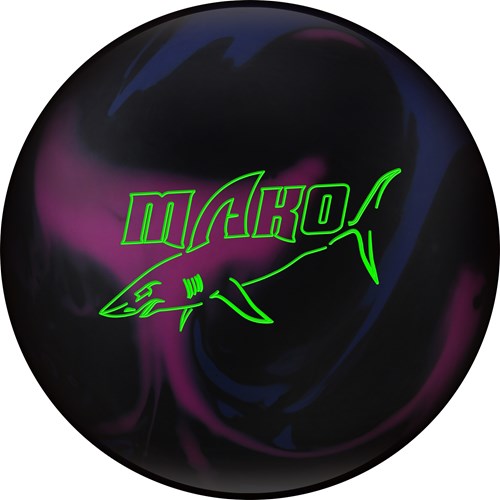 Similar Balls: Same Hook Potential, Lane Conditions & Coverstock as the Track Mako.
1/18/2017
By
AmberT
from Indianapolis, IN
Bottom Line:
Yes, I would recommend this to a friend
Mako for the win!!
This ball rolls really well for me. Most HP balls roll too early for me, but not the Mako. This ball gets through the fronts a little cleaner and saves up more energy for more pop downlane. On a typical house shot this ball allows me to really open my angles. I have also used this ball on high volume sport conditions as well as low volume short patterns. Overall, This ball rolls really well for me on various conditions. I will be adding another to my bag soon.

1/23/2017
By
Mikey
from Michigan
Bottom Line:
Yes, I would recommend this to a friend
Mako 55x5.5x70
WOW!! Unbelievable! This cover/core combo make this all reaction special! I've NEVER been able to open up a lane from extreme angles with a Big Assymetrical surface ball, WELL with this MAKO I can!! The ball had a great midlane motion but not over working and making it maximize the potential for backend superior motion!! I even did mine pin down and still had a A BIG MOTION WITH CONTINUATION DOWNLANE!! MUST HAVE!!

1/26/2017
By
BB
from Millburn, NJ
Bottom Line:
Yes, I would recommend this to a friend
Needed a stronger performance ball, and I got it!
I have a Bruncwick Brainiac, in 14#. It's a great ball, but when my house puts a longer pattern, or in an event, the ball slides through the middle and comes in a bit late. I'm not a high rev bowler so I have to throw it slower to allow it to turn over. Not ideal.

So I got the Mako in 15#. I actually get better back end drive when I throw it harder. Itr comes in those extra 2 boards at the very end. When I do throw it out far it drives in strong.
This allow me to be aggressive all the time. Off pocket hits gave me more strikes as the ball really stores it's energy for the hit. I have a lot more pins bouncing around giving me that one extra strike or so.

I'm a 190 average and this is really a good 3rd ball for me.

I will have to say, if you have the single 5 pin, you cannot throw this ball 2 boards heavy, it will draw off. So I use my Brainiac for the single 5 or 8 pin (I'm a lefty).

2/4/2017
By
Phill Rayman
from Lafayette, IN
Pros:
Ball does not quit. Continuous
Bottom Line:
Yes, I would recommend this to a friend
Mako! AMAZING
This ball has done everything I wanted from it. I can play out with speed or get in and hit it harder at the bottom! Very versatile and allows me to play wherever. Also doesn't lose energy like most strong HP balls do.

3/3/2017
By
Freeswing
from Washington DC
Bottom Line:
Yes, I would recommend this to a friend
Fear The Shark!!
Mako (Box surface and lane polish)) - Pin up and to the right of the ring finger CG in line with the pin positive axis point is 4 3/8 right 1/2 up.

Various Patterns

I am impressed with the amount of length and NO burn up I get out of the Mako, I have been able to use it on a few different lane conditions. Two that stick out in my mind are 41ft sport pattern and third game league house pattern. On the sport pattern I was able to play right around the 8 and 10 board going straighter. I think I did this for about a game and then I started to see the Mako stand up (hook earlier) from those lines I was playing I moved a three left with my feet and 2 with my eyes just to see if I would make it back to the head pin. I was pleasantly surprised that the Mako didn't over hook and it was just as smooth playing through more oil and had just as strong as a drive when I was playing straighter. That is very impressive to me anytime I can play with one ball and it shows me its versatility. On the third game house pattern in league the I have rolled with it enough the lane polish is present. I really couldn't get anything else to give me a decent reaction and it was strike here weak hit strong hit but nothing consistent. I switched to the Mako and moved about 7 - 10 boards left and moved my eyes to the shadow of the 6-10 pin area. The first ball I rolled it was a little weak getting back so I soften up on the next shot and it was something to see I have not been able to go coast to coast with a big ball in a long time and the finish the Mako has is pretty darn strong. I had a couple times when the seven pin was standing and their was a pin that dropped down on it. Also had a couple nine pins go out late if I ever get that look in a tournament I can only hope my repeatability is high that day because it is going to be let it go and watch it roll.

1/23/2017
By
Dave Han
from Birmingham AL
Pros:
Handles oil very well, Very clean for solid coverstock
Cons:
Not a dry lane ball
Best Uses:
Med/Long patterns with volume, THS with lots of oil/low friction
Bottom Line:
Yes, I would recommend this to a friend
Strongest Track Ball on Market
The Track Mako has to be the strongest Track ball I have thrown to date. It appears to be amazingly clean through the front part of the lane for a solid coverstock - which, of course, permits this ball to store more energy and provide a larger back end reaction and more continuation than any other high performance Track ball.

My Mako is drilled with the pin down directly below the ring finger with the CG kicked slightly right and the weight hole at about 2 o'clock of the MB. This layout permits me to keep the breakpoint a bit closer to me - but it is still a pretty strong backend motion. The Mako will be the 1st ball out of my bag for anything 43' in length or more and I would anticipate a lot of tournament use. I don't bowl on a THS that has enough oil for this layout/coverstock combination - but I could see this ball working very well for high speed/high rev bowlers where the THS has a lot of oil/lower friction.

Dave Han
Track Advisory Staff
Vise Regional Staff

1/18/2017
By
Joe Altimore
from Canton Ohio
Bottom Line:
Yes, I would recommend this to a friend
Mako! Strong ball motion!
I was able to get in and still control the break point.
Most heavy hook balls for me tend to burn up and lack the pop in the pocket. This ball does not have that problem!

1/19/2017
By
Mark Trgovac
from Youngstown, Oh
Pros:
Gives a lot of strong motion down lane
Cons:
NEEDS OIL!
Bottom Line:
Yes, I would recommend this to a friend
Stronger than the Original Paradox
The Mako, takes everything that made the OriginalParadox awesome and a fantastic ball, and builds on it. If you had or have an Original Paradox and you want more, the Mako is the ball for you

1/20/2017
By
TrackBowler1970
from Indiana
Bottom Line:
Yes, I would recommend this to a friend
Great HP Ball!
If you liked the Paradox, you'll love this. Lots of hook. Hits hard. Reads the lane well!

1/24/2017
By
A.J.
from Rockford IL
Best Uses:
House shots, Open Championships, Wide range of tournament patterns
Bottom Line:
Yes, I would recommend this to a friend
Track Mako!
The Track Mako is THE STRONGEST asymmetric ball I have thrown to date. This ball is very strong throughout the lane and provides a continuos motion through the pins. This ball is very user friendly and will provide a wide range of versatility within your game. Look for this one to come in handy for not only your typical house shot but also for the USBC Open Championships.

Andrew Jensen
Manager at Bowlersmart Cherry Valley
Inside Of The Cherry Bowl
Track Staff

1/25/2017
By
Vern
from Chesapeake,va
Bottom Line:
Yes, I would recommend this to a friend
Mako is all that!
The motion of this ball is unreal. When the ball attacks the pins, you will know it. For a solid cover the ball doesn't ball roll to early which is different in a great way.

2/7/2017
By
De pere bill
from De pere WI.
Pros:
74 yrs.old speed is 11. Works great on ths no t
Bottom Line:
Yes, I would recommend this to a friend
Surprising
Works on ths. Ball speed is 11. Easy control with no over breaking.

2/9/2017
By
Trackbowlr
from Neenah Wisconsin
Track Mako
Ball: Mako
Layout: 65 x 4.25 x 55 - Pin in ring finger
Surface: Box - 500/2000 Abralon

Bowler specs

Rev Rate: 370 RPM
Ball Speed: 15 MPH
Pap: 5-3/8 - 1 UP

Comments

Drilled the Mako with my benchmark drilling and will use as the first ball out of the bag on fresh conditions. I really like the motion I am seeing as the ball gets thru the heads very nicely and the carry is incredible. This ball seems to keep the pins nice and low. I will be drilling a second Mako in April for nationals.

Dan Paul

4/19/2017
By
none
from Snake River Valley, Idaho
Bottom Line:
No, I would not recommend this to a friend
I would buy another Lock, Paradox, Jackal Ghost but no Mako
I'll keep it around for use on wood lanes but I'm not impressed with it on synthetic.

Customer

Questions

& Answers

| Reviews
Question:
What is the best drillng patern for this ball
1/15/2017 - By
John
Have an answer to this question?
Question:
How strong of a motion does the Mako have in oil versus the Maverick?
4/20/2017 - By
Mac
Have an answer to this question?
Question:
Which is a better drill for this ball,pin up or pin down?
5/9/2017 - By
Big Bob
Have an answer to this question?
5/12/2017 - By
Bowling.Com Staff
0

of

0

customers found this answer helpful. Did you? Yes | No
Did you find this answer helpful? Yes | No
Thanks for your feedback!