We'd like to offer you $5 off your purchase of $50 or more today!
Coupon excludes instant bonus items, hot deal items, and gift certificates.
Track Paradox Trilogy
The Track Paradox Trilogy is the third ball in the Paradox line of bowling balls. This ball offers a "long and strong" reaction. This reaction is achieved by pairing the QR-10 Hybrid coverstock with the i-Core 2.0 core. The coverstock provides more length as well as a quick and angular down lane motion. The proven i-Core 2.0 weight block helps create a unique ball motion by generating increased flare potential. The 500/1000 Abralon finish that is polished with Powerhouse Factory Finish Polish will help this ball dominate medium to heavy oil conditions.
Color: Blue/Silver/Black

All colors do vary somewhat from the picture shown.

Coverstock: QR-10 Hybrid
Core: i-Core 2.0 (Dual Density)
Finish: 500/1000 Abralon polished with Powerhouse Factory Finish Polish
RG: 2.48 (15# ball)
Differential: .057 (15# ball)
Reaction: Length with angular backend
Recommended Lane Condition: Medium to Heavy Oil
A few tiny pit holes in the cover stock of the ball are normal
SKU: TKTMPARTRI
Product ID: 10306
Brand: Track
Category: Bowling Balls
Ball Performance: High-Performance Balls
Back to Top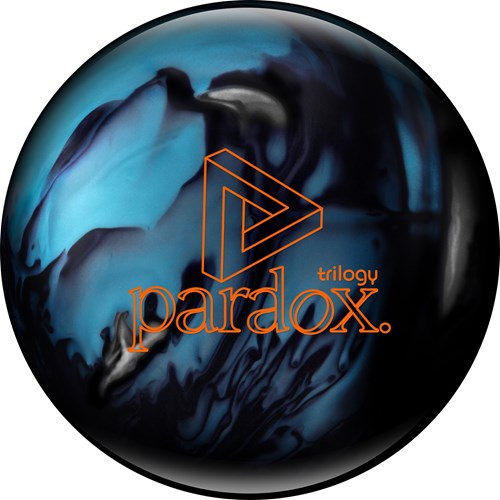 Similar Balls: Same Hook Potential, Lane Conditions & Coverstock as the Track Paradox Trilogy.
9/22/2016
By
Scott C
from Clarksville, TN
Bottom Line:
Yes, I would recommend this to a friend
Excellent ball
This ball definitely has more length than the original Paradox and the Paradox Pearl. It is clean through the heads, smooth roll, and a strong back end. It hits just as hard as the original Paradox. I actually think this is the best ball in the Paradox series. For a shinny ball it hooks a lot. Excellent ball and a must have.

9/23/2016
By
Bill Blackwell II
from west palm beach
Bottom Line:
Yes, I would recommend this to a friend
Track has done it again
The New Paradox Trilogy has that great same ball motion that you have come to love from the Paradox line, but with the new QR-10 cover stock allows me to play straighter thru the heads and still have plenty of hitting power when the ball makes it turn into the pocket.

For me the Trilogy allows me to play 4 to 5 boards right of where I would play with the Original Paradox.

9/26/2016
By
Vern
from Chesapeake,Va
Bottom Line:
Yes, I would recommend this to a friend
Recommend if you love the Paradox line
Great for medium-heavy oil lane conditions. Very versatile. The first paradox is definitely overall more aggressive, but this ball is great even if you feel like the pearl reads the lanes just alittle to early.

9/29/2016
By
Leo
from Memphis Tennessee
Bottom Line:
Yes, I would recommend this to a friend
I would buy 2 more times
The trilogy is a smooth and powerful ball

10/6/2016
By
Trackbowlr
from Neenah WI
Best in the Paradox Line
Ball: Paradox Trilogy
Layout: 65 x 5 x 40 - Pin above bridge
Surface: Box

Bowler specs

Rev Rate: 335 RPM
Ball Speed: 15 MPH
Pap: 5-3/8 - 1-1/8 UP

Comments

I drilled the Paradox Trilogy pin up and left it at box finish and plan on using this ball as skid flip piece when the lanes start to transition. I've only got 5 games on it so far but my reaction and carry are outstanding. I've been looking for an angular ball to replace my 920A and I think I found it. This one is a must for my tournament bag.

Thank you Track

Dan Paul

10/15/2016
By
Biff
from Southaven MS
Bottom Line:
Yes, I would recommend this to a friend
The cleanest paradox yet!!
This ball is only have good things to say about it..I love everything the core/cover combination..this is a must have in your bag..#teamebi

10/20/2016
By
Matt
from WI
Bottom Line:
Yes, I would recommend this to a friend
Wow. Strong off the spot
Pin up. Just a little surface.

Clears the heads brilliantly. Still gives a pretty good midlane read with a tremendous move at the breakpoint, as you would expect with the i-core 2.0. Great continuation through the pins from every angle.

10/24/2016
By
Dave Han
from Birmingham AL
Bottom Line:
Yes, I would recommend this to a friend
Best of the Paradox Line
The Track Paradox Trilogy is unlike any of the other Paradox balls - it is cleaner and more angular in the backend - without sacrificing any of the hitting power of the other two. It is the first ball out of my bag for league and one of the first out of the bag for any sport shot 40' or longer.

I have drilled up two of these so far - the first one has the pin above my middle finger with the CG and MB kicked right. This layout creates an incredible motion that I do not get from any other high performance ball in my EBI arsenal. It is capable of getting clean through the front of the lanes as much as something like a Red Legend Pearl - but instead of a skid/flip motion - it is a powerful arc motion that is so continuous through the pins! If there is something between "strong arc" and "flip" - that is how I would describe the back-end motion. Even with the out-of-box polish, this ball works very well on long patterns as well.
The other ball is drilled with the pin about 2" from my axis (PAP 4 5/8 over, ¾ up), which required a big weight hole about 1" right of the CG. This layout creates even more energy through the front, permitting me to use this ball on something like PBA Viper. I haven't tried it yet on Cheetah, but I'll be anxious to see what it could do. NOTE: One of the best parts of this new Paradox Trilogy is the out-of-box polish that EBI now puts on their balls. It is the best OOB polished cover I have ever thrown (starting with the Hammer Rebel).

If you have not thrown Track in a while - this is the ball to introduce yourself to. The versatility of the cover/core combination is going to make this ball very useable on multiple patterns - and awesome on a fresh house-shot.

Dave Han
Track Advisory Staff
Vise Regional Staff

11/5/2016
By
Freeswing
from Washington D.C.
Bottom Line:
Yes, I would recommend this to a friend
It's a paradox need I say more
Paradox Trilogy (Box surface) - Pin up about an inch and to the right of the ring finger CG swung out but not pass my PAP no x-hole. Positive axis point is 4 3/8 right 1/2 up.

I was able to use the Paradox Trilogy on a 39ft challenge pattern as well as various house shots. The read I got was different then the other Paradoxes this one gets more length. I believe the Trilogy needs the friction a little sooner and it has no problem getting to the pocket as long as the volume is not high and there is a good amount of oil in the front part of the lane. It is not that wow ball as far as hook and strength however, it is that smooth arcing reaction that is easily readable. The finishing power of the Paradox that is still something I will always love. On the house shot it is hard for me to put the Paradox trilogy down, it allows me to play a little more right but not straight up the boards, when it's reading early I know it is time for me to move. With the Paradox Trilogy cover and box finish I haven't made a huge move left because I still want the Paradox Trilogy to dig in and finish when it gets to the pins. Playing various angles from game one-three I can see the finish is very good no matter how much or how little lane is covered.

11/19/2016
By
Mark Trgovac
from Youngstown, Oh
True skid flip in the Paradox line
Very clean and very responsive to the friction, downlane, for great skid flip motion out of Track's HP line.

3/6/2017
By
Pablo Sr.
from Sunrise, Fl
Bottom Line:
Yes, I would recommend this to a friend
Paradox Trilogy
Very happy with the purchase

Customer

Questions

& Answers

| Reviews
Question:
What's the difference between this ball and the paradox pearl?
9/3/2016 - By
Mike
Have an answer to this question?
Question:
How does this ball compare to the 1st paradox ball ? & how does it compare to the paradox pearl ?
9/4/2016 - By
?? Gutter Dog ??
Have an answer to this question?
Answer:
Hello! The Paradox Trilogy is a hybrid which is going to be a little more aggressive than the Paradox Pearl. The original Paradox is a also a hybrid so it is comparable to the Trilogy. The original Paradox will be more aggressive than the Trilogy.
9/8/2016 - By
Bowling.Com Staff
2

of

3

customers found this answer helpful. Did you? Yes | No
Did you find this answer helpful? Yes | No
Thanks for your feedback!
Question:
Does this ball come in a heavy 15 or just 15?
4/24/2017 - By
audreym64@yahoo.com
Have an answer to this question?
Answer:
Hi! You can click to request for this information in the blue box under the weight selection tab where it says 'click to request pin/top weight'.
4/25/2017 - By
Bowling.Com Staff
0

of

0

customers found this answer helpful. Did you? Yes | No
Did you find this answer helpful? Yes | No
Thanks for your feedback!