We'd like to offer you $5 off your purchase of $50 or more today!
Coupon excludes instant bonus items, hot deal items, and gift certificates.
Track Paradox
The Track Paradox is aggressive in the front part of the lane, the mid-lane, and the backend on heavy oil conditions making this bowling ball a truly unexplainable paradox. This ball uses the i-Core 2.0 to create a big flare potential and the QR-9 Hybrid coverstock helps create major pin action by responding to lane friction quickly.
Color: Blue/Blue Pearl/Light Blue

All colors do vary somewhat from the picture shown.

Reaction: Strong Continuous Hook
Coverstock: QR-9 Hybrid
Finish: 500/2000 Abralon
Core: i-Core 2.0 (Dual Density)
Recommended Lane Condition: Heavy Oil
RG: 2.48 (15# ball)
Differential: .057 (15# ball)
A few tiny pit holes in the cover stock of the ball are normal
SKU: TKTMPARDOX
Product ID: 9328
Brand: Track
Category: Bowling Balls
Ball Performance: High-Performance Balls
Back to Top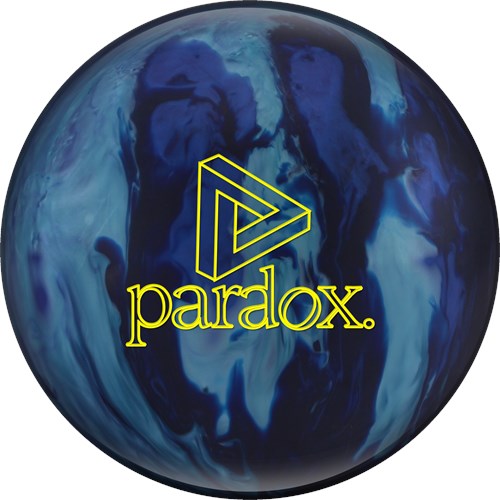 7/7/2015
By
Bryan Roth
from Omaha, NE
Pros:
Handles Oil Well, Hits Hard, Super strong
Cons:
Dried Lanes
Best Uses:
League Shot, Longer oil patterns, Sport Shots
Bottom Line:
Yes, I would recommend this to a friend
Strong! Strong! Strong!
The paradox is definitely, for me, the strongest ball Track has ever released. I went with my standard 60 x 3 1/2 x 35 layout. On a normal house shot I am able to finally have that miss room to the inside that I have greatly needed in my arsenal. I kept mine at the out of box 2000 surface and it handles oil with ease. Miss right, recover. Miss left, still run over the pins. This ball just does not quit when it enters the pocket. This will for sure give all the higher end balls from the other companies a run for their money. If you are looking for a true "hook in a box" ball then look no further.

7/24/2015
By
Plowboy300
from Sarasota, FL
Pros:
Great Looking Ball, Heavy Oil Patterns
Cons:
Dry lanes, Needs oil
Bottom Line:
Yes, I would recommend this to a friend
STRONG ROLLING BALL from Track
The new Track Paradox has a "Special" ball motion that has not been seen in the Track line. I was skeptical about the hype that I heard about this ball when introduced, so I had to try it out to believe it. I saw this ball rolling great in all three parts of the lane (very clean in the front, strong mid-lane roll, AND back end motion continuation)... which is rare to see all 3 motions with the same ball. I am impressed with the ball motion that I saw when other style of bowlers throwing my ball after league and they like the ball motion they saw too. I drilled up a Red Legend Solid (pin down), and the Paradox for me is about 3-4 boards stronger overall at the same surface prep of 2000 Abralon which is scary good feeling.

BALL LAYOUT: 65 x 5 ¼ x 40

For me, the only thing that I dislike about this ball is that it is STRONG, so using this on medium or lighter patterns was way too much ball for what I bowl on in my area. This ball needs oil to really excel on the lanes. I would recommend this ball for the medium heavier - heavy lane patterns.

I think the Paradox will be a ball if you need a strong rolling ball in your arsenal to battle the heavier lane patterns that you may see on the house shot to tournament patterns. I think you will be impressed with the ball motion the Paradox has which is definitely different to the other Track balls. This ball has a great motion that does not stop rolling thru out the lane & really continues through the pin deck!

7/30/2015
By
Master Eric
from Springfield, MO
Pros:
Continuation, Looks great, carry
Bottom Line:
Yes, I would recommend this to a friend
Finally, a strong ball worth having.
The Paradox is the best strong ball that's come out of any brand, for quite some time. It's rare to find strong stuff that reads the entire lane well, and still retain enough energy to get the job done, but the Paradox does!!

8/5/2015
By
Dave Han
from Orlando, FL
Pros:
Great roll, Well Built / Quality
Cons:
Need Oil
Best Uses:
Heavy Oil
Bottom Line:
Yes, I would recommend this to a friend
Ball of the Year!
The Track Paradox is flat out one of the best balls I have ever thrown. The ball is marketed as being a strong rolling ball in the front of the lane, the mid-lane and the back end...and it is 100% accurate!

My Paradox is drilled with the pin above the bridge, the CG is about 4" below the pin and the MB about 1" right of my thumb. The ball does not do a lot of skidding through the front of the lane, picking up a roll pretty quickly. It reads the mid-lane EXTREMELY well, transitioning strongly into an incredible roll to and through the pins. The coverstock ABSOLUTELY needs oil - so
I would recommend this for house shots and longer sport patterns. I am planning on smoothing out the 3000-grit surface to see if I can have a bit more control on medium patterns.

The last time I saw a ball roll like this was with my ORIGINAL Virtual Gravity back in 2010-11. Thus, I highly recommend this ball to anyone interested in having that type of ball in your arsenal - and I would think that would be just about everyone...

Dave Han
Track Advisory Staff
Vise Regional Staff

9/17/2015
By
Freeswing
from Washington, DC
Pros:
Very Good And Versatile
Cons:
None at the time
Best Uses:
Heavy Oil Medium Oil
Bottom Line:
Yes, I would recommend this to a friend
Please Tell Me You Have One
I kept the Paradox at box surface and standing 18 and looking at 10 at the arrows the Paradox was to much overall roll and hook from this target area and standing point. I moved 10-12 boards left and looked at 15 at the arrows allowing the Paradox to get to 10 down the lane. The overall strength of the ball roll mixed with the amount of hook potential the Paradox stands out to me as that ball when you want to see the ball hook. The good of the Paradox is being able to play in a zone no other bowler has and or having that strong ball roll playing straighter the Paradox has that ability. I have not seen a high performance ball like this one in a while.

1/20/2017
By
Doug Moss
from dayton, Ohio
Pros:
BEST HP Ball, DOesnt hook stop like other HP balls, HOOKS ON ICE, Hooks on everything
Bottom Line:
Yes, I would recommend this to a friend
Strongest ball i have ever drilled
This is the strongest HP ball i have ever thrown. Not only does it Hook in the mids, it continues through the pins...that doesnt happen with strong balls usually. This ball is a Paradox, meaning, it defies the normal ball motion. This ball put the track brand back on the map. This ball is a ball that ALL serious tournament bowlers carry for when the lanes are slick. I have not bowled on anything where this ball doesnt hook for me. My ball speed is 18mph and it still ALWAYS hooks. This is a must have ball. Everyone should get to experience this ball for themselves.

Who doesnt want a ball that will always Hook? i know i do, that is why i have 3 of them.

7/6/2015
By
Matt
from Green Bay, WI
Pros:
Hook And More Hook
Cons:
Need Oil
Best Uses:
Heavy Oil
Bottom Line:
Yes, I would recommend this to a friend
Great ball for oil!!
Great midlane read and control down lane with strong continuation.

8/18/2015
By
George
from Waite Park MN
Pros:
Continuation, Keeps Pins Low, Strong Mid Lane
Cons:
Dry lanes, Fried Heads
Best Uses:
Oil, Soft Back Ends
Bottom Line:
Yes, I would recommend this to a friend
Great Mid lane Read
There is a lot of hype and buzz surrounding the Paradox and every bit of it is true. Even with a drilling of 71-4 1/2"-55 the ball reads and continues extremely well for a ball with surface. A perfect fit between the Melt down and the Bad intentions.

9/22/2015
By
Amber
from Indianapolis, IN
Pros:
Continuous, Midlane Roll, Well Built / Quality
Cons:
Too strong
Best Uses:
Heavy Oil, Medium oil
Bottom Line:
Yes, I would recommend this to a friend
Must have ball!!
I use this ball on tougher sport patterns that have more volume. The Paradox has a little too much surface for me out of the box but with a little polish or even lane shine it looks great on most conditions. This ball gives me the miss room that most other strong balls don't allow for. The Paradox is smooth off the end of the pattern and very predictable. You won't be disappointed with this ball in your hands.

9/22/2015
By
Steven Biffle
from Southaven, MS
Pros:
Moves In The Oil, The Hitting Power
Cons:
Needs A Lot Of Oil
Best Uses:
First And Second Games, Heavy Oil
Bottom Line:
Yes, I would recommend this to a friend
Track Paradox
I use this ball on THS. during the first and second game this ball is a beast for me.. When I go into the 3rd game im usually about 5th arrow with it if I don't change balls. The ball has great hitting power and really carries the corner pins well, but not always the 9 pin! Cant see anyone not loving this ball.

10/12/2015
By
bastion74
from ocala, fl
Bottom Line:
Yes, I would recommend this to a friend
good ball and extremely versatile
im a hard fella to find a good ball for. very high high speed low rev and i bowl playing the fifth board deep right with a continuous gradual hook to the pocket. for a while my only answer was the radical guru on heavy oil, but the paradox woohoo... i am more consistent with the paradox. i have it drilled with the pin down as opposed to the common pin up strong hook layout i had on the guru. love them both but im liking the paradox moreso since im getting 5+ baggers more frequently. i did however notice that if i dont cup my wrist as much with it i get quite a few splits usually 4,9 or 4, 10. so consecutive releases are a must, whereas the guru was more forgiving.

10/23/2015
By
qballtway
from ohio, ohio
Best Uses:
Everything
Bottom Line:
Yes, I would recommend this to a friend
"it" factor...enough said
BOWLER SPECS
BALL WEIGHT: 14#
REV RATE: 435
BALL SPEED: 17.5
DUAL ANGLE LAYOUT: 75 x 5 3/8 x 30
PATTERN: 45'
PATTERN TYPE: SPORT
BALL SURFACE: FACTORY
COMMENTS:
LIKES: MOST VERSISTAL BALL, GREAT SHELF APPEAL.
DISLIKES: NONE!
OVERVIEW:
PARADOX USES A MODIFIED VERSION OF THE "I" CORE. THE MODIFICATIONS PROVIDED A LOWER RG AND INCREASED FLARE POTENTIAL. PARADOX IS A BALL THAT HAD A LOT OF HYPE ON SOCIAL MEDIA AND I WILL TELL YOU IT MET EVERY PART. THIS BALL IS YOUR ONE, TWO AND THREE PUNCH BALL. THIS BALL HAS PLENTY OF CONTINUATION DOWN LANE AND THRU THE PINS NOT SURE THAT IF QUITS IN THE BALL RETURN. THIS BALL IS EASY TO READ AND IS VERY FORGIVING AT THE BREAK POINT. THIS IS A MUST FOR A ANY BOWLER TO HAVE IN THEIR BAG.

11/5/2015
By
Jamie
from Lafayette Louisiana
Pros:
A Lot Of Length
Cons:
None
Best Uses:
Great On House Shot
Bottom Line:
Yes, I would recommend this to a friend
Paradox review
Bowled with it last night 246 highest game reads lane destroys the pocket 3 10 pins in all three games

11/19/2015
By
Loose
from Vernon Hills, IL
Bottom Line:
Yes, I would recommend this to a friend
unexplainable hook!
The Paradox is a strong, versatile ball that is a must have for all bowlers.

I have drilled two of these beasts, my first one is pin down OOB finish and is great on fresh lanes, long patterns, and patterns with higher volumes. This ball reads the front and mids without sacrificing too much energy for the backend - I've never seen a heavy oil ball retain this much energy down lane.

My second Paradox is pin up and is polished, this one allows me to open up the lane on medium patterns and when the lanes are transitioning. This ball lets me get my feet left, my target right, and still reads the midlane in the right spot so the ball doesn't push past the breakpoint.

In conclusion, I cannot praise the power and versatility of this ball enough, whether pin up or pin down, sanded or polished, this ball gives strong predictable motion on a wide variety of lane conditions to a wide variety of styles. Young and old, fast and slow, higher and lower rev rates, all can find a spot in their bag for this beast. With unexplainable hook and power on the heaviest of oil patterns, this ball truly is a must have.

Customer

Questions

& Answers

| Reviews
Question:
Drill pattern for most hook on back end
4/19/2016 - By
LV
Have an answer to this question?
Question:
What is the difference between this ball and the mako?
4/21/2017 - By
Mac
Have an answer to this question?
Answer:
Hello Mac. It looks like the only difference between the two will be the cover stock. The Mako will have a Solid cover stock whereas the Paradox will have a Hybrid coverstock.
4/24/2017 - By
Bowling.Com Staff
0

of

0

customers found this answer helpful. Did you? Yes | No
Did you find this answer helpful? Yes | No
Thanks for your feedback!