Recent Customer Reviews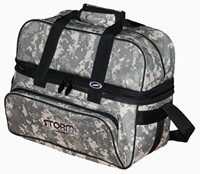 Storm 2 Ball Deluxe Tote Camo
Reviewed:

Friday, Feb 27, 2015
Reviewer:

Lely from Miami, FL
Would recommend it.
I really like the storm camo bag amazing quality zipper, seaming, material, and strap all are strong. CON it does get a heavy carrying two bowling balls and shoes (depending on the weight) I have a 15 lbs and 12 lbs and I havent had any problems with the bag breaking I bowl atleast twice a week. The shoes compartment actually fits a pair of size 9 bowling shoes and size 5 bowling shoe. There is also an extra compartment where you can fit tape or talcum wrist brace. It also has a separation between both balls,enough room to fit the balls but… -

Bottom Line: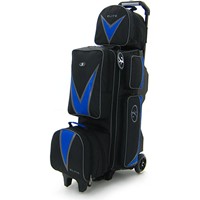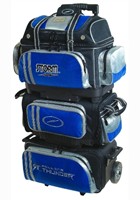 Storm Rolling Thunder 6 Ball Roller Blk/Blu/Sil
Reviewed:

Thursday, Feb 26, 2015
Reviewer:

Iceburg from Omaha NE
Best bag I got rid of
I bought this bag to make sure I had all of my equipment on me. I had to replace the handle before the first use and had to replace the wheels twice within the first year. The second time the wheels fell off I was only using the bag as a four ball roller. -

Bottom Line:

No, I would not recommend this to a friend
Recent Customer Reviews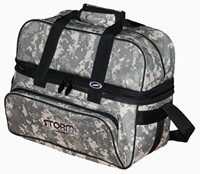 Storm 2 Ball Deluxe Tote Camo
Reviewed:

Friday, Feb 27, 2015
Reviewer:

Lely from Miami, FL
Would recommend it.
I really like the storm camo bag amazing quality zipper, seaming, material, and strap all are strong. CON it does get a heavy carrying two bowling balls and shoes (depending on the weight) I have a 15 lbs and 12 lbs and I havent had any problems with the bag breaking I bowl atleast twice a week. The shoes compartment actually fits a pair of size 9 bowling shoes and size 5 bowling shoe. There is also an extra compartment where you can fit tape or talcum wrist brace. It also has a separation between both balls,enough room to fit the balls but… -

Bottom Line: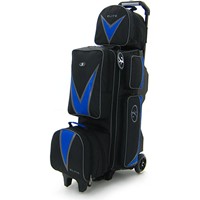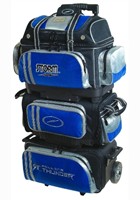 Storm Rolling Thunder 6 Ball Roller Blk/Blu/Sil
Reviewed:

Thursday, Feb 26, 2015
Reviewer:

Iceburg from Omaha NE
Best bag I got rid of
I bought this bag to make sure I had all of my equipment on me. I had to replace the handle before the first use and had to replace the wheels twice within the first year. The second time the wheels fell off I was only using the bag as a four ball roller. -

Bottom Line:

No, I would not recommend this to a friend