We'd like to offer you $5 off your purchase of $50 or more today!
Coupon excludes instant bonus items, hot deal items, and gift certificates.
Columbia Urge
If you have the urge to dominate the competition then you need the Columbia Urge. The pairing of the Ironman core with the polished AR350 Hybrid coverstock is a well made match. The core is designed to be fast revving, high flaring, and have a high mass bias while preserving energy for the backend to create an aggressive motion at the breakpoint and backend.
Color: Lime/Cobalt/Silver

All colors do vary somewhat from the picture shown.

Core: Ironman
Coverstock: AR350 Hybrid
Finish: 500/2000 Abralon Polished with Powerhouse Factory Finish Polish
Reaction: Aggressive motion at breakpoint and backend.
RG: 2.50**
Differential: 0.056**
** RG and Diff are based off of 15 lb. balls
Recommended Lane Condition: Medium-Heavy Oil
A few tiny pit holes in the cover stock of the ball are normal
SKU: COLSMURGELB
Product ID: 9322
Brand: Columbia
Category: Bowling Balls
Ball Performance: Upper Mid-Performance Balls
Back to Top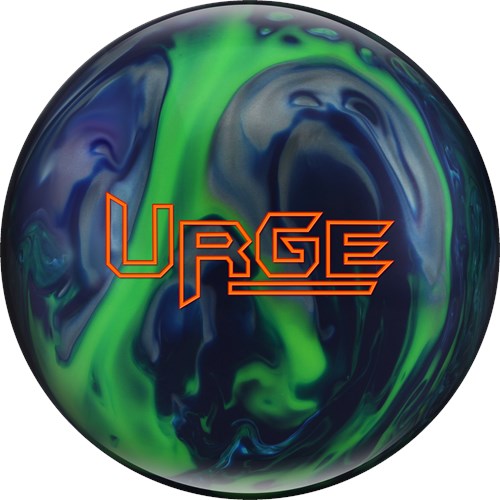 7/4/2015
By
PJ
from Old Saybrook, CT
Pros:
Continous, Smooth, clean, cool colors
Best Uses:
Fun nights, League, Tournament, all the time
Bottom Line:
Yes, I would recommend this to a friend
Do you have the Urge?
The name speaks for itself, who doesn't have the urge to just keep striking? The urge features a a new asymmetrical core that is smooth and clears the lane cleanly but goes through the pins like a bulldozer! This Ball is a must have. The Urge has a shiny cover with the all new big/bold logo that makes the ball stand out on the lanes!

7/28/2015
By
Kid Bowler
from Wareham, MA
Pros:
Eye popping colors, Ironman Core, Reaction Shape
Bottom Line:
Yes, I would recommend this to a friend
Strike Win Dominate :D
Columbia 300 is at it again. This time, introducing the Ironman core and wrapping the popular AR-350 Hybrid cover around it. The Mad Antics featured this cover as well!

The layout on my Urge is 70 x 4 x 40, and I've been able to use it in a few different situations to date. My first exposure was in a three person match that lasted six games. Initially, I played up the boards and was very comfortable with this ball. It's extremely clean in the front of the lane and while I don't find it to be overly "snappy" the downlane motion is strong. Later in the match, after having made a ball change, I went back to the Urge, moved left and was able to swing the ball a few boards and succeed. I've also used this ball while practicing on my own (fresh lanes) and been able to play different angles based on ball speed and hand position.

The Urge is not only great looking, but it also packs quite the punch in Columbia 300's Orange Line (Upper-Mid Performance) Collection! Get yourself one today!

9/22/2015
By
Ryan
from Kansas City, MO.
Pros:
Backend Hook, Great color scheme, Pin Carry, flip
Best Uses:
Medium Patterns, Open Up The Lane
Bottom Line:
Yes, I would recommend this to a friend
Dynamic Hook for a Dynamic Looking Ball
The Urge was a ball I was very excited for. I was looking for a strong factory shined ball that i could get inside with when I feel like there is enough hook to really open up a lane and post some scores. The Urge was a perfect fit for this and I really think there is something to this cover that helps pin carry. I saw the same thing in the Mad Antics (Which is the same cover as the Urge, just shined up on the Urge) The Urge is a must have for anyone who likes skid flip motions and stringing strikes!

Likes: Backend motion, pin carry and great looks!

Dislikes: None

8/18/2015
By
George
from Waite Park MN
Pros:
Colors, Controlled Back End, clean
Cons:
Heavy Volumes, Long Patterns
Best Uses:
Broken Down Patterns, Medium Patterns
Bottom Line:
Yes, I would recommend this to a friend
Great compliment to the Delirium
The urge is another good Columbia ball that is clean through the heads. I did not see as much backend as i was expecting. I drilled mine 55-5 5/8"-35, the Delirium has more backend but when that starts to loose energy thats when the Urge starts to shine cleaner with smoother motion on the back.

10/5/2015
By
PC
from White Hall, MD
Pros:
Great On Fresh, Playing Up The Boards
Cons:
Tough To Play Really Deep
Bottom Line:
Yes, I would recommend this to a friend
C300 Urge
The Urge is designed to compliment the Delirium and Melt Down with being that go between piece which provides a stronger reaction than the Delirium but less than the Melt Down.

As a senior player, my first reaction to the roll and hitting prowlness of this ball was one used many years ago and that is HEAVY. For me, this ball hits the pocket like a Sherman Tank with everything going straight back into the pit. With the polished hybrid cover and the ironman core, the Urge has filled a vacant spot within my arsenal.

I have my Urge set up 50 X 5 X 40 and is more versatile with my rev rate on conditions anything right of the 3rd arrow (I am right-handed) on typical house patterns. Initially, I have found the Urge can be used on the fresh with little difficulty especially when there is a medium volume of conditioner. As the lanes breakdown and the push at the back of the pattern increases, the polished cover continues to provide the necessary length to clear the front while the core permits ample finish through the pins.

In being an older bowler, I find that my need to get the ball through the heads is extremely important. I have little issues doing so with the Urge without the loss of hitting power. This ball will surely be able to fill the any open spot you may have.

Chuck Tillman

10/23/2015
By
qballtway
from ohio, ohio
Bottom Line:
Yes, I would recommend this to a friend
great ball
BOWLER SPECS
BALL WEIGHT: 14#
REV RATE: 435
BALL SPEED: 17.5
DUAL ANGLE LAYOUT: 75 x 5 3/8 x 30
PATTERN: 45'
PATTERN TYPE: SPORT
BALL SURFACE: FACTORY
COMMENTS:
LIKES: AWESOME INLAY NEW LOGO, GREAT COLORS, NEW CORE.
DISLIKES: NONE!
OVERVIEW:
THIS IS THE NEWEST RELEASE IN THE ORANGE LINE. IT COMES WITH THE NEW IRONMAN CORE, AND THE COVER IS THE SAME USED ON MAD ANTICS BUT WITH A FACTORY POLISH. WITH THE CHANGE IN THE CORE NUMBERS THIS BALL IS ABLE TO STORE MORE ENGERY AND HAS A HIGHER FLARE THAN ANY BALL RELEASED TO DATE IN THIS ORANGE LINE. I FOUND IT TO BE VERY CLEAN AND IT COULD PICK UP ON TOP OF THE PATTERN OF NOT OVER REACT TO THE FRICTION. THIS IS ANOTHER BALL THAT I COULD USE A BENCHMARK BALL AND A WHOLE LOT MORE. I REALLY LOVE THIS STRONG CONTINUATION THIS BALL PROVIDES ON THE BACK END. THIS BALL WIL BE MUST USEFULL ON MEDUIN TO LIGHT PATTERNS.

Customer

Questions

& Answers

| Reviews