Hammer Hazmat
Hammer takes pride in providing the most extensive selection of core and cover choices in the world of bowling. They are thrilled to expand their product line with the introduction of the Hazmat, a strikingly large and symmetrical addition. The Hazmat features a lower RG and higher Differential core, designed to facilitate mid-lane traction and deliver a robust, consistent down-lane movement. Utilizing the highly acclaimed HK22 as its foundation cover and enhanced with the cutting-edge Symtex Hybrid additives, the Hazmat offers a compelling combination of core and cover properties. This dynamic synergy results in an impressive hooking action and a relentless, unyielding ball motion that resonates with bowlers seeking that perfect shot.
Color: Black/Sapphire/Jade
All colors do vary somewhat from the picture shown
Coverstock: HK22 - Semtex Hybrid
Core: Hazmat
Finish: 500, 1000, 1500 Siaair/Factory Compound
Reaction: Length with strong backend
RG: 2.479 (15# ball)
Differential: 0.055 (15# ball)
Hook Potential: High
Length: Long
Recommended Lane Condition: Medium Oil
FCC Rating: Total-26, Finish-7.75, Core-8.75, Cover-9.5
Manufacturer's Warranty: Two years from purchase date
A few tiny pit holes in the cover stock of the ball are normal
SKU: HAM60108053
Product ID: 14836
Brand: Hammer
Category: Bowling Balls
Ball Performance: Upper Mid-Performance Balls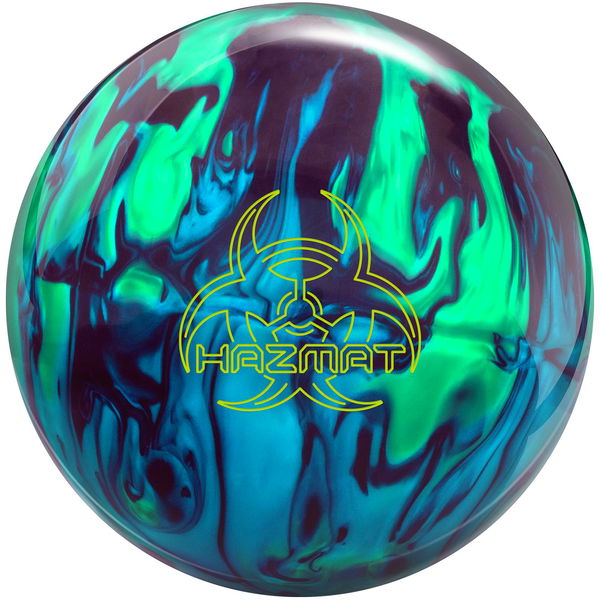 11/27/2023
By Kyle from Utah
Best Uses:
House Shot, Heavy oil ball down option
Bottom Line:
Yes, I would recommend this to a friend
Incredible Downlane Motion
The Hazmat is the cleanest and strongest ball I've thrown in the Hammer lineup. Due to the combination of a bigger core and the HK22 coverstock the Hazmat is the most angular Hammer ball I've ever drilled. I was shocked at how clean the Hazmat was while still being able to maintain control downlane. The Hazmat gives me a look I've never had with a Hammer ball while maintaining the signature downlane motion.
11/19/2023
By Tmarlow77 from Hanford, ca
Bottom Line:
Yes, I would recommend this to a friend
Hammer Hazmat is the ball you have been waiting for.
Hammer Hazmat is very strong Hybrid. It clears the front of the lane without any early hook and with that HK 22 it makes a hard snap motion to the pocket. The best way to describe this ball is a Symmetrical Hybrid that will remind you of a weaker version of the black widow 2.0 Hybrid.
11/13/2023
By Sweetpea Bowl from Worcester, Massachusetts
Bottom Line:
Yes, I would recommend this to a friend
Hammer Hazmat
Here is my take on the brand new Hammer Hazmat. The Hazmat is a low RG/high differential symmetric core release wrapped by a black, jade, sapphire semtex hybrid cover with the HK-22 base. Box finish is 1500 Siaair finished with factory compound. The one I've drilled has a 40 x 5 x 30 layout at box finish. Ive have tried the new Hazmat on several fresh THS patterns.

The purpose of Hazmat by design is to create a "big ball" in a symmetric core release with a stronger back end motion. From what I see, the Hazmat definitely covers a good amount of territory and shows a quicker down lane response at box surface. As I've been working on trying to slow down the response down lane and get the ball to read a little sooner and be smoother, I will hit the Hazmat with maybe a fresh 2000 pad and see what it does. Either way, the Hazmat reminds a bit of the more recent Brunswick Knock Out/Melee Jab releases- and to be sure, I've had good luck with that series of bowling balls. So, I expect I will see the Hazmat getting plenty of usage and will likely show "usability" on a variety of patterns.

The Hammer Hazmat releases on November 16- see your pro shop for more information!

10/27/2023
By Richard from New York
Pros:
Awesome benchmark ball
Bottom Line:
Yes, I would recommend this to a friend
SEXY
This ball will be a great benchmark ball in most bowlers bags. It reminds me a lot of the Scandal Pearl that Hammer had a while back. It's clean and continuous throughout the lane and does not stop hooking once it starts. This ball is going to be great on a wide variety of lane conditions, HIGHLY RECOMMENDED!
Customer Questions & Answers | Reviews
Thanks for answering another customer's question! Once approved it will be posted here.