We'd like to offer you $5 off your purchase of $50 or more today!
Coupon excludes instant bonus items, hot deal items, and gift certificates.
900Global Truth Pearl
Can you handle more TRUTH? The 900Global Truth Pearl bowling ball takes their Adaptor/C Symmetric weight block and they cover it with an S74R Pearl coverstock then they finish it off with a 1500 grit Abralon sanding pad and polish. This combination provides a ball that has great entry angle with a late angular ball motion and generates 5-6" plus of flare potential when used on medium oiled lanes.
Color: Carbon/Blue/Ruby

All colors do vary somewhat from the picture shown.

Core: Adaptor/C Symmetric
Coverstock: S74R Pearl
Finish: 1,500 Polished
RG: 2.48 (15# ball)
Differential: 0.055 (15# ball)
Recommended Lane Condition: Medium Oil
A few tiny pit holes in the cover stock of the ball are normal
SKU: GLBBMGTP
Product ID: 10413
Brand: 900 Global
Category: Bowling Balls
Ball Performance: Upper Mid-Performance Balls
Back to Top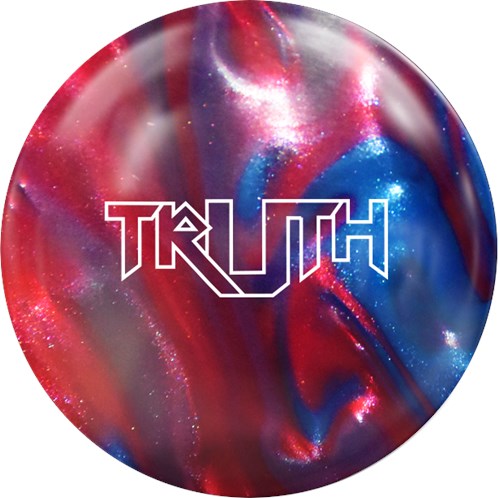 Similar Balls: Same Hook Potential, Lane Conditions & Coverstock as the 900Global Truth Pearl.
1/19/2017
By
Croy
from Denver,Colorado
Bottom Line:
Yes, I would recommend this to a friend
900Global TRUTH Pearl
Layout- 60x5x35
Finish- 1500 polished

THIS BALL IS GOOD!!! The perfect compliment to the TRUTH. The S74R Pearl Coverstock allows the ball to get further down the lane, making it the perfect transition ball from the TRUTH. The TRUTH Pearl will allow you to continue to play the same area of the lanes and begin to migrate left and still have enough energy to drive through the pins. The further left you start to move you might want to consider the INCEPTION or INCEPTION Pearl.

James Croy
BowlersMart Northglenn Shop Manager
900 Global Staff

1/23/2017
By
msb092669
from Dallas, TX
Bottom Line:
Yes, I would recommend this to a friend
Truth Pearl by 900 Global
As an experiment, I drilled my 900 Global Truth Pearl with a negative pin. I'm left handed so the pin is at about 1 o'clock. One shot and I was in love. The S74R coverstock is amazingly clean through the front. With the negative pin I got a strong but controllable down lane ball motion out of the Adaptor/C core and the ball is still very strong rolling through the pins. This ball is already the go-to ball in my bag.

Mike Bailey
900 Global Regional Staff Member

1/24/2017
By
Sean Daniels
from Aloha, Oregon
Bottom Line:
Yes, I would recommend this to a friend
900 Global Truth Pearl
Ball: 900 Global Truth Pearl
Coverstock: S74R™ Pearl
Finish: 1500 Polished
Color: Carbon/Blue/Ruby
Core: Adaptor/C™ Symmetric
2.48 Radius of Gyration
.055 Differential
Drilling: 4 x 4x 4
Pap: 4 3/4 x 7/8 up

Lane Condition: 40 Foot THS
I drilled this Truth Pearl the same as I did my Truth. Compared to that Truth, the pearl was about 5 feet longer on the same pattern with stronger response off the friction. This motion down lane is very predictable and while it is strong off the friction I do not find it to overact. The Truth pearl is effortlessly clean and retains plenty of energy to provide excellent power to the pins.

This ball is quickly becoming a go to ball in my bag and would be a great addition for all types of bowler.

Sean Daniels - 900 Global Staff Player
Aloha, Oregon

1/27/2017
By
Jimmy Casteel
from Evansville, IN
Bottom Line:
Yes, I would recommend this to a friend
Truth Pearl review by Jimmy Casteel
The Truth Pearl is the newest addition to the Prime Series to compliment the original Truth. These balls are very similar in specs, but the Truth Pearl utilizes a pearlized S74R coverstock to allow for a little more length and a stronger backend reaction than the original Truth. With the layout that i put on this ball, I will be able to use it as a good benchmark reaction on a variety of different lane conditions. If this ball does not quite turn the corner in time, then I know to ball up to the original Truth to get out the corners and have better continuation through the pocket.

2/18/2017
By
Tim Janz
from Beaver Dam,WI
Truth Pearl
have this one drilled pin above middle finger and drill angle is 40*. ball can be used on the fresh if you like to see you ball hook alot! but if that's not for you that's fine to , you can wait until the solid starts hitting weak, grab this one and your good to go. mine works really good on the longer patterns once they open up. great strong pearl! Tim Janz 900 Global staff

2/18/2017
By
G-Money
from Irmo, SC
Truth Pearl
Truth Pearl
Coverstock: S74R™ Pearl
Finish: 1500 Polished
Color: Carbon/Blue/Ruby
Core: Adaptor/C™ Symmetric
Flare Potential: 5-6+
Radius of gyration 2.48
Differential .055

The latest 900 Global ball in the Prime Series is the Truth Pearl, and I'm very pleased to see a strong symmetric pearl in the lineup . I drilled mine Pin up 5 1/4 X 3 X 3. This drilling allows me to get maximum clearance through the front part of the lane and stores a ton of energy down lane. It's a sharp looking ball that packs a mean punch and it definitely has a different ball motion compared to everything else in the 900 Global lineup! If you were a fan of the Truth, the Truth Pearl is a nice addition and it will definitely add some extra Performance to your game! Don't miss out on this rock! Greg Thomas

Customer

Questions

& Answers

| Reviews