Take $5 off your purchase of $50+ today!
Coupon excludes instant bonus items, hot deal items, and gift certificates.
Hammer Raw Hybrid Orange/Black
Hammer created the Raw series of bowling balls to enhance an experienced bowler's arsenal and to offer beginners a performance option for their first bowling ball. The Hammer Raw Hybrid Orange/Black features the Raw Hammer core which is covered with the Juiced Hybrid coverstock then finished with a 500 then 1000 then 2000 grit Siaair sanding pad and finally polished with Crown Factory Compound. This combination of core, cover and finish gives this ball length with a strong backend and is ideal for light to medium oil.
Color: Orange/Black
All colors do vary somewhat from the picture shown
Core: Raw Hammer
Core: Juiced Hybrid (14-16#)
Finish: 500, 1000, 2000 Siaair/Crown Factory Compound
Reaction: Length with strong back end
Recommended Lane Condition: Light to medium oil
RG: 2.537 (15# ball)
Differential: 0.038 (15# ball)
FCC Rating: Total-21.5, Finish-7.5, Core-5.25, Cover-8.75
Manufacturer's Warranty: Two years from purchase date
A few tiny pit holes in the cover stock of the ball are normal
SKU: HAM60106522
Product ID: 13181
Brand: Hammer
Category: Bowling Balls
Ball Performance: Entry Level Balls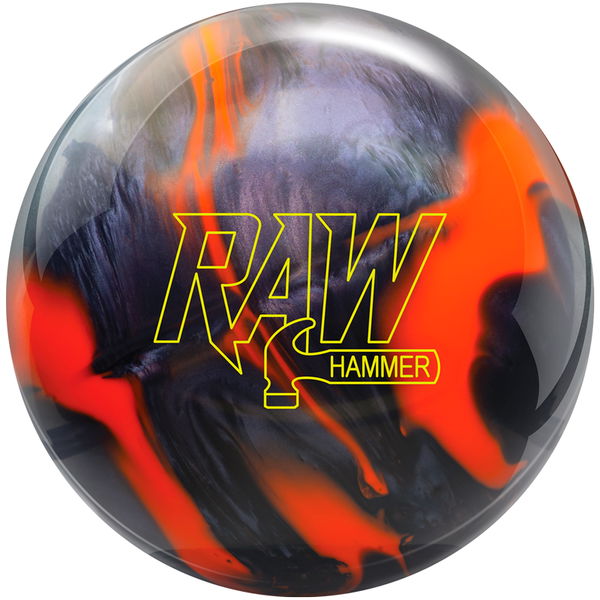 7/26/2023
By Joe G from Discovery Bay, CA
Bottom Line:
Yes, I would recommend this to a friend
Great Shelf Appeal
The raw hammer is exactly what I needed for the later games when I needed to get the ball down the lane. It allows me to stay in the same general area and not have to get too deep and lose the pocket. The perfect low reactive ball for longer blocks.
9/27/2022
By Jet from North Carolina
Pros:
Great First Ball, Looks Great, Easy to Control
Cons:
Low Hook on Heavier Oil but to be expected
Best Uses:
Medium to Low Oil lanes
Bottom Line:
Yes, I would recommend this to a friend
The Perfect First Ball
This was my first bowling ball I purchased. I've had it for about a month before writing this review (bowled 7 times with it so far). I wanted something hybrid to help me learn how to hook before getting a high performance ball. This ball has been everything I have hoped for. Perfect first ball for me. Doesn't hurt that it looks amazing rolling down the lanes either lol.

If you are buying your first ball, or your local lanes don't have much oil on them, this ball would be great for you. I would make sure to buy a shammy pad too, just incase your lanes do end up having a bit of oil on them. You'll def need one to clean this ball with so you can still get some hook. Get 13 lbs. or higher as well, I got 12 lbs. just because it was my first one but 12 just comes up short on some strikes sometimes.
6/26/2022
By Smokey from TX
Bottom Line:
Yes, I would recommend this to a friend
Great Ball for the money
Bought this today and it preformed better then expected. When I hit my mark it was spot on pocket . When I missed it had enough break at the back end and it carried through the pins not leaving bad or tough spares. This is a great ball
2/14/2022
By Liberty from San Diego, California
Bottom Line:
Yes, I would recommend this to a friend
Love the smooth rotation and hit power
Like the color, performance, Hammer is one of my personal favorite.
1/20/2022
By John from Slippery Rock
Cons:
Can over hook, tough to contol on dry lanes
Best Uses:
medium oil lanes
Bottom Line:
Yes, I would recommend this to a friend
Hammer Down!!!!!!
Just got the ball a few weeks ago and my second time using it got my first 600 series of the season. Still learning the do's and don'ts with the ball, but early results are very good.
1/19/2022
By Tree Top from Baltimore
Bottom Line:
Yes, I would recommend this to a friend
The Need For Speed...
Recently changed to two-handed bowling. That means more revs with a strong release. When first throwing my Raw, my ball speed was way down (10.2) and the ball seemed to hook a bit too much. But practicing with a smoother release, better steps, and a higher ball speed (14.9), she went down the floor and zeroed into that pocket knocking pins all over the place. My Raw just wanted to be let loose to show me what it could do.
1/5/2022
By Cody from Batesville, Arkansas
Pros:
Lengthy ball, big back end
Best Uses:
Medium house shots
Bottom Line:
Yes, I would recommend this to a friend
This hammer raw hits different…
I have a medium to dry house shot and I am a 2 handed, 500 rev rate player. Start by saying I am a storm guy through and through, but this ball is a life saver for me. Our house shot definitely favors a straighter approach and this ball fits the bill perfectly. It holds inside in the oil and explodes at the pocket. Revs up really nice. Is one of the few balls that I have that is super snappy yet seems really controllable. I think this is just due to the fact that it doesn't try to start up hill too fast. Definitely recommend trying one out
12/29/2021
By CaptCMC from Atlanta, Ga
Pros:
Strong at the pocket, great for straight down the boards.
Best Uses:
Medium oil house shot.
Bottom Line:
Yes, I would recommend this to a friend
Great Christmas Gift
Got it for a Christmas present. Just after it arrived a day early, got a call to sub in another league. Took it in hoping to get it drilled for my regular league tomorrow, but Dave had it ready to go during warm up. It only took 3 throws to line up, I'm straight down the boards. Decided to start with it and it went all 3 games, 684 ain't bad for my 187 avg.
9/28/2021
By J from Villa park
Bottom Line:
Yes, I would recommend this to a friend
Love to shop at bowling.com
Great Ball got it for my fiance she loves it
7/26/2021
By Trackstar85 from Renton, WA
Best Uses:
Medium To Light Oil
Bottom Line:
Yes, I would recommend this to a friend
Hammer Comes Through Again
Raw Hammer Hybrid Orange / Black Is Definitely A Great New Addition To The Hammer Line Of Bowling Balls... The Orange / Black One Is Starting To Become One Of My Favorites.. Definitely The First Ball Out Of My Bag When Bowling On A Shorter Volume Or Shorter Length Oil Patterns...It Definitely Gets Down Lane Smooth And Really Saves The Energy And Really Drives Through The Pins! The Combination Of The Cover And Core On This Ball Really Helps Me Stay Further To The Right And Keep My Angles Tight To The Pocket When The Fronts Are Really Beginning To Hook Early! The Length Downlane And Strong But Controllable Back End Drive Through The Pins Is Definitely A Great Ball To Have In Your Tournament Arsenal And When Lanes Transition ! Make Sure You Visit Your Local Pro Shop Today And This Great Line Of Bowling Balls To Your Bag Today You Wont Regret It! I Sure Havent And Might Drill A Few More IN The Future!
7/26/2021
By Mike Romero from Monterey, CA
Bottom Line:
Yes, I would recommend this to a friend
Best 1-2 Punch with Raw Solid
My Hammer Raw Hybrid is drilled 55 x 4.5 x 30, identical to my solid and it compliments the Solid perfectly! The OOB finish allowed me to play the same line as the Raw Solid and although I switched to the hybrid sooner than I normally would have in league or tournament, the hybrid never lost energy and read the midlane perfectly with a decent amount of oil still present. This is definitely a great 1-2 punch combo with the Raw Solid! Not often I say must have, but you get versatility and performance from both!
10/9/2022
By Linuxred from Nm
Pros:
Very nice weighted balance.. if u hook it it hooks
Bottom Line:
Yes, I would recommend this to a friend
Very nice ball
Very good ball behaves according to the weight. It's still up to the user to throw the strikes. Like it..

3/23/2022
By Kate from PA
Pros:
Good Hook on recommended oils, Control is good if your consistent
Best Uses:
Low revs: Dry lanes, High revs: Medium lanes
Bottom Line:
Yes, I would recommend this to a friend
Nice Ball
I've Been throwing this ball on medium and dry lanes for about a month now, my revs are around 300, For medium lanes i have to throw 15 mph to go for a more hook centered throw, but for faster throws with medium revs (Medium oil), I wouldn't go as much of a hook centered throw
6/12/2021
By C.Miller from California
Pros:
smooth and predictable, price, It's a Hammer
Bottom Line:
Yes, I would recommend this to a friend
Raw Power!
The Hammer Raw Hybrid is a ball that I found to be smooth and controllable from front to back. On a fresh house shot, this hybrid was still to clean. Hit the surface lightly with a 2000 pad and the ball read earlier and created better continuation through the pins.
The Raw Hybrid by Hammer can be found in the new, lower mid performance line up along with a solid and pearl versions.
Truly, a lot of ball for the price.
Nothing hits like a Hammer!!
2/6/2023
By Duane B from Michigan
Best Uses:
No, I would not recommend this to a friend
My ball was in room temperature and it cracked in three different spots
Just barely a year old was sitting in my house and cracked in 3 spots
Customer Questions & Answers | Reviews
Thanks for answering another customer's question! Once approved it will be posted here.