We'd like to offer you $5 off your purchase of $50 or more today!
Coupon excludes instant bonus items, hot deal items, and gift certificates.
7 Reviews | Ask a Question
- Produces more revolutions and offer a stronger reaction
- Great mid lane traction with a strong, continuous down lane motion
- Defies medium to heavy oil conditions
Get Details & Specs
Hammer Rebel Solid
Rebel even more with the Hammer Rebel Solid. This ball features the Rebel core that was created to produce more revolutions and offer a stronger reaction. The Rebel core is covered with the NBT Solid coverstock which produces great mid lane traction along with a powerful and continuous down lane motion. The ball is finished with a 500 then a 2000 grit Abralon pad giving it the ability to defy medium to heavy oil conditions. This ball takes nothing from noone!
Color: Blue/Orange

All colors do vary somewhat from the picture shown.

Core: Rebel
Coverstock: NBT Solid
Finish: 500/2000 Abralon
Reaction: Strong Overall Hook
RG: 2.48**
Differential: 0.044**
** RG and Diff are based off of 15 lb. balls
Recommended Lane Condition: Medium to Heavy Oil
FCC Rating: Total- 24.5 Finish- 9, Core- 7.5, Cover- 8
A few tiny pit holes in the cover stock of the ball are normal
SKU: HAMHMREBSLD
Product ID: 10342
Brand: Hammer
Category: Bowling Balls
Ball Performance: Mid Performance Balls
Back to Top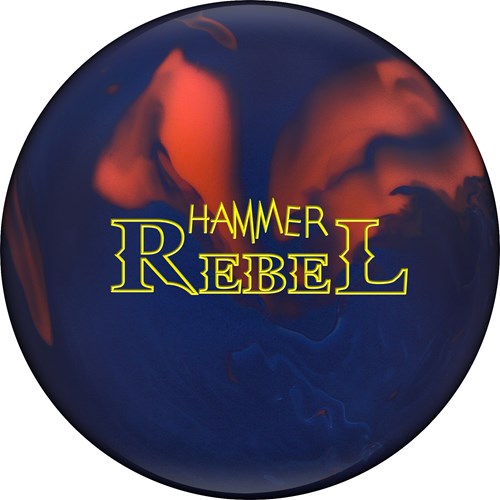 Similar Balls: Same Hook Potential, Lane Conditions & Coverstock as the Hammer Rebel Solid.
11/15/2016
By
Michael Thompson
from Sarasota, FL
Pros:
Heavier Medium Lane Patterns, Strong rolling ball
Best Uses:
Heavier Medium - Heavy Lane Patterns
Bottom Line:
Yes, I would recommend this to a friend
Strong Versatile ball from Hammer
The RebeL Solid is another great ball from the Hammer brand. With the stronger solid coverstock, the Rebel Solid helps with more hook on heavier medium to longer lane patterns by blending out the wet/dry and offering control in the backends. The original RebeL was a great rolling piece for the medium lane patterns (perfect for House shot patterns), the new RebeL Solid will be about 4-5 boards stronger overall with the same controllable motion in the backends. This ball has replaced my trusty Arson High Flare Solid, which the RebeL Solid is a little stronger (earlier) than the AHF Solid due to the stronger coverstock. I am really enjoying the motion that I see with this ball and will be in my bag for future tournaments for sure! This ball matches up well with various styles of bowlers that have thrown this ball at Demo events.

This ball comes with Hammer's 3 year warrantee which provides the BEST value for your $$$!

The new RebeL Solid will be a great ball for the heavier medium lane patterns that offers a clean motion through the fronts with a strong controllable ball motion off the spot down the lane.

A very versatile ball... You will be impressed!

11/15/2016
By
Hammertime
from Parkersburg,WV
Bottom Line:
Yes, I would recommend this to a friend
Strong Midlane with continuation
This is a great benchmark ball. 1st ball out of the bag. Blends out wet/dry conditions. Very Strong ball motion for a symmetrical ball.

10/25/2016
By
Jay S
from DE
Bottom Line:
Yes, I would recommend this to a friend
rebel solid
strong midlane and arc. Blends out the wet/dry. Similar Scandal shape for medium oil/hook.
Ebonite Staff
usbc silver coach

10/29/2016
By
Joe Somd
from Seattle
Awesome Ball
The Scandal Pearl is the most hooking pearl ball in Hammers line-up. It is an awesome compliment to the Scandal. It get through the fronts and picks up nicely in the backend and continues through the pins. When it hits, You hear a BIG Boom! I've been able to switch from my Scandal to the Pearl and stay in the same part of the lane and the pearl goes through the spot on the lane that the Scandal is reading and picking up. The Pearl does all this and is a monster on the backend. The hitting power of this ball is amazing! If you loved the Scandal, you need the Pearl in your bag.

12/13/2016
By
Sweetpea Bowl
from Worcester, Massachusetts
Bottom Line:
Yes, I would recommend this to a friend
Rebel Solid- Strong Symmetric Relesae by Hammer
Here is my take on the Hammer Rebel Solid. The Rebel Solid features the same core as the original Rebel along with a bright Blue/Orange NBT Solid coverstock. Box finish is 500/2000 Abralon. Like with all current Hammer pieces, this new release features the durability enhancing carbon fiber technology and thus comes with an industry leading 3 year warranty.

My PAP is 5 9/16 over and 1/8 up with a 400 rev rate and average speed of 17 mph. I have tried the Rebel Solid on several different THS, USBC White, and Kegel Winding Road. I have tried this piece at box surface as well as polished. My Rebel Solid was drilled with a 50 X 5 X 20 with a weight hole on the PAP.

If you are looking for a Rebel type motion on heavier volume patterns, the Rebel Solid is for you. The motion on this ball is a strong, heavy arc (original Rebel was more angular) and as previously noted, will excel on heavier volumes of oil. People with higher ball speeds and/or lower rev rates will also benefit from this release. My experience with this core is that within the ball's capabilities, different shapes can be achieved. Personally, for my style in the environments in which I've tried this piece, the polished surface worked best to help the ball conserve more energy. (Most of the environments referenced have been medium to medium low volume patterns). Thus if you find yourself on a fresh pattern with heavier volumes of oil, the Rebel Solid will be in play. If you find yourself on a medium or light volume of oil or broken down condition, consider an original Hammer Rebel or a Viral Hybrid.

Please see your local pro shop for more information on the new Rebel Solid by Hammer.

1/16/2017
By
Louis F
from Indianapolis
Great benchmark ball
The Rebel Solid fits right in the middle of the bag. I always start with this ball. It fits the definition of a benchmark ball and compliments the original Rebel well. If the original Rebel is a little too long or isn't quite reading the midlane, this ball will get the job done. Drilled mine with my favorite pin down layout and it does exactly what I expected. For those of you that don't have the ball speed to throw the high end asymmetric balls and very super solids like the Scandal, this would be a really nice choice as well.

1/29/2017
By
Hammergirl
from Wooster, ohio
Bottom Line:
Yes, I would recommend this to a friend
Rebel solid!
This ball really impressed me. Such a strong but predictable roll. I use this ball quit a bit in the 2 houses I bowl league in. When I start to get push with my pearl I can go to this ball to smooth out the over/under.

Customer

Questions

& Answers

| Reviews