Take $5 off your purchase of $50+ today!
Coupon excludes instant bonus items, hot deal items, and gift certificates.
Motiv Venom Shock
The Motiv Venon Shock has it all at an affordable price. This ball pairs the Gear weight block with the Turmoil MFS Reactive coverstock from the Covert Revolt to produce a smooth but angular backend motion that continues through the pins. The colors on this ball really pop on the lane and produce shocking results on light to medium oil conditions.
Color: Purple/Purple Solid with Orange/Green NeoMark™ Graphics
All colors do vary somewhat from the picture shown
Core: Gear
Coverstock: Turmoil™ MFS Reactive
Finish: 4000 Grit Sanded
RG: 2.48 (15# ball)
Differential: 0.034 (15# ball)
Hook Potential: Medium
Length: Early
Recommended Lane Condition: Light-Medium Oil
A few tiny pit holes in the cover stock of the ball are normal
SKU: TLMTVBVSPPS
Product ID: 8272
Brand: Motiv
Category: Bowling Balls
Ball Performance: Mid Performance Balls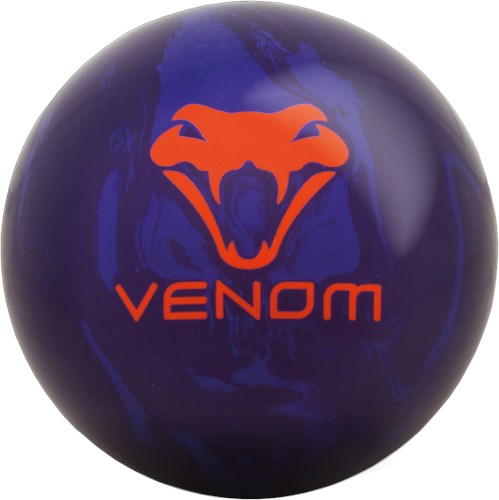 3/13/2014
By Mappa from Torrance, CA
Bottom Line:
Yes, I would recommend this to a friend
MOTIV Venom Shock - Smooth Operator!
The Venom Shock is a great compliment to the recent releases from MOTIV. The low RG / Medium Differential Gear core, paired with a new solid coverstock provides a smooth roll throughout, with just enough at the backend to give me consistent carry. The best way to describe it is that the ball seems to drive forward through the pin deck, with less deflection. The pins also seem to stay lower - which I've seen with previous MOTIV balls that utilize the Gear core.
After bowling with the Venom Shock for a few weeks, I've determined that my favorite time to use it is on a fresh medium to heavy oil pattern. It really helps to smooth out the lane from front to back. I'm able to groove it right up the track area in those conditions. On short sport patterns, this one also comes in very handy when I'm looking for a "hook/stop" type shape from an outside angle. I feel like this really widens the pocket for me, when more angular equipment would over-react on the back end. This piece is a "must" in my bag when it's tournament time!
--Kevin Gallagher-
PBA Member
MOTIV Staff
Video Submitted by Reviewer:
3/4/2014
By Mags from Detroit, MI
#Purpleball
Description: The Venom Shock is the third installment of the Venom series and again placed in the lower mid-price range. The Venom Shock coverstock has the new Turmoil MFS, which is a modified version of the Turmoil HFS coverstock on the recently released Covert Revolt. For the core, MOTIV again used the Gear Core from the previous two Venom's and the much older GT-1.
Reaction: In a one liner the Venom Shock is very clean through the front part of the lane and provides a consistent controlled downlane motion. I have found myself throwing the Venom Shock when playing straighter angles, but when my more predictable pieces do not seem to respond fast enough downlane. The shape it provides is between a mild slower response piece and something mild that is longer and has a faster response. My style doesn't quite allow me to throw this ball on the fresh or heavier patterns at the box surface, but that is not exactly the intention of this piece, however altering the surface to 2000 allowed it match up very well. Believe it or not the Venom Shock is a benchmark ball for me, it allows me to get straighter and still maintain a great shape downlane.
Mags
MOTIV/Turbo/Boom Apparel Staff Member
7/1/2014
By MOTIV_GURL Wendy Arnold from Houston, TX
Bottom Line:
Yes, I would recommend this to a friend
MOTIV VENOM SHOCK
LANE CONDITION
Type (THS, Sport Pattern etc):modified house shot / house shot
Recommended Lane Condition: Light-Medium Oil
COMMENTS
MOTIV Venom Shock:
MOTIV Venom Shock Ball Specs:
Likes: The MOTIV Venom Shock is definitely something special! This ball is an extremely reliable, smooth rolling, beast of a light to medium oil ball! Not only does the Shock look great going down the lane, it is affordable and has the ability to out perform any medium - light oil ball out there on the market. The SHOCK pairs well with the MOTIV Covert Revolt. Once the lanes begin to break down, the SHOCK is your go to ball with very little adjustment if any! When you need something you can rely on when you begin to notice carry down that will push through the oil, you can pull the Shock out of your bag! Your Arsenal isn't complete without the MOTIV Venom Shock in your bag!
Venom Shock Specs
Released:03/28/2014
Perfect Scale®:196.6
Performance:Advanced Performance(6)
RG:2.48
Differential:0.034
Flare Potential:Medium-Low
Breakpoint Shape:Smooth / Early Hook
Lane Condition:Medium-Light
Coverstock: Reactive Resin
Coverstock: Turmoil™ MFS Reactive
Factory Finish:4000 Grit Sanded
Core Type: Gear™
Color: Purple/Purple Solid with Orange/Green NeoMark™ Graphics
About Me
I am an advanced Right Handed female bowler with a league Average of 200. My ball speed is consistent around 17 mph with a rev rate of approximately 250.
Tilt 12
Axis 45
PAP 5 1/4 up 1/2 right
Layout for the ball drilled in the video below:
80 x 4 x 70
Wendy Arnold
MOTIV Staff
7/6/2020
By Brady from Anderson Indiana
Bottom Line:
Yes, I would recommend this to a friend
Great ball, love it
Love this ball. I hooks later than I expected but overall, I love the ball and would recommend it. 10/10
11/1/2018
By Brandon from Dayton, OH
Bottom Line:
Yes, I would recommend this to a friend
Pleasantly surprised
4 x 4 x 2
Ball is super clean with good movement at the back. Very surprised considered it is a solid. Was able to use the same break point all night, just moving further inside. Will be the first ball out of my bag on house or sport.
9/4/2018
By rocket ron from cleveland,ohio
i would buy again!
64 years young,right handed low 192 bowler low 15- high 14 mph ball speed, 14 pound venom shock light polish cover two league bowler love the game and motiv toys venom shock first toy out of the bag on fresh house shot good for 1 1/2 2 games rolls great hits like a runaway train really cracks the pins music to my ears LOL makes me feel good and young for a few hours third game bring out motiv octane carbon all bases covered. kicking butt taking names! LOL thanks MOTIV rocket ron
4/7/2018
By rocketron from cleveland,ohio
Bottom Line:
Yes, I would recommend this to a friend
great toy yes i would strongly advise purchasing this ball
great ball on fresh house shot, first squad I am 64 years young ball hits like a jack hammer really cracks the pins makes bowling fun again old timers in senior league look on and ask what kind of ball it is , and some of the younger guys in my other mens league look on, I just tell them to get motivated, LOL PS my venom shock is 14.5 lbs. hits like 20 lbs. thanks motiv rocket ron
10/17/2017
By Cozz from Greenville, NY
Bottom Line:
Yes, I would recommend this to a friend
Fantastic Action and Power
I have been a Hammer-head for most of my life but a friend convinced me to look into MOTIV. I did a lot of research on the line of balls they offered and decided to try the Venom Shock. WOW!!!! I put a 70x40 @ 4" layout on it and this ball has amazing reaction when it gets to the dry. It hits with the perfect angle and with an amazing amount of power. My first game with the ball I threw my lifetime high of a 254. For a guy who does not bowl overly competitively I could not be happier. I think my new league arsenal is going to be MOTIV based. This ball is the perfect benchmark ball for me. I highly recommend this ball to anyone.
7/12/2017
By Big Mack from Las Vegas
Fantastic
I love the fact that I don't need to put a lot of power to This ball if you hit your mark the ball will go down there and hit the pocket every time I Love This ball
7/17/2016
By Rand from Alexandria Virginia
Pros:
Smooth hook, Strong backend, Very versatile
Best Uses:
Broken down oil, Light to medium oil
Bottom Line:
Yes, I would recommend this to a friend
I would buy 3 copy's of this ball
This is my favorite ball in my arsenal. In my opinion it is the best ball Motiv has every made. It's a great ball with early smooth hook yet a very strong back end. This ball is very good too use once the fronts has broken down or on light to medium oil. It is very versatile you can play from a lot of different angles from the far left or far right or right down the middle.
6/29/2016
By Shmay from Cinnaminson, NJ
Bottom Line:
Yes, I would recommend this to a friend
great ball
I am around a 130 to 140 average and I bowled this ball for the first time 2 days ago on optimal medium oil and my first game was a 150. I was pleased with that. My first couple frames were strikes. I realized you wanna be towards the middle of the lane for better control. Then the next game I bested my best score and hit a 197. It never left my with any splits and I was able to hit the pocket about 99% of the time. That 1% I was a little nonchalant on the hook but all in all I can't wait till league night.
Customer Questions & Answers | Reviews
Thanks for answering another customer's question! Once approved it will be posted here.