We'd like to offer you $5 off your purchase of $50 or more today!
Coupon excludes instant bonus items, hot deal items, and gift certificates.
900Global X
900Global's Tour Preferred line of bowling balls are go to products for tournament bowlers. This line offers the predictability as well as the control that are crucial for tournament bowlers. The X doesn't disappoint in these two areas. This ball has a low RG and Low Differential Pod symmetric core that offers early revving action and a smooth reaction at the breakpoint. The S57 cover and the NEAT "A" finish give the optimum level of friction for medium oil lane conditions.
Color: Black

All colors do vary somewhat from the picture shown.

Coverstock: S57 Solid
Finish: 2500 Grit NEAT "A"
Core: Pod Symmetric
Flare Potential: 3-4"
RG: 2.49 (based on 15# ball)
Differential: 0.035 (based on 15# ball)
A few tiny pit holes in the cover stock of the ball are normal
SKU: GLBBMGGX
Product ID: 9798
Brand: 900 Global
Category: Bowling Balls
Ball Performance: Mid Performance Balls
Back to Top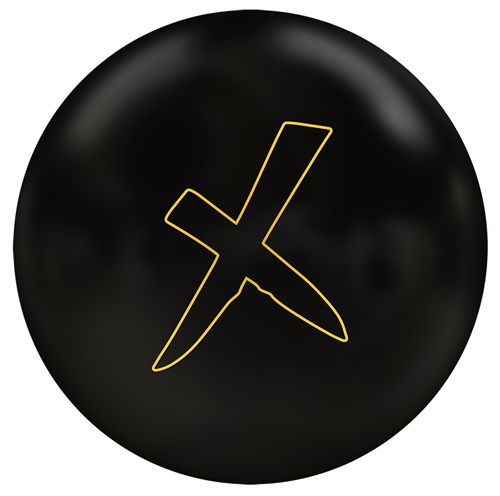 Similar Balls: Same Hook Potential, Lane Conditions & Coverstock as the 900Global X.
3/23/2016
By
Kelly
from Marion OH.
Bottom Line:
Yes, I would recommend this to a friend
900 Global X
The 900Global X will be my benchmark ball on both THS and mid length/volume spot shots. This ball is very predictable with the 2500 matte finish. It reads the mid-lane great and has a beautiful backend reaction with great continuation through the pins.
Well done 900Global its a keeper

Kelly Jordon
900Global Regional Staff

3/25/2016
By
Edrock1969
from Indianapolis, indiana
Bottom Line:
Yes, I would recommend this to a friend
Tournament ball
My specs 45 x 5 1/2 x 45 with extra hole. Ball Speed 15.5, rev rate 375, PAP 5 11/16 x 5/16 up, ball surface 2500(A-Pad). Bowlers it's tourney season! I can't think of a better ball to have in your bag than the 900Global X. Ball is clean thru the front and has a lot forgiveness in the midlane. A very good benchmark ball to have, especially when bowling tournaments on unfamiliar patterns. If you have chemical X, this ball will be cleaner through the front with more energy on backend. I will be taking one with me too USBC Nationals this year. Pick one up today, you will not be disappointed. -

4/3/2016
By
Duane Deem
from Belpre Ohio
Bottom Line:
Yes, I would recommend this to a friend
Global X
Drilled my Global X pin down with cg stacked under the bridge. This ball is first ball out of the bag because of predictability and control at the break point. This ball reads a little sooner than the Chemical X and is a little stronger of the spot than the Dark Matter. Great ball to use on either a ths or a sport pattern. The ball is very clean thru the heads but it reads the mids and goes into a smooth controllable arcing motion with great continuation thru the pins. Ball seems to keep the pins extermely low which is very good for carry.
Another great ball from 900Global. Bring performance to your game go 900Global.

Duane Deem
900 Global Staffer

3/28/2016
By
Xxlchad
from Kalamazoo Michigan
Bottom Line:
Yes, I would recommend this to a friend
X marks the spot
Control .. Drive... Of you don't own this you don't like money

4/21/2016
By
Jimmy Casteel
from Evansville, IN
Bottom Line:
Yes, I would recommend this to a friend
900 Global X review
Rev rate: 450
PAP: 4-7/8 and 1/3 up
Axis tilt: 15 degrees
Axis rotation: 30 degrees

50x4.75x60 Layout

The newest addition to the Tour Preferred line for 900 Global - the X! This ball is the new benchmark ball in the lineup for me. With its S57 solid coverstock matched up with the Pod Symmetric core, this ball will read the midlane extremely well and have good continuation through the pins. Nothing too fancy or super aggressive about this ball, and that is something that I will use very often in league and tournament play. Everyone needs a good benchmark ball in their bag, and if you are looking for something to judge the rest of your arsenal off of, then the 900 Global X may be the ball for you!

4/26/2016
By
G-Money
from Irmo, SC
Bottom Line:
Yes, I would recommend this to a friend
The X hits the spot
X

Coverstock: S57™ Solid
Finish: NEAT "A" 2500Grit
Color: Black
Core: Pod™ Symmetric
Flare Potential: 3-4"
Radius of gyration 2.49
Differential .035
The latest 900 Global ball in the Tour Preferred Series is called the X. All I can say is that it has a perfect meaning because this ball sure can string some strikes! This low RG ball with a medium differential is a great addition to the 900 Global lineup. The X has a stable controlling arc to the pins and the cover is a vast improvement to Chemical X with an overall stronger ball motion. This ball is a must have have and it has a nice price point to the consumer. This ball works great on the wet dry conditions you might see at your local bowling center and also performs on those medium to short oil sport conditions too..... Great addition to the 900 Global line...... so let's add some Performance to your game and throw some strikes with the new X.

7/5/2016
By
Sean Couse
from Indianapolis
Bottom Line:
Yes, I would recommend this to a friend
Benchmark Ball
I decided to drill this Symmetrical ball pin down so that I could get a nice arc on the backend of the lane so I put the pin 1" below the bridge and angled the CG at 30-degrees to the right and 1500-grit on the cover. This ball out of the box became a favorite for its ability to stay smooth on lighter oil conditions. The day after I drilled it up I had a practice session with a friend on drier "Sunday" house conditions and this ball was great, nearly shooting 300 out of the box. This ball will be a great addition to anyone looking for a way to combat the china wall built by high rev bowlers on your league pair late in the series. I wouldn't hesitated to pull this ball out and count on a consistent reaction frame after frame. (My PAP is 5 3/4" right and 5/8" up, ball speed is about 15.5mph and medium rev rate)

3/5/2017
By
SRbowlr67
from Grafton, MA
Pros:
Smooth transition off breakpoint
Best Uses:
Benchmark ball for medium length/medium volume
Bottom Line:
Yes, I would recommend this to a friend
X produces X's by Brendan Bierch 900Global Advisory Staff
Box surface 2500 Abralon. Layout: 50 x 3 7/8. 1 1/32" XH on Horizontal axis line 1" back from PAP. Hook/set reaction at pins. First time out of the box shot 738 (256-236-244) on USBC White pattern #2 in scratch league. Even as the pattern transitioned, moves of 1 to 2 boards left were all I needed. Ball HITS hard, pins stay low for excellent mixing action.

5/11/2017
By
Brent Ritchie
from Madison, WI
Bottom Line:
Yes, I would recommend this to a friend
900 Global X
I drilled this ball with a pattern of 84x3.75x57 with the pin in the ring finger. I tried to duplicate my drilling on the Chemical X (one of my 900 Global favorites) as I wanted to maintain the same smooth, predictable, rolling motion I loved in the Chemical X. I got exactly that, with a little bit more pop off the back part of the lane. This ball is incredibly predictable and the core makes this ball very controllable, while still retaining good energy through the pins. Great benchmark ball on a number of oil patterns.

Brent Ritchie
900 Global Regional Staff

Customer

Questions

& Answers

| Reviews
Question:
Drill for house shot. What is pin down and CG under bridge
4/25/2016 - By
Don
Have an answer to this question?
Answer:
Hello, you may check with the person who will be drilling this ball for you prior to ordering to determine which layout and specs they would use to get you the desired reaction.
4/26/2016 - By
Bowling.Com Staff
0

of

0

customers found this answer helpful. Did you? Yes | No
Did you find this answer helpful? Yes | No
Thanks for your feedback!