We'd like to offer you $5 off your purchase of $50 or more today!
Coupon excludes instant bonus items, hot deal items, and gift certificates.
Brunswick Mastermind Strategy
Strategy is a crucial part of any sport and bowling is no different. The Brunswick Mastermind Strategy pairs the Relativity Solid Reactive coverstock with the Modified Mastermind Asymmetric core to offer a ball that has a strong and controllable hook motion when used on medium to heavy oiled lanes. The ball motion of the Mastermind Strategy is similar to the one produced by the original Mastermind.
Color: Blue/Violet/Orange

All colors do vary somewhat from the picture shown.

Core: Modified Mastermind Asymmetric
Coverstock: Relativity Solid
Finish: 500, 2000 Siaair
Reaction: Strong and controllable hook motion
RG: 2.504**
Differential: 0.048**
** RG and Diff are based off of 15 lb. balls
Hook Potential: 240 (scale 10-250)
Length: 105 (scale 25-235)
Breakpoint Shape: Angular
Recommended Lane Condition: Medium-Heavy Oil
A few tiny pit holes in the cover stock of the ball are normal
SKU: BRU60105839
Product ID: 10010
Brand: Brunswick
Category: Bowling Balls
Ball Performance: High-Performance Balls
Back to Top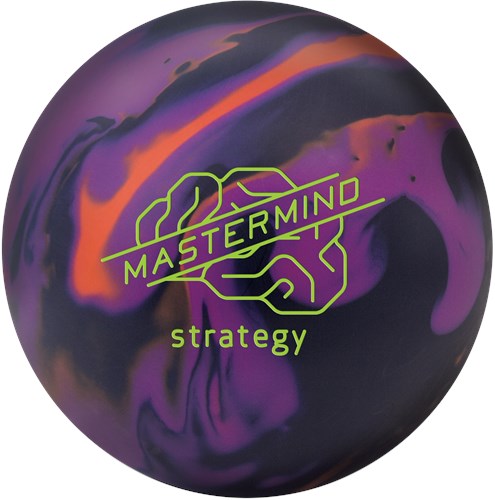 Similar Balls: Same Hook Potential, Lane Conditions & Coverstock as the Brunswick Mastermind Strategy.
7/7/2016
By
Dave
from Bennington, VT
Bottom Line:
Yes, I would recommend this to a friend
This one is smarter then the rest!
Bowling Ball- Brunswick Mastermind Strategy
Coverstock- Relativity Solid Reactive
Factory Finish- 500, 2000 Siaair
Ball Layout- 60x4.5x55

The Brunswick Mastermind Strategy is a bowling ball that will probably be the first one to come out of my bag. If you liked the original Mastermind, you are absolutely going to love this ball. I have had the ball for about a week now, and have had a change to throw it both on wood and synthetic lanes. The Mastermind Strategy really leaves a foot print in the oil. Like the original, this ball sees the mid-lane very well, but this this one continues through the pins much harder. It's almost the best of both worlds. The Strategy has that strong mid-lane roll of the original, but it continues through the pins just as hard as the Mastermind Brainiac. I find myself saying wow every time this ball starts up, and goes through the pins. I would say overall it's about the same amount of hook as the original, just with a stronger continuous roll. Compared to the Mastermind Brainiac, the Strategy is probably three to four feet earlier with a stronger mid-lane roll, but continues through the pins just as hard. Make sure you check this ball out. Available July 12th.

7/13/2016
By
Kennon "Superman" McFalls
from Charlotte, NC
Pros:
Predictable Ball Motion, Great colors, Great high performance ball
Cons:
NONE
Best Uses:
Medium to heavy oil
Bottom Line:
Yes, I would recommend this to a friend
I would buy 100 of this ball if I could.
I love this ball, it has that same Mastermind shape that is very predictable and everyone likes. This ball has more continuation though, it allows the bowler to kill the transition!

6/30/2016
By
Alex
from Richmond, Va
Bottom Line:
Yes, I would recommend this to a friend
Wow
Threw this ball for the first time this week , all I can is say is wow. This reads the mid-lane so well and it completely stands up , ball is very angular . Great complement to the original mastermind . Great step down from the Nirvana or Original Mastermind

6/30/2016
By
JGBowling
from NC
Bottom Line:
Yes, I would recommend this to a friend
A must have
First night of league with this ball I shoot 300/799. If you liked the original mastermind then you will want to put this one in your bag. This ball cleaner through the fronts with great traction in the midlane and a strong smooth continuous backend.

7/13/2016
By
Big B
from North Carolina
Bottom Line:
Yes, I would recommend this to a friend
This is ball is amazing!!! Very versatile
I use this ball on fresh house and sport conditions. Ball is very strong with versatility

7/15/2016
By
jd878
from Baltimore
Bottom Line:
Yes, I would recommend this to a friend
Mastermind Strategy
I drilled my Mastermind Strategy with a 45 X 5 x 30 lay out to use on heavy oil patterns. It had a big mid lane reaction but smooth continuos backend.
I could only use this ball for a game and a half before it was just to strong for the house shot. I would suggest if you need something for oil this be the first ball on your list, you will not be disappointed .
Good Luck and keep hitting them hard.

J. Dudley
Brunswick Regional Staff

"This review is my opinion and does not necessarily reflect that of the Brunswick Corporation."

7/22/2016
By
The Tooth
from Traverse City,MI
Bottom Line:
Yes, I would recommend this to a friend
Smart Hook
In my eyes this is the best overall hook and smoothest reaction ball out of all of them in this line! I was a huge fan of how this ball digs and transitions smooth with a continuous motion. It hits the pins with power! I have mine drilled pin under so it picks up a little earlier but with the speed I play it is very forgiving. I just keep moving left and this ball keeps me in play.

Jay Langler
Bowler X Staff Member
Brunswick Advisory Staff Member

7/22/2016
By
Charles W
from Grovetown GA
Pros:
Strong continous backend, Early midlane roll
Cons:
Needs oil
Bottom Line:
Yes, I would recommend this to a friend
Best Mastermind of the line
The Mastermind Strategy to me is the best Mastermind ball in the line. The Mastermind Strategy is so strong and continuatous in the backend and has great midlane roll. I drilled mine 45 x 6 x 80 for tougher flat patterns to allow me to get the ball to roll more throughout the lane. This ball is gonna be a moneymaker and is a outstanding benchmark ball as well.

7/24/2016
By
Cng260
from Greenville, SC
Pros:
Value, Hook in oil, Strength
Best Uses:
Oilier Lanes, Wet/Dry condtions
Bottom Line:
Yes, I would recommend this to a friend
Super Control and Lots of Hook
BALL SPECS

Pin Length: 3.2"

Starting Top Weight: 3.1 oz

Ball Weight: 15 lbs 2 oz

DRILL PATTERN

Ball: 65 x 5 x 35

X Hole (if there is one): Small P1 hole

BOWLER STYLE

Rev Rate: 375 rpms

Ball Speed:17.5 mph off hand

PAP/Track: 4 3/4 over 3/4 up

SURFACE PREP

Grit: 2000

Type: (Matte, Polish, Sanded): Sanded 2000 Siaair

LANE CONDITIONS

Lengths of patterns: 41 foot house shot

Volumes: moderate

Type: house

BALL REACTION

Length: Moderate with plenty of midlane read

Back End: Super Strong Arc

Overall Hook: very strong

Midlane Read: Strong

Breakpoint Shape: Strong Continuous Arc

COMMENTS

Likes: Heavy midlane read, over all strength, ability to smooth out over under conditions

Dislikes: none

The Mastermind Strategy is a stronger upgraded version of the original Mastermind. The newer Composite Coverstock technology helps the ball start a bit sooner and still maintain some motion down the lane. This one is much earlier than the Brainiac and will work very well when the lane conditions are fresh. I believe I will find this ball to excel when I need something to even out the wet dry ball reaction caused by today's slicker surfaces and higher volumes. This ball possesses a controllable reaction simply not seen in most reactive balls. If your looking for strong, controllable performance with plenty of hook the Mastermind Strategy is more than worth your consideration!

8/4/2016
By
Bubba
from Dallas Texas
Bottom Line:
Yes, I would recommend this to a friend
Winner for Brunswick
Hand: Left Ball Speed: 16-17 mph Rev Rate: 400 Axis Tilt: 2 degrees

Axis Rotation: 84 PAP: 5" Left and 1/8th up Pattern: THS 39-40 ft

Ball: Mastermind Strategy Weight: 15.3 Top Weight: 2.5

Drill Pattern: 70 X 4" X 25 Weight Hole: P3 position

Smooth and predictable are the best words to describe the Mastermind Strategy. One of the best things of this ball is the hitting power and continuation through the pins. The Strategy get through the heads easily. Good back end recovery if thrown out to far. Never worried that this ball would make it back to the pocket. The Strategy is a medium to heavy oil ball, but is still tame enough to use on multiple patterns. I was easily a whole arrow deeper with my Strategy compared to my original Mastermind. Easily a ball to use when you need a little extra up front to cut through that oil, but not sacrificing on back end performance. The ball motion overall is a very strong arch. If you need something to combat the oil and destroy the pins, then the Brunswick Strategy is the ball for you! Another winner for Brunswick.

8/12/2016
By
Joel "darn lefty" Ray
from Cincinnati, Ohio
Pros:
Looks Great
Cons:
None
Best Uses:
House or Sport Pattern
Bottom Line:
Yes, I would recommend this to a friend
Exellent Performance Must Have!!!!
This ball allows me to play the deep inside part of the lanes. It seems to come back from about anywhere and doesn't lose carry. A lot of equipment will burn up and die when you start hooking the whole lane but not this one. This gives me a look that I don't usually have. This ball is a must have!!!!

8/12/2016
By
Joel
from Cincinnati, Ohio
Pros:
Great Performance, Looks Great
Cons:
None
Best Uses:
Pro, Tournaments, League
Bottom Line:
Yes, I would recommend this to a friend
Wow! A must have!
This ball is a must have! Compared to the original Mastermind this ball is cleaner through the fronts and a few more boards pop in the backend. Whats most impressive is the continuation through the pins and it never seems to burn up and lose carry no matter how deep you get. Another winner from Team Brunswick!!

8/13/2016
By
Gabe
from san antonio,tx
Bottom Line:
Yes, I would recommend this to a friend
Strategy
This is a must have in your bag when you are going to bowl a tournament. This ball will work in oil with no problem. Its a ball that just works from any angle

Customer

Questions

& Answers

| Reviews
Question:
Does this ball hook earlier or later compared to the absolute nirvana?
8/18/2016 - By
Mac
Have an answer to this question?
Question:
How will this ball do in heavy oil?
8/18/2016 - By
Mac
Have an answer to this question?