DV8 Trouble Maker
Watch out, here comes a Trouble Maker! Due to the growing number of two-handed and no-thumb hole bowlers, DV8 developed a bowling ball for them. Any bowler can effectively use the DV8 Trouble Maker but the two-handers and no-thumb bowlers will particularly benefit from the technology built into this ball. The Dualistic core was designed so that the two finger holes hit designated areas of the core. This results in different numbers than the typical core shape. This core is paired with the proven Inciter Max Continuation Hybrid coverstock to produce a strong overall hook on medium to heavy oil conditions.
Color: Light Blue/Black/Blue
All colors do vary somewhat from the picture shown
Core: Dualistic
Coverstock: Inciter Max Continuation Hybrid
RG: 2.496 (15# ball)
Diff: 0.045 (15# ball)
Finish: 500, 2000 Siaair Micro Pad
Hook Potential: 320 (High)
Length: Middle
Reaction: Strong overall hook
Recommended Lane Condition: Medium to heavy oil
Manufacturer's Warranty: Two years from purchase date
A few tiny pit holes in the cover stock of the ball are normal
SKU: DV60106913
Product ID: 14352
Brand: DV8
Category: Bowling Balls
Ball Performance: High-Performance Balls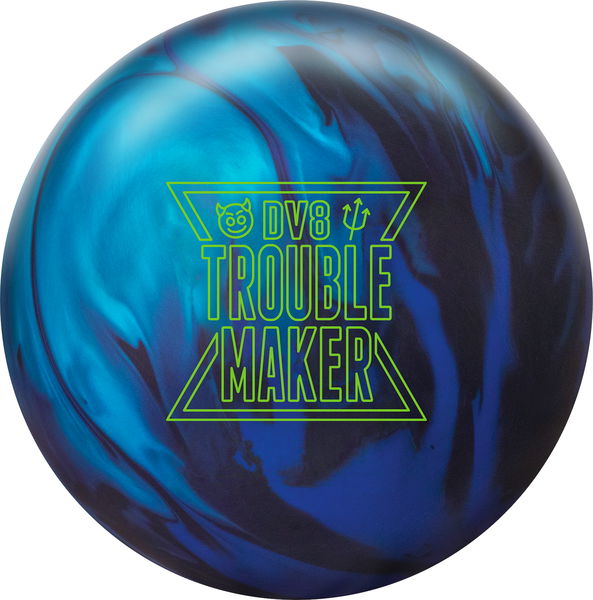 5/22/2023
By Mike Romero from Monterey, CA
Bottom Line:
Yes, I would recommend this to a friend
Trouble Maker!!!
I am not a two (2) handed bowler, but this ball is really amazing! I drilled this one a bit differently than my traditional layout. I have scuffed the surface to 1500 and use this ball during the start of league or even during early transition on a tournament pattern. With a 45 x 5.5 x 40 layout, this ball is very controllable with a strong continuation backend motion. I can only imagine what this ball looks like with my regular layout. Although a hybrid, this ball can act as a very good benchmark ball.
4/26/2023
By CHRIS J from palm springs
Bottom Line:
Yes, I would recommend this to a friend
believe the HYPE
I am not a 2 handed bowler but this ball is very good. it is so clean through the mids and hits really hard in the backend. very clean benchmark ball to start with. i just used my favorite layout for this piece.
4/18/2023
By Frederick W from Colorado Springs, Colorado
Bottom Line:
Yes, I would recommend this to a friend
Here comes Trouble.
DV8 and Brunswick hit this one out of this world. The new DV8 Trouble Maker with the all new Dualistic Core is a straight winner. If your looking for a benchmark ball for 2 handers, no thumb bowlers this one is it along with traditional bowlers. The overall motion of this ball is eye popping. The amount of messengers I have been able to send across the pin deck is amazing. Don't sleep on this one folks. The game has changed for the better
4/3/2023
By Bryan W, PBA Member and DV8 Pro Staff from Plumas Lake, CA
Bottom Line:
Yes, I would recommend this to a friend
Believe the Hype!!!
I am so proud to introduce to you the newest addition to the DV8 line, the DV8 Troublemaker. This ball has had a tremendous amount of time and effort into designing a ball for bowlers of the new bowling revolution…2-Handed Bowlers and bowlers who do not use a thumb. Well, I use a thumb and all I can tell you is this ball is AMAZING! The difference which sets this ball apart from other balls is its uniquely large core design. I am a HUGE fan of larger core bowling balls because they typically roll much better for bowlers with higher speeds and rev rates. The ball is symmetrical, but doesn't roll like a typical symmetrical ball. My layout in this new ball is a simple stacked layout with the pin and the CG in alignment. Nothing too exotic, but the ball reaction is beyond belief. Pins DO NOT jump around, but almost seem to collapse in on themselves. The ball works incredible on heavy oil. Strangely enough, I have not left many splits with this ball, and how it rolls through the pins is unlike ANYTHING I HAVE EVER THROWN BEFORE! For 2-handed and 2-finger bowlers, YOU MUST HAVE THIS BALL IN YOUR BAG….PLAIN AND SIMPLE!!! DV8 has done it again and bowlers who take a chance on this ball WILL NOT BE DISAPPOINTED!!!
If you are not throwing DV8, you're just not bowling!!
3/30/2023
By Tommy from Toledo
Pros:
1 hand, 2 hands, strong, doesn't read too early
Cons:
Should have came out sooner!
Best Uses:
House, sport, PBA
Bottom Line:
Yes, I would recommend this to a friend
Great for 1 or 2 hands!
DV8 hit the mail on the head with this one! Although it was designed for a 2 hander anyone can use it! I punched mine up with ny favorite layout and even thought it has a duller box surface, it didn't read too early. Had a great shape to it with a nice continuous motion destroying pins! Highly recommend to not only 2 handers but everyone! You won't be disappointed!
Customer Questions & Answers | Reviews
Thanks for answering another customer's question! Once approved it will be posted here.