Take $5 off your purchase of $50+ today!
Coupon excludes instant bonus items, hot deal items, and gift certificates.
Hammer Fugitive Pearl
The Hammer Fugitive Pearl bowling ball takes the Juiced Pearl coverstock and introduces the Fugitive symmetric, low RG and high differential core. This combination give the ball a strong skid-flip reaction and is great on lanes that have broken down. This bowling ball is Carbon Fiber Infused! Carbon fiber is one of the toughest materials on earth. Hammer decided to add this material to the inner core of this ball for added strength and durability.
Color: Red/Silver
All colors do vary somewhat from the picture shown
Coverstock: Juiced Pearl
Core: Fugitive (14-16#) with Carbon-Fiber Outer Core
Finish: 500, 1000 Siaair/Crown Factory Compound
Reaction: Skid Flip
RG: 2.486 (15# ball)
Differential: 0.052 (15# ball)
FCC Rating: Total-25, Finish-8, Core-8.5, Cover-8.5
Recommended Lane Condition: Medium
Hook Potential: High
Length: Late
Manufacturer's Warranty: 2 years from purchase date
A few tiny pit holes in the cover stock of the ball are normal
SKU: HAM60106254
Product ID: 12501
Brand: Hammer
Category: Bowling Balls
Ball Performance: Upper Mid-Performance Balls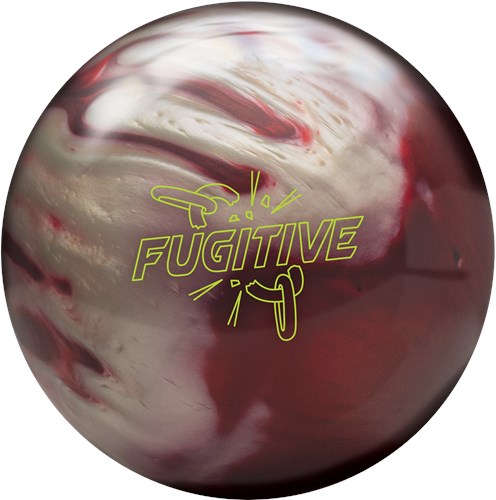 3/11/2021
By Eric from MI
Best Uses:
Game 3 and later in tournament settings
Bottom Line:
Yes, I would recommend this to a friend
My new game 3 and later ball ,
First game I used it was 3 game Saturday night mix 278. I was impressed to say the least, nothing under a deuce so far.
8/8/2020
By Trackstar85 from Renton, WA
Bottom Line:
Yes, I would recommend this to a friend
Hammer Hits A Home Run With The Fugitive !
First Off All You Hammer Fans Are Definitely Gonna Like This Ball In Your Bag..Not Only A Great Choice For House Shot Patterns But Will Definitely Be A Great Tournament Addition To Your Bag..For Those Who Like To Play Straight Up The Boards And Looking For A Medium Skid-Flip Ball This One Is A Great Ball! When Lanes Are Hooking During Transition I Am Able To Stay To The Right For A Longer Period Of Time And Then Eventually Migrate Left And Play In The Track..This Ball Really Gets Down The Lane And Really Controllable Motion Through The Pin Decks..Fugitive Bowling Ball Hammer Hit A Home Run With This Ball!
7/14/2020
By Matt Murtishaw from Wildomar, CA
Pros:
Skid/flip with control
Best Uses:
Medium to heavy oil
Bottom Line:
Yes, I would recommend this to a friend
I call it the FEWgitive!
I call it the FEWgitive because I'm definitely going to be drilling a few of these. I used a 5" pin to PAP @30°, which is a standard long and strong layout for me. I have a medium ball speed and a medium/high rev rate. For me, this ball is an improved version of the Flawless. It's easy to get through the front and responds to friction very quickly. Typical skid/flip motion. Overall hook is definitely on the medium side, but since it is a little flippier, it will probably cross more boards than other mid performance balls. What I really like about this ball is, even though it's a skid/flip, it is actually really controllable and predictable. I usually feel like I have to sacrifice control for a ball that rolls through the pins hard, but not with this ball. Can't wait to drill a pin down one!
4/12/2020
By Hammerhead216 from Cleveland Ohio
Bottom Line:
Yes, I would recommend this to a friend
Fugitive
Fugitive
My first thought by just looking at this ball was it looks like a Doom.....hope it rolls like one! This is my favorite release at this point from the 3 balls release from Hammer bowling in Feb2020. Put a layout of 70×3 1/8×80 which has been my favorite layout going back to the Gauntlet release in febof 2017. Had huge success with this ball out the gate. Pearl surfaces out of box can be tricking for me. So give this ball a 3 game test run and by the middle of game 2 it was no doubt that this was a homerun ball for me. 2 300's in the same week and a low set of 738 for the first 4 weeks made this ball a mainstay in my bag. Clean through the fronts yet has a strong midlane read that allows you not have to help the ball get through the pins. Based on the bowler and layout this could be a very strong skid flip ball. BUT this is a ball that allows you to open up the lane and the ball not quick. Even when the heads and mids get swirly you still will have control over the direction and downlane motion off the spot
3/19/2020
By Joe Somd from Seattle
Bottom Line:
Yes, I would recommend this to a friend
Harrison Ford's got nothing on this Fugitive
This ball is more than I thought it would be both on the lane and in the pocket. I'm very pleased with this ball. Being the first mid level pearl from the Brunswick plant, this Hammer ball will not disappoint. I love the shape I see through the first 40 feet of the lane and the breakpoint is amazing. Pins action is very strong and the 2.48 rg keeps the pins low and as we all know, lower pins mean they have a chance to hit more pins on the deck and carry AND that means higher scores!!!!
Compared to my Flawless it is very similar but the Fugitive seems to be stronger and way more predictable!
This ball will not disappoint!
3/6/2020
By Sweetpea Bowl from Worcester, Massachusetts
Best Uses:
lighter volume patterns, shorter patterns
Bottom Line:
Yes, I would recommend this to a friend
Hammer Fugitive
Here is my take on the new Fugitive by Hammer. This is one of the 1st of 3 Hammer releases under the Brunswick family of equipment. The Fugitive features a symmetric core wrapped by the Juiced Pearl cover in Red/Silver Pearl. Box finish is 1000 Siaair with Crown Factory Compound
My Vitals are 403 rev rate with a PAP of 5 9/16 over and 1/8 up. I drilled my Fugitive with a 45 x 4 ½ x 30 layout. I have thrown it on THS, Kegel Abbey Road and Kegel Route 66. I have thrown it at box surface and at 1000 Abralon.
Even though the description for the ball reads skid/flip, I would more characterize the motion as skid/smooth. Thus, I feel the Fugitive is best suited for drier and shorter patterns. With drier and shorter patterns, the Fugitive wlll not over squirt through the front but should control the back end. Thus, if bowling on a shorter sport that is of medium to lighter volume, the Fugitive will be in play. I can also see the Fugitive in play as a possible transition ball when the fronts go but the backends are still crisp. I also think that bowlers with a medium to higher rev rate will see the most benefit from this ball. For medium to higher volume patterns and/or medium to longer patterns, consider the new Hammer Redemption Solid or Redemption Pearl.
See your local proshop about the new Hammer Fugitive.
5/9/2020
By Joey G from South San Francisco, CA
Bottom Line:
Yes, I would recommend this to a friend
Fugitive Pearl on the Run
I love the way the Fugitive Pearl reacts off the spot with a snappy skid-flip movement that I'm usually not a fan of but the ease of getting it down the lane when they get burnt changed my outlook on that motion. The coloration is attractive and a definite eye catcher. Definitely gonna make a big hit when this COVID-19 lockdown lets up and we can return to what we love to do.
3/8/2020
By Joey G from South San Francisco, California
Pros:
Carbon fiber cover for strength and durability, Easy length with strong skid-flip response, Low RG/High Diff Symmetric Core
Best Uses:
THS, medium oil patterns, extreme angles
Bottom Line:
Yes, I would recommend this to a friend
Fugitive Pearl
The Hammer Fugitive Pearl uses the Juiced Pearl coverstock with a low RG high differential core giving you a strong skid flip response when the lanes are broken down and extreme angles are necessary.. The Fugitive Pearl also has the Carbon Fiber cover for strength and durability with a two year warranty.
Customer Questions & Answers | Reviews
Thanks for answering another customer's question! Once approved it will be posted here.