We'd like to offer you $5 off your purchase of $50 or more today!
Coupon excludes instant bonus items, hot deal items, and gift certificates.
Radical Primo Solid
The Radical Primo Solid has a core shape that utilizes Radical's patented scoop core technology and is paired with an aggressive solid reactive coverstock formula. This combination produces a powerful hook motion for tournament patterns that have heavier and longer oil conditions.
Color: Blue/Lime Green

All colors do vary somewhat from the picture shown.

Core: Symmetric with Scoop Technology
Finish: 500, 2000 Siaair Micro Pad
Reaction: Stronger Hook Motion
Recommended Lane Condition: Medium-Heavy
RG: 2.483 (15# ball)
Diff: 0.048 (15# ball)
A few tiny pit holes in the cover stock of the ball are normal
SKU: RB60105793
Product ID: 9756
Brand: Radical
Category: Bowling Balls
Ball Performance: Upper Mid-Performance Balls
Back to Top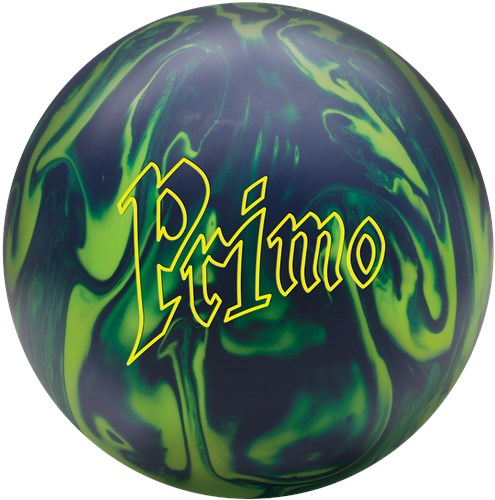 1/11/2016
By
Chris H
from Cincinnati, OH
Pros:
Versatile Cover (Shiny to Dull), Excellent compliment to the original Primo
Bottom Line:
Yes, I would recommend this to a friend
Primo Solild - Benchmark covers a variety of conditions!
Drilled my Primo Solid 55* x 5" x 40*

The latest release in the Reliable Use Line from Radical is a real gem! A wonderful compliment to the pearl version (original Primo), this is ball is noticeably stronger on patterns where the oil volume or length is higher/longer. After a 4k pad to the cover, this ball has allowed me to play a different part of the lane than the original, and a different shape downlane, thus through the pins. I see this ball about 3 boards stronger than the original, with a much faster read on the pattern. This is ideal when I have needed to move deeper, and the pearl is not able to carry enough energy through the pins in order to carry.

Radical is releasing great equipment right now! Even though you may not have heard of them very often, you need to throw the stuff, it is really good!

1/13/2016
By
PeeDee02
from Trois-Rivieres, CAN
Best Uses:
Higher volume, longer pattern
Bottom Line:
Yes, I would recommend this to a friend
Primo Solid
Here comes the new piece in the Radical arsenal, the Primo Solid. That ball features the same symmetric Primo core wrapped with a brand new resin formulation. That combination results in a ball that will roll sooner than the original Primo. You'll not see a difference from right to left with the new Primo but more from front to back. Why the Primo Solid? With the upcoming tournament season, you'll see higher volume or longer pattern. The Primo solid will give you better midlane read without sacrificing backend.
For my part, I drilled the Solid exactly the same as the original Primo. 55x4.75x50 was the choice. I played 856 with the original couple months ago and love the reaction so that's why the 2 balls have same layout. With that drilling, the Primo Solid is under my Guru Mighty and overlaps my Diva Divine. Both cover the same amounts of boards but with very different shape. At first sight, the ball is really good looking and it rolls great! I think it rolls a bit too soon for THS but I had great results on faster, higher volume lanes/pattern. I shot 802 just 5 days after drilling the ball. So, I don't have to tell you more about how I think that ball and his predecessor are unbelievable.
Primo Solid and Primo original are a great 1-2 punch and I think these two balls are a must-have in any arsenal. The Most important thing, Stay Radical my Friends!

1/22/2016
By
Adam Ferri
from Pennsylvania
Bottom Line:
Yes, I would recommend this to a friend
This one is definitely going to USBC Open Championships
I am so incredibly excited about this ball!! Finally Brunswick has made a symmetrical solid that clears the front and reads the mid-lane while saving most of the motion for the back (instead of burning up in the middle of the lane). This strong, continuous angular arching motion is one that is great for medium to medium-oily lanes. I drilled mine 70 x 5.25 x 30 ... the downlane motion is everything I would want from an ideal symmetrical solid. I can't wait to drill a pin down to take to nationals. This ball is something special. If you're thinking of a new one to put in the bag for nationals, you have to consider this one.
-Adam Ferri
Pennsylvania

1/27/2016
By
Rory
from Wisconsin
Pros:
Still maintains pop down lane, Controllable in the head
Bottom Line:
Yes, I would recommend this to a friend
Aggressive Low RG, but still has recovery
I drilled mine 65-4-35. This ball at box finish can handle the heaviest of oil conditions. This ball was able to clear the heads easily, without missing the breakpoint down lane. The shape at the breakpoint is strong, but does not give you the feeling it is too flippy.

This box finish may not be the best for low volumes or late shift leagues.

2/11/2016
By
Charles
from SC
Bottom Line:
Yes, I would recommend this to a friend
Very Strong Symmetric
As a huge fan of the Radical Yeti Unleashed, I couldn't wait to get my hands on the Primo Solid. For me, the Primo Solid has a similar motion to the Yeti Unleashed with a little more length and a lot more continuation. When the original Primo isn't quite enough, the Primo Solid gives me a good bit more traction handling heavier volumes of oil with ease. So far, the cover has proven to be very versatile, responding very well to surface adjustments. I went with one of my favorite layouts (Pin under MF which puts it about 5.5 from my axis). This layout keeps the Primo Solid in play on a wider range of conditions for me and also allows me to blend the wet / dry house patterns in the area.

3/11/2017
By
Easy Ed
from Lee,ma
Bottom Line:
Yes, I would recommend this to a friend
Definitely would buy this ball again! May do so
Corner pins tough to convert

12/30/2015
By
bannachb
from Edgerton, WI
Best Uses:
Heavy volume flatter patterns
Bottom Line:
Yes, I would recommend this to a friend
Strong Benchmark
I decided to try Mo Pinel's most versatile symmetric layout on this ball. It is nothing more than the pin above my ring finger, with the cg a ½" right and ½" below my grip center. This allowed me to have the ability to place a weight hole anywhere I needed to adjust the motion. I started out without a weight hole to see what motion I had.

The Primo Solid was fantastic on the fresh of 2 different house patterns and also the 40' Kegel Chichen Itza pattern. It was strong enough to handle the volume of all the patterns and gave me a strong smooth motion. It was very easy to control the response to friction.
The Primo Solid will be a great ball for anyone looking for a strong predictable ball that does not overreact off the friction. It will allow them to blend out the wet/dry that occurs with House Conditions, and also let them control sport conditions. This ball is great for all styles and levels of bowler. A great strong benchmark ball!

3/2/2017
By
Rick C
from Syracuse, NY
Pros:
Basic layout strong midlane and finish
Cons:
None
Best Uses:
Most all conditions. Med to heavy oil carry down
Bottom Line:
Yes, I would recommend this to a friend
Excellent ball. Would recommend to anyone.
This was my first solid bowling ball. I bought for a great price. Didn't want to spend a lot. Great bang for the buck! Strong performer on a wide variety of conditions. Would definitely recommend if you're looking for great value.

3/2/2017
By
KM
from Elizabeth In.
Bottom Line:
Yes, I would recommend this to a friend
Very smooth ball
The ball is very smooth revs up quick gets through heads reads mids then hooks and does not quit. Carries above average so if your looking for a good symetric ball to use on oil this is a good choice.

4/5/2017
By
Cush
from Dewitt, Michigan
Bottom Line:
Yes, I would recommend this to a friend
Solid and Controllable Ball Reaction
This is a very solid ball and has great predictability. While it is now not new to me now (it
was my best ball last year), I am posting this as I am finding it still very useful this year...
with one minor change. I have let lane shine give it a bit more length and it still hits really
well. Of course, if I want it to roll sooner I can always scuff it up a bit. But, since I typically
use the Fix or Cash for more oil, I am really finding that using this when a bit more length
is needed is a great setup.

This also shows the great value in the Radical line of bowling balls as they have a good
"bowling life". You may still find some great deals for this solid, niche ball.

Customer

Questions

& Answers

| Reviews
Question:
What is pin top weight
1/16/2017 - By
Ellie
Have an answer to this question?
Answer:
Pin and Top Weight are features on the ball that will allow for different drilling layouts. If you have a specific layout you want for the ball, you may need to specify the pin and/or top weight that is needed to get this layout. If you do not request this, the ball you get will still be able to be drilled but it may not have the specifics needed to get you all of the drilling layouts so you may not get one of the layouts you wanted.
1/18/2017 - By
Bowling.Com Staff
0

of

0

customers found this answer helpful. Did you? Yes | No
Did you find this answer helpful? Yes | No
Thanks for your feedback!
Question:
what pin and top weight for a 14lb slower ball speed full roller layout, thanks
2/13/2017 - By
old guy
Have an answer to this question?
Question:
Any 15 lb balls?
5/20/2017 - By
Dano
Have an answer to this question?
Answer:
At this time, the Radical Primo Solid is a Closeout Item. Closeout Items are usually being discontinued and are no longer being manufactured. At this time, the weights available will be 16 pounds.
5/23/2017 - By
Bowling.Com Staff
0

of

0

customers found this answer helpful. Did you? Yes | No
Did you find this answer helpful? Yes | No
Thanks for your feedback!