We'd like to offer you $5 off your purchase of $50 or more today!
Coupon excludes instant bonus items, hot deal items, and gift certificates.
Track Kinetic Emerald
Track is bringing back the popular Kinetic series in the Track Kinetic Emerald. This ball features the modified Kinetic core which has a low RG, medium differential, and low mass bias. These components allow this ball to save its energy longer but use it quicker. Track has combined this core with the DR-6 Hybrid coverstock which produces a strong down lane motion. Due to the angular characteristics of this ball it is a good match for medium oil or broken down lanes. This mid performance ball with a mid performance price and an asymmetric core is hard to beat.
Color: Emerald/Black

All colors do vary somewhat from the picture shown.

Coverstock: DR-6 Hybrid
Core: Modified Kinetic
Finish: 500/1000 Abralon Polished w/ Powerhouse Factory Finish Polish
RG: 2.49**
Differential: .038**
** RG and Diff are based off of 15 lb. balls
Reaction: Skid/Flip
Recommended Lane Condition: Medium Oil
A few tiny pit holes in the cover stock of the ball are normal
SKU: TKTMKINEMR
Product ID: 10406
Brand: Track
Category: Bowling Balls
Ball Performance: Upper Mid-Performance Balls
Back to Top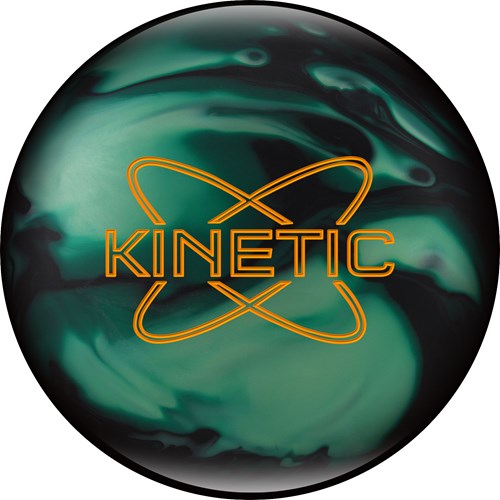 Similar Balls: Same Hook Potential, Lane Conditions & Coverstock as the Track Kinetic Emerald.
1/20/2017
By
TrackBowler1970
from Indiana
Bottom Line:
Yes, I would recommend this to a friend
You need this in your bag!
Great looks and lots of backend. if you liked any shuttle core ball then you will want this in your bag. Easy to clear heads. Lots of backend movement. Hits hard and carries well

1/23/2017
By
Dave Han
from Birmingham AL
Pros:
Excellent continuation, Strong backend motion
Cons:
Need some friction with OOB polish
Best Uses:
Medium length sport shots, THS with friction, Transition
Bottom Line:
Yes, I would recommend this to a friend
Lots of backend and punch!
The Track Kinetic Emerald has a TON of backend motion! The polished hybrid coverstock combined with the modified Kinetic core creates a powerful ball reaction that will be hard to beat at the mid-performance level.

My Kinetic Emerald has one of my favorite layouts - the pin is about 1" below my ring finger with the CG kicked right and a fairly big weight hole. On a THS with friction, this layout/coverstock combination permits me to play closer to the friction/track and stores a tremendous amount of energy to go through the pins with a big punch. I plan on drilling a 2nd one with a neutral pin-up layout that will permit to play a big hook in transition. Even with this very pin-down layout, this ball has great continuation while crossing several more boards than my other balls with the same layout.

Either with or without the OOB polish, the Kinetic Emerald is going to become a tremendous bench mark ball and greatly utilized on medium length patterns and/or in transition with the right layout.

Dave Han
Track Advisory Staff
Vise Regional Staff

1/24/2017
By
A.J.
from Rockford IL
Best Uses:
House Shot, Tournaments
Bottom Line:
Yes, I would recommend this to a friend
Track Kinetic Emerald!
This is the best bang for your buck when it comes to asymmetric and over all hook potential. This ball is one of the most hard hitting balls I've ever thrown. When this ball hits the pins it grabs everyones attention. The Track Kinetic glides thru the front end and responds very well down lane. It gives you a sharper entry angle to the pocket with control. Due to the modified Kinetic asymmetric core. As the Track Mako starts to eat up the oil. The Track Kinetic takes over and delivers a great 1-2 punch and devour your competion. Both the Mako and Kinetic will perform well together on your typical house shot and also the Open Championships.

Andrew Jensen
Manager at Bowlersmart Cherry Valley
Inside Of The Cherry Bowl
Track Staff

2/9/2017
By
Trackbowlr
from Neenah Wisconsin
Kinetic Emerald
Ball: Kinetic Emerald
Layout: 65 x 4.25 x 55 - Pin in ring finger
Surface: Box - 500/1000 Polish with Powerhouse Factory Finish

Bowler specs

Rev Rate: 370 RPM
Ball Speed: 15 MPH
Pap: 5-3/8 - 1 UP

Comments

Drilled the Emerald with my benchmark drilling and will use when the lanes break down and I have to start moving left. This is a real nice compliment to my Mako as the lanes break down. I am becoming a big fan of the Kinetic core.

Dan Paul

3/3/2017
By
Freeswing
from Washington DC
Bottom Line:
Yes, I would recommend this to a friend
Just Go Buy One
Kinetic Emerald (Box surface) - Pin above the bridge CG in the palm positive axis point is 4 3/8 right 1/2 up.

Fresh House Patterns

I drilled the Kinetic similar to my Tundra I didn't really know what I was to expect I heard and seen great things but for me I was not sure. First time trying it in league I didn't like the shape it was hooking and little early moved left then it didn't hook enough. I tried it one night in practice lanes were like a game two league not to bad as far as being drier. It was a different ball I was able to roll it right and it would set up and roll back nicely really keeping the pins low not destroying the rack but sweeping everything off the deck. I got one in and it finished pretty strong as well as through some pins around I figured ok I need to roll this more. Ever since then the Kinetic has been the first ball out the bag for league, I recently put 1000 on it and in one bowling center I couldn't keep it right of the head pin that let me know the kinetic also has some strength to it, so I possibly will try it on a heavier oil pattern at about 500 grit just to see how it works. I took it to another bowling center with that same 1000 surface on it and it was the ball from the entire night and in my area it is really hard to use one ball all night unless scoring that night is not a high priority. I think I moved maybe four boards left throughout the night I was able to miss right like really bad and the Kinetic recovered I would leave a ten pin here or there but I will take that when it is rolled that bad. The shots that were good off the hand that mixture of colors sliding down the lane and watching the friction help the ball change direction and roll into the pocket the pins never stood a chance. I have watched several different bowlers roll with it and shoot 800 I know it has to do with the lanes and the person and everything else that is involved however when your able to use a ball for a three game set or more and it is st

3/10/2017
By
Vernon
from Chesapeake
Bottom Line:
Yes, I would recommend this to a friend
Shuttle Core is back in action!
I love the reaction on the ball. May have to hit the coverstock with a 4000 grit to give me a slight different look. Love the shelf appeal and always love the Shuttle core.

Customer

Questions

& Answers

| Reviews