We'd like to offer you $5 off your purchase of $50 or more today!
Coupon excludes instant bonus items, hot deal items, and gift certificates.
Brunswick Fanatic BTU
The Brunswick Fanatic BTU bowling ball combines the Low Differential I-Block Symmetric core with the BTU (Better Than Urethane) coverstock to offer a "urethane" ball reaction with better consistency and bigger hitting power on lane conditions with higher friction. Get the smoothness of urethane but with more!
Color: Steel

All colors do vary somewhat from the picture shown.

Coverstock: BTU (Better Than Urethane)
Core: Low Differential I-Block Symmetric (14-16#)
Finish: 500, 1500 Siaair
Hook Potential: Medium 125 (scale: 10-250)
Length: Middle 100 (scale: 25-235)
Breakpoint Shape: Smooth Arc 40 (scale: 10-150)
RG: 2.601 (for 15# ball)
Differential: 0.030 (for 15# ball)
Recommended Lane Condition: Medium to Light Oil
A few tiny pit holes in the cover stock of the ball are normal
SKU: BRU60105829
Product ID: 10031
Brand: Brunswick
Category: Bowling Balls
Ball Performance: Upper Mid-Performance Balls
Back to Top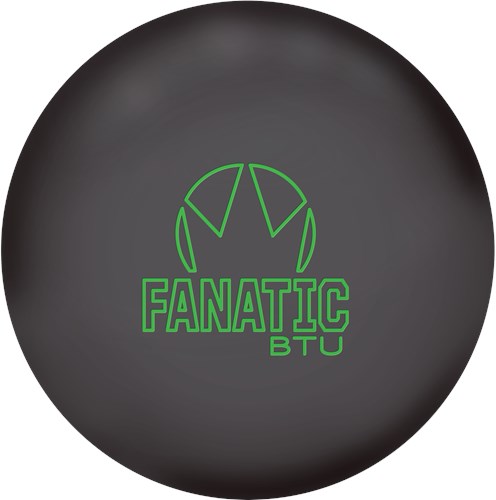 8/4/2016
By
Alex
from Richmond va
Bottom Line:
Yes, I would recommend this to a friend
Yes!
Ball is amazing used it on the cheetah this morning ... One of the hardest hitting balls I've ever thrown honestly , stronger and more continuous than traditional urethane .. But I love it for cheetah , wolf , and dryer house shots ..

8/26/2016
By
Chewy
from WIsconsin
Bottom Line:
Yes, I would recommend this to a friend
A MUST HAVE IN YOUR BAG
DRILL PATTERN 65x51/2x35/2x35
ROLLS GREAT VERY PREDICTABLE MEANING YOU CAN CONTROL IT VERY WELL BY MAKING SMALL MOVES.
BALL IS VERY EVEN AND DOESN'T JUMP WHEN IT HITS FRICTION.
A MUST HAVE

8/31/2016
By
Ry
from Fort Wayne, IN
Bottom Line:
Yes, I would recommend this to a friend
Better Than Urethane For Sure!
Bowled on a 37ft pattern, I was throwing the BTU other 3 guys on my team were using the pitch black. They left a few weak 10 pins, couple 2 pins where it didnt come up. I carried every light mixer. You could definitely see a difference in the hitting power and continuation in the BTU. Still very smooth off the spot, and a little stronger than the urethane equipment but still allowed me to play right. LOVE THIS BALL!!

9/1/2016
By
Jon G
from Newport News, Va
Bottom Line:
Yes, I would recommend this to a friend
Better Than Urethane!
The Brunswick Fanatic BTU is for you, me and everybody. This is the perfect ball for your wet dry house pattern! It will blend the pattern perfectly giving you the exact reaction your looking for resulting in high scores. Great for all rev rates and ball speeds! Looking for a ball on a short sport pattern this is it! Put down the urethane and go with a ball that gives you a similar roll to urethane with the hitting power of modern technology. My personal BTU has a 85x4x40 layout on it which gives me plenty of length and a smooth controllable back end reaction for all angles.

9/1/2016
By
alex
from richmond va
Bottom Line:
Yes, I would recommend this to a friend
finally
Finally been waiting a while for brunswick to make something new close to urethane, and it was worth the wait . Honestly its one of the hardest hitting balls ive ever thrown. This ball seems to always been in my bag , even used it on a 44ft flat pattern. Helped me control the pocket on a demanding pattern

9/17/2016
By
Baby Gap
from Missouri
Pros:
Able to play up five on burned up shot., Able to swing an not sacrifice carry Predictable, Ball is predictable and never over reacts.
Best Uses:
Burned up shots, Short flat patterns, When you want control of ball exiting pattern
Bottom Line:
Yes, I would recommend this to a friend
Best Symetrical ball on market.
This ball allows me to play up gutter as well as swing the ball. Normally I am unable to play up gutter I am unable to keep ball in 1-3 pocket.Normally ball goes Brooklyn however, BTU never over reacts and still drives through the pin deck like a Mack truck. When I throw this ball I know it is predictable and allows me to stay right a lot longer than others.

9/30/2016
By
dustinbearden
from Geraldine, Alabama
Bottom Line:
Yes, I would recommend this to a friend
Awesome on Short Oil or Transition
The Fanatic BTU truly is unique in the bowling world today. There is NO other ball out there that will do what this does. On short oil or a burnt pattern, you can stay right, and the ball will clear the heads. It gets enough down lane to save energy and provide carry that is as good as a resin ball. I've got mine drilled (3.5 in. pin) pin straight over the bridge with CG stacked directly below right under the bridge. The pin carry will blow any urethane out of the water. The light strikes created by most resin balls are still in play with the BTU. I would recommend this ball to anybody who is struggling on short oil or a bad transition. Again, there is NOTHING out there like it.

Dustin Bearden
DV8 Regional Staff

9/30/2016
By
Jim S
from Scranton, Pa
Bottom Line:
Yes, I would recommend this to a friend
Fanatic BTU Revire
Layout:::: 55x4.5x45
Box Surface
Rev Rate ::: 300 - 325
Ball speed:::: 16 mph
Condition:::::40 ft. House shot

When I drilled the Fanatic BTU I know it would get me well right of where I ususally lineup.
Wel it did get me more right than I thought I would be. I was 12 boards right from my original starting point. Moving that far right I didn't know what to expect of the reaction. I was surprised when I first threw it with how much more it responds than a normal Urethane ball.
It has a more even motion down lane that any other ball I have. In terms of comparison to how many boards of movement it has , I would have to compare it to my Diva XOXO and my Freakshow but with less movement. I expected more washouts with the BTU but I found after moving that far right than normal I did not experience washouts. This ball will have a spot for me for short patterns for sure and when the backends were stripped the night before .
I highly recommend the BTU for anyone who like me struggles with short patterns. This ball is definately BETTER THAN URETHANE !

The opinions expressed are solely those of the writer.

Jim Sabatell
DV8 Regional Staff

11/2/2016
By
O
from I'm from R.I.
Bottom Line:
Yes, I would recommend this to a friend
T
Roll right out of your hand straight and true

11/15/2016
By
Joeybukkai
from Ohio
Bottom Line:
No, I would not recommend this to a friend
Hooks too much for dryer conditions
Bought this ball for when lanes dry out... Hooks to much. Great spare ball though.

8/21/2016
By
Cng260
from Greenville, SC
Pros:
controllability, forgiveness, length, predictablilty
Best Uses:
Higher rev rates, drier condtions, track area on house shot
Bottom Line:
Yes, I would recommend this to a friend
Better than Urethane by a Mile
Pin Length: 2.5

Starting Top Weight: 2.5 oz

Ball Weight: 15 lbs 5 oz

DRILL PATTERN

Ball: 50 x 5 1/2 x 75

X Hole (if there is one): small xhole low on val

BOWLER STYLE

Rev Rate: 375 rpms

Ball Speed:17.5 mph off hand

PAP/Track: 4 3/4 over 3/4 up

SURFACE PREP

Grit: 500/2000 Siaair

Type: (Matte, Polish, Sanded): Sanded

LANE CONDITIONS

Lengths of patterns: 41 foot house and Viper

Volumes: Moderate

Type: house and sport

BALL REACTION

Length: Clean through the front with a strong and smooth backend

Back End: strong arc

Overall Hook: mild

Midlane Read: smooth with length

Breakpoint Shape: arc

COMMENTS

Likes: Length and predictable motion

Dislikes: none

The Fanatic BTU is the ball I have been waiting for. The drier part of the lane continues to hook more on house shots and the lane patterns continue to break down faster. I have wound up having to hook the ball too much and cover too many boards. This is the ball to remedy those situations. It allows me to play right in the track area on our house shot where I can have extra miss room left an right. In comparison to urethane, the ball has much better pin carry and does not ever load up with oil. It does not back down over time. The BTU is extremely consistent and will allow you to open the lane some as the pattern breaks down. I can also stay in the same spot with it for a much longer amount of time than I can with my other reactive balls. If your looking for a milder reacting ball with a urethane like reaction shape on today's condition, this is it!

9/13/2016
By
PeeDee02
from Trois-Rivières
Bottom Line:
Yes, I would recommend this to a friend
BTU!!
The BTU is to me, the most interesting ball on the market and in my bag to start the season. After two years of research, test, development behind that ball, Brunswick has come with a ball Better Than Urethane for dryer lanes or short patterns. That ball feature the Dual Flip I-block core that was in the C(system) Versa Max wraped with a brand new low friction response coverstock.

I was very curious about the ball. I have an old black Phantom and Brunswick did a comparison video with both so. I drilled the BTU to bowl on short sports patterns. I heard that ball was stronger than advertise so I drilled it 85x4.5x65. At first, I really appreciate the predictability of the reaction and the continuation through the pins that we rarely see in weaker/urethane ball. On second week night, we bowl on the 2016 WTBA 37' Melbourne, it's the longer of the short pattern. I put the surface at 1000 with Siaair pads and what happens was just magic! I never had that kind of reaction on a short pattern. The BTU rolls hard and shreds the rack. It gives you that little pop in the backend that classic Urethane ball doesn't give you. Plus you don't have to swipe it really hard after every single shot. Seriously, anyone need a BTU in their arsenal and yes it's Better Than Urethane.

9/30/2016
By
Charles
from SC
Best Uses:
Drier Lanes, Over/Under House Shots
Bottom Line:
Yes, I would recommend this to a friend
Better Than Urethane!
I purchased the Brunswick Fanatic BTU to combat the over/under typical of most house shots. All I can say is WOW! This ball far exceeded my expectations. The BTU brings the positive attributes of a Urethane ball without the negatives. The first time out, I shot 753 and only moved 2 boards total for the night. The BTU gives me a very consistent reaction and doesn't overreact in the dry. This ball is a must have for higher rev players. #BetterThanUrethane

Customer

Questions

& Answers

| Reviews