Brunswick Defender Hybrid
The Brunswick Defender Hybrid high-performance ball is the first to use the HyperKinetic22 (HK22) reactive urethane coverstock formula. The ACT 3.0 Hybrid additive combined with the HK22 coverstock created a ball with optimal ball reaction resulting in increased backend on higher oil volume. The Portal X core has a dense flip block added to the bottom. This addition adjusts the location of the mass and creates a higher RG and differential which increases the down-lane motion of the bowling ball.
Color: Purple/Pink/Violet
All colors do vary somewhat from the picture shown
Core: Portal X
Coverstock: A.C.T. 3.0 Hybrid Reactive
Finish: 500, 1000, 1500 Siaair/Crown Factory Compound
RG: 2.473 (15#)
Differential: 0.054 (15#)
Hook Potential: High
Length: Long
Recommended Lane Condition: Heavy Oil
Reaction: Skid/Flip
Warranty: 2-Year Limited Manufacturers Warranty
A few tiny pit holes in the cover stock of the ball are normal
SKU: BRU60106835
Product ID: 14139
Brand: Brunswick
Category: Bowling Balls
Ball Performance: High-Performance Balls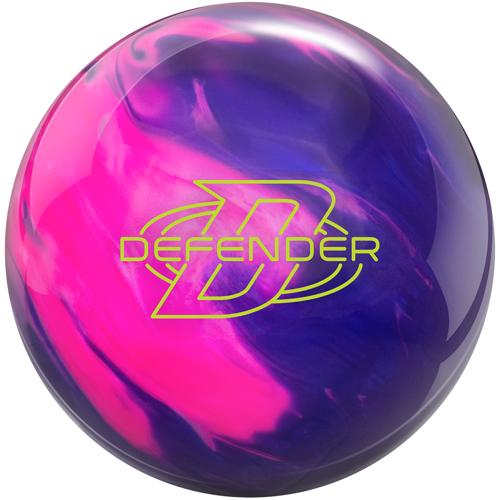 1/18/2023
By Scott Crawford from TX
Pros:
strong hybrid, forgiving
Best Uses:
Medium to Heavy Oil
Bottom Line:
Yes, I would recommend this to a friend
Best Hybrid I've Ever Thrown
I can't say enough good things about this ball. The new Hyper Kinetic HK22 cover stock technology is just plain amazing. This ball has the most reaction and response to friction that I have in a hybrid or pearl. It has good length being a hybrid and seems to be very forgiving to misses. It has enough hold if you are inside target a bit and enough traction to still go through the pins well in the oil and if you are outside target a little it has more than enough change of direction to easily make it all the way back. I went skid flip layout 70 x 3.75 x 20 on mine.
12/9/2022
By Bryan from Plumas Lake, CA
Bottom Line:
Yes, I would recommend this to a friend
The Game has Changed…..the new Defender Hybrid with HK22
I have thrown many different balls in my career, but I have never thrown something quite like this. The New Brunswick Defender Hybrid is the newest performance ball with the first ever HK22 coverstock. HyperKinetic22 (HK22) reactive urethane coverstock formula has been added to the already successful and reliable ACT 3.0 Hybrid additive creating optimal ball reaction resulting in increased backend on higher oil volume. The Defender Hybrid has a much faster response to friction than any other ball I have thrown in my career. Additionally, The Defender Hybrid has a VERY unique quality, as I have seen that I do not leave as many ten pins as I have in the past with other bowling balls. The Defender Hybrid just finishes much stronger than any ball in my arsenal. The more friction this ball hits, the quicker the response and movement through the pins. The Defender Hybrid is simply AMAZING. If you have not seen this ball in action, please go by your local pro shop, see when a demo day is coming to your local bowling center and give one a try. You will NOT be disappointed!
11/19/2022
By C Miller from CA
Pros:
looks, length, change of direction, hitting power
Bottom Line:
Yes, I would recommend this to a friend
Brunswick's new Super Hero!
The Defender Hybrid with the new HK22 additive has hit the lanes and turning heads with it's shelf appeal and it's responsiveness down lane.

Straight out of the box and to the lanes, the first thing I noticed was it's shape at the breakpoint. Then it was the continuation through the pins. A combination that I have not seen in a ball.

This one checks all the boxes and has found a home in my bag!


10/20/2022
By Eric A. from CA
Bottom Line:
Yes, I would recommend this to a friend
Loved it on shot 1
After one shot I knew I was going to love this ball. It does exactly what a hybrid should: good combo of length and backend motion, but not crazy skid/flip. That means no oscillation between 4-9's and blower 7-10's. I am loving the new HK22 shell. Still get hook in the oil without burning up in the dry.
10/18/2022
By Bob Newman from Pacifica
Bottom Line:
Yes, I would recommend this to a friend
Defender Hybrid with the new HK22 Cover is something special.
First off, this new HK22 coverstock has an almost translucent look to it giving The Defender Hybrid great shelf & lane appeal. When I first threw this ball, I compared it against my Paragon Hybrid and the eye test told me these were the same ball. I talked to my guy back at the factory and he said the Defender will have a faster response to friction and the more friction the bigger the shape difference. Fast forward to Thursday night league. Shot 250 game 1 with the Paragon Hybrid, late in game 2 I started to leave corner pins for 220. Started game 3 with a couple more corners, switch to the Defender Hybrid which was now finishing stronger and promptly threw the next 7 and all were 10 in the pit. It was very continuess from the deeper angle. Good change, good ball.
10/18/2022
By Ian L from Nyc
Bottom Line:
Yes, I would recommend this to a friend
Great ball
Defender hybrid - Very vibrant with amazing shelf appeal. This ball is a great compliment to the original Defender solid. Comparing the 2, the Hybrid is a good 2-3 feet longer with a good 5 to 6 boards more backend. When the solid starts the lose energy, the hybrid would be the ball to goto next.
Customer Questions & Answers | Reviews
Thanks for answering another customer's question! Once approved it will be posted here.