We'd like to offer you $5 off your purchase of $50 or more today!
Coupon excludes instant bonus items, hot deal items, and gift certificates.
Radical The Fix
The Radical The Fix bowling ball is the first to feature their Shapeshifter core design. This never been seen before core design offers a plethora of drilling options including "symmetrical" and "asymmetrical" layouts. This allows the user to decide between standard performance or a more powerful ball motion.
Color: Black/Yellow Solid

All colors do vary somewhat from the picture shown.

Core: Shapeshifter Sym/Asym
Finish: 500, 1500 Siaair Micro Pad
RG: 2.511**
Differential: 0.054**
** RG and Diff are based off of 15 lb. balls
Recommended Lane Condition: Heavy Oil
A few tiny pit holes in the cover stock of the ball are normal
SKU: RB60105867
Product ID: 10354
Brand: Radical
Category: Bowling Balls
Ball Performance: High-Performance Balls
Back to Top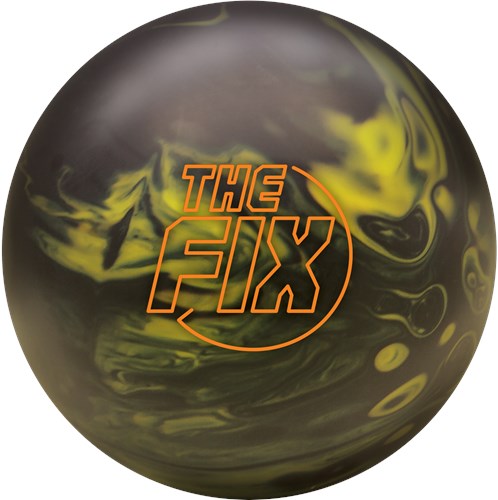 Similar Balls: Same Hook Potential, Lane Conditions & Coverstock as the Radical The Fix.
12/11/2016
By
Pbway
from Sanford,NC
Bottom Line:
Yes, I would recommend this to a friend
Radical Fix
Radical Fix

Well bowlers. I have been hearing a lot about this ball. It has a Core called shapeshifter. Which is a core that if drilled pin up it is asymmetrical core. If it is drilled pin down it is a symmetrical core. Well I had to drill up two of them. A pin up and pin down. I can say I'm impressed. I choose layout C for asymmetrical and layout B for symmetrical. The symmetrical layout works great on my house shot league. I choose layout C for opening up the lanes on my sport shot league. I will say Radical bowling Technologies did a great job on designing this ball.

Robert Way

12/4/2016
By
areed
from fairfield calif
Pros:
great adjustable cover stock
Best Uses:
heavy oil but with diferrent drillings cover adj
Bottom Line:
Yes, I would recommend this to a friend
Great ball
this ball is great it can be drill many ways and with cover stock adj.
can be use on a lot of oil patterns.

12/13/2016
By
Josh Lapham
from Fort Leonard Wood
Pros:
Ball can be drilled 12 diffrent ways, Designed for any bowler style, First Sym and Asym ball ever
Bottom Line:
Yes, I would recommend this to a friend
The Fix Is In
Radical Bowling The Fix ( Asm A & Sym E)

Speed: 16 mph
Rev Rate: 450 rev
Axis Tilt : 12deg
Track: Medium Track player
Condition: 27 mil Modified House Shot 42 ft

Asm A: my feet are on 25 board approach and I am targeting 15 board at the arrows. These ball drives through the pins with great power, and I have three boards of miss room to the right and still recovers with no issues.

Asm E: My feet are at 20 board on approach and I am targeting 15 - 13 board at arrows and ball rolls right in to the pocket. The thing with Sym E layout is you need to have the rev rate to get this ball to move on the back. This ball for me I don't have to change my release or speed I am able to make move right and crush the pocket with out over reacting I am able to stay in the track longer than my competitors, then I can switch back to Asm A later in block and just bank off of my break point I created with my Sym E ball. I don't have to think about what changes I need to make as Radical Bowling Technology has made it is for me with The FIX

I drilled up a Asm A and a Sym E and I can tell you that there is 7 more boards hook down lane. I have to make a 5 and 2 move with my feet when I switch to either of these balls. This ball out of box was a little to strong for me, so I hit them with 400 pad on the spinner to give ball a little bit of shine with out using polish. These bowling balls are truly amazing and make it super easy to adjust to transition and stay in the pocket. I plan on drilling up a ASM D layout to compliment my Asm A ball. Do your self a favor get this ball and thank me later you will run over your competition with this ball.

12/8/2016
By
escii
from temple hills, MD
Pros:
early rolling, good continuation, multiple drilling possibilities
Bottom Line:
Yes, I would recommend this to a friend
good oil ball
most continuous oil ball in the current radical line. gives plenty of layout out options. It can be drilled as a symmetrical or asymmetrical. I have drilled 2. 1 asymmetrical, and 1 symmetrical. The symmetrical ball is smother, and the asymmetrical one is more angular. great choice for anyone looking for a good oil ball

1/7/2017
By
RY
from Fort Wayne, IN
Pros:
EASY LENGTH, STRONG ROLL, VERSATILE DRILLING OPTIONS
Cons:
NONE
Bottom Line:
Yes, I would recommend this to a friend
ANY MOTION YOU WANT? YOU CAN DRILL THIS!
I drilled my Fix with the asymmetrical C layout and I love it. For such a strong solid cover ball I get easy length down lane with the OOB surface and a strong movement on the backend. I was surprised at how well this ball recovered off the dry, I've even been able to throw it on beat down patterns and it still keeps on trucking, never seen this ball lose energy early. Nice hitting power behind it too.

1/9/2017
By
Alex
from Richmond, Va
Bottom Line:
Yes, I would recommend this to a friend
under the radar
Mainly got this ball for flatter , longer patterns . Rolled very well on the 37 flat pattern I mainly set it up for , ball was controlled and helped me play the deep angle I needed. Then the following week , I forgot I left it in my bag during league threw it... 300 first game .. ball is very versatile .

2/27/2017
By
Martin67
from Harrisville, RI
Bottom Line:
Yes, I would recommend this to a friend
Very Versatile ball
Drilled the FIX with one of the more aggressive Asymmetrical layouts, so I could use it inside to get around the burn fronts in the center I bowl out of and it was just what I expected. But what surprised me was the versatility of the ball, I bowled on a 35' sport pattern and was not even going to bring the ball to the tournament...very glad I did, ball got through the front with ease and read the friction perfectly with strong continuation through the pins. May get a couple more for the USBC Open.

3/10/2017
By
Seniorlefty
from Florida
Bottom Line:
Yes, I would recommend this to a friend
A great radical product
Drilled it up 85×4.5×30 used it on 42' ths Targeted 12-14 at the arrows read the mids great a smooth continuous ball motion bowled 3 games with it 220 300 228 very happy with this ball

Customer

Questions

& Answers

| Reviews