Take $5 off your purchase of $50+ today!
Coupon excludes instant bonus items, hot deal items, and gift certificates.
Motiv Jackal Ghost
The ghost of bowling's past is ready to make it's presence known! The Motiv Jackal is back in the form of a Ghost and is designed to be scary good on heavy oil lane conditions. This version has more total hook potential than it's predecessors as well as great continuation. The Jackal Ghost uses the Predator V2 core which features a low RG and high differential. The asymmetric core allows the bowler to easily product revolutions on this ball as well a large amount of track flare. When combined with the Coercion High Friction Solid (HFS) coverstock it takes the aggressiveness of this ball to the next level. The 3000 Grit LSS finish offers awesome mid-lane read and incredible continuation.
Color: Black/Purple Solid
All colors do vary somewhat from the picture shown
Coverstock: Coercion HFS Solid Reactive
Core: Predator V2
Finish: 3000 Grit Laser Scan Sanded
Reaction: Strong mid-lane motion with continuation through pins
RG: 2.47**
Differential: 0.054**
** RG and Diff are based off of 15 lb. balls
Recommended Lane Condition: Heavy Oil
A few tiny pit holes in the cover stock of the ball are normal
SKU: TLMTVBJKGKPS
Product ID: 10396
Brand: Motiv
Category: Bowling Balls
Ball Performance: High-Performance Balls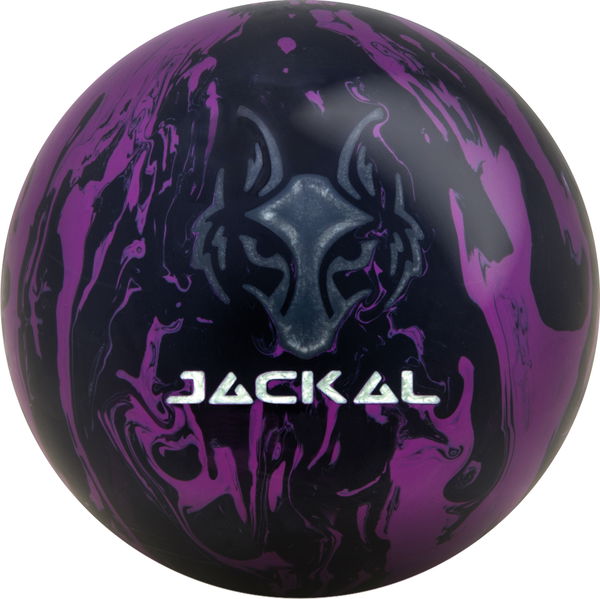 4/27/2022
By Bill from Waynesboro VA
Bottom Line:
Yes, I would recommend this to a friend
The Jackal Ghost
(7) games out of the box, averaging 220, one league set 683 - this is my second Motive ball, also have the Blue Coral Venom - absolutely love the reaction I get from both
7/16/2020
By Bowler.800 from Sarasota fl
Bottom Line:
Yes, I would recommend this to a friend
Great ball
I've Always used Hammer' Still have 5 left, have 2 Storms, But I've switched to Motive, A friend gave me my first motive and I thought it was the best thing that happen to me, it was the Red motiv T, then I bought the motiv fire(wow) then the trident Nemesis another great 1 and the Red tank another good on then the black tank, the Alpha(WOW), now I had to have the Ghost.. can not wait to see the New Hi-Performance next Motiv in September' I hope.. My pleasure bowling.com excellence deliver service in 4 days had my Ghost
1/8/2020
By KJ from Wichita,KS
Pros:
A ball that can get deep in oil, Can strike through the shim, Fantastic midlane read, Feels continuous
Bottom Line:
Yes, I would recommend this to a friend
OMG this ball is insane!!
This ball is insane! Played deeper than any ball I've owned! I play on a mid to light house shot. Played on open play and played 4 arrow to 10 in the back and was flush. Didn't leave a 10 in 3 full games I threw with it. Started very dull, but the more I threw it the better it got from the backend. Love this ball! 100% recommend to everyone.
12/7/2019
By Joey from Brooklyn newyork
Bottom Line:
Yes, I would recommend this to a friend
I would buy this ball 100 more times it's the best ball Ever
Ball is so smooth through the front of the lanes and gives a beautiful back end reaction
1/15/2019
By Tony from Louisville, Ky
Bottom Line:
Yes, I would recommend this to a friend
Awesome Ball!
Never had a ball hit the pocket like this ball. Used it in two games last Friday, 248 and 255. Was afraid to try out a new ball without practicing with it, but was during horrible with the other. My average is normally 196!
6/6/2018
By Paolo from Philippines
Pros:
Controllable, Good Hitting Power
Best Uses:
Heavy Oiled Lanes, Medium-Heavy Oiled Lanes
Bottom Line:
Yes, I would recommend this to a friend
Strong hitting power
The ball is awesome on heavy oiled lanes. I also use it as a spare ball for shooting down pins 7 and 10 because I don't have a spare ball for those shots at the moment. The ball is controllable when the lanes start to dry up but is very hard to throw out when the lanes are very dry or when there is no oil.
Bottom Line:
Yes, I would recommend this to a friend
Versatile Hooking Beast!
This ball is a MUST have, perfect ball to play in heavy oil conditions you will not be disappointed. Versatile is this ball, when I first got this ball I could only use it in heavy oil conditions and was sooo aggressive even in heavy oil i would only be able to open up with this ball for the 1st and sometimes 2nd game before changing balls. So when after going to many houses with med to lighter oil lanes i couldn't use this ball at all it would get to the dry and slam to the gutter lol. my solution was i polished the heck out of it and mannnnn it was a beast in the lighter oils. That Polish gave it the length it needed and trying it polished in the heavy oil lanes I ended up liking it better and kept it polished. can't go wrong a Ghost.
2/27/2018
By punisher from ct
Bottom Line:
Yes, I would recommend this to a friend
favorite ball in my bag
I'm 61 years old and considered a stroker .... first 2 weeks with it I have three 700 series .. a 279 game a 288 game .. my league average is 206 ... I expect it to go higher with this ball
12/11/2017
By Tony from Granbury TX USA
Bottom Line:
Yes, I would recommend this to a friend
3 weeks review
After 3 weeks with the jackal ghost in three leagues Monday, Tuesday, and Wednesday and several 9 pin tournaments i can say without a doubt this ball is the perfect replacement for the original Jackal which i missed so much after it was banned by USBC. Only drawback is the competition is going to hate you lol. Every week i am asked if it is legal and i show them the receipt for drilling at the usbc training center. My average has gone up so much! Buy this ball and get Motivated!
12/5/2017
By Tony M from Granbury Tx
Bottom Line:
Yes, I would recommend this to a friend
Jackal Ghost is just awesome!
Have the original Jackal and was crushed when it was banned by USBC. I still use it on a non sanctioned league once a week but decide to pull the trigger on the ghost. All i can say is it pulls just as hard if not harder than the original. All the hype is true. Used it tonight on USBC sanctioned league after having it drilled at the USBC training center and my average is back up to 200+. Thanks Motiv!
7/30/2017
By Pic from Ohio
Bottom Line:
Yes, I would recommend this to a friend
Good Decision
I have thrown a lot of different brand bowling balls and this one falls in with one of the best. I have never owned a Motiv until now, very good decision on my purchase. This ball hooks, all you need is a good pro shop to drill it to give you a controllable ball. Be careful because too much is easily achieved. If the ball finds friction, it moves! If not drilled too strong, you can move as lanes break down using same ball instead of having to have 4-5 balls. Unless that is your preference. Motiv needs more balls like this in the future, like maybe a pearl version. I would diffently try it. Great Ball.
7/11/2017
By Dustin from Gilbert AZ
Bottom Line:
Yes, I would recommend this to a friend
HOLY TACOS BATMAN!!! This ball ROCKS!
I'm a Storm / Hammer fan all day.... but wow! This ball came to me by dumb luck.... I am now a fan! This ball is awesome! First game was a 246- If you're looking at the no rules, sure lock, or a hammer... you need to look at this ball.
5/23/2017
By Mongoose from Knox, PA
Bottom Line:
Yes, I would recommend this to a friend
Incredible Ball
On my third night with this ball, I shot my first 'league' 290 (scratch) & 700 series. This ball was a must have in my arsenal.
5/14/2017
By zrickman from East Hartford CTHall of Fame Silver Lane
Pros:
This ball is awesome on medium to heavy oil snap
Bottom Line:
Yes, I would recommend this to a friend
I am very satisfied
I bowl in a league, I am a fairly new Bowler and this ball has helped my average climbed from 182 to 190 at the end of the season. I have bowled consistently over 600 for several weeks, and I am so trusting of this ball, I feel like if I bowl below 215 in any given game, I had an awful game. Sometimes I miss my mark, and provided it came off my fingers right, this ball will snap back from the gutter. My game is awesome, the word is out, looking forward to the winter league.
3/21/2017
By Cyafromfla from Sunrise, Florida
Pros:
Great continuation, Reads the mid-lane
Bottom Line:
Yes, I would recommend this to a friend
Most have ball for heavy oil!!
This ball is the newest introduction into the Jackal line of bowling balls. The MOTIV Jackal Ghost features the Coercion HFS Solid coverstock combined with the Predator V2 core. It's strong in the front of the lane, but yet is clean and smooth enough through it that the ball does not burn up. It reads the mid lane for change of direction and yet somehow retains its energy for the most continuation that I've ever seen from a BIG ball.
It will be a great fit in your bag on medium to heavy oil. I have the used Ghost on everything from high to medium volume sports patterns, as well as on your typical house shots. It's strong and continuous enough to handle the sports patterns and blends out the house patterns like nothing I've ever thrown.
My Jackal Ghost is laid out pin down below my ringer finger, CG slightly shifted right and extra hole down. Since this ball's release it is quickly becoming one of my favorites. This ball allows me to play up the lane on fresh or heavy oil and as the fronts start to go away has no problem allowing me to move left, open angles and it returns with tremendous continuation. Again, for BIG ball I have found it to be more versatile and continuous then I could have ever imagined.
Craig Auerbach
MOTIV Staff Member
Florida
2/27/2017
By wya_rya from Temple, PA
Bottom Line:
Yes, I would recommend this to a friend
#LegendsNeverDie!
That's right... A devastating blow was thrown at MOTIV March 2015 when the decision was made by USBC to revoke the approval of the monsters that were the Jackal and Jackal Carnage. Such a decision has been known to be demise of many... But people thought the monster was slain... the monster was no more, but they couldn't be more mistaken. The monster laid dormant, changing, evolving... lying in wait for when it may return and spread its terror once more. And so the beast has returned, the Jackal Ghost!
Do not allow the name fool you. You make thing that the Ghost is simply a phantom of its former self, but that will prove to be a fatal mistake on those who stand in this piece's path. A legend such as the Jackal does not die, it simply evolves as seen with the Ghost. The Ghost introduces both a new core in the Predator V2 asymmetric and cover stock in the Coercion HFS (High Friction Solid). This deadly combination will give the Ghost's master the ability to fight through heavy oil conditions providing superior mid-lane reaction and the MOTIV's trademark continuation. This ball, with this new technology, in fact provides us with even more over hook than any previous Jackal and yet, we don't sacrifice the ball continuation on those heavier oil patterns.
It is absolutely true what has been said, #LegendsNeverDie! With the Jackal Ghost. I know some did not have the opportunity to fully experience the capabilities the Jackal and Jackal Carnage presented. Some unfortunately missed out on the chance entirely. The void was there, it could not be denied but MOTIV heard you, heard US. Not only was the void filled, the Ghost delivers so much more than what was lost. I knew it from the first set I threw with the Ghost how great of a piece it is. Straight out of the box, I rolled an 814 series. The Ghost, with this stronger engine and aggressive cover, it allowed me to open up the lanes early.
3/22/2017
By luck.O. from east tawas, mi.
Pros:
hooks almost anywhere
Bottom Line:
Yes, I would recommend this to a friend
good ball
This ball is great for me because I Throw hard and have medium revs. If you do not throw that hard and you bowl on dry lanes this might not be the ball for you.
9/23/2023
By Randall from Evanston, wy
Cons:
Not many uses until it cracks
Best Uses:
No, I would not recommend this to a friend
Great ball…..until it cracks
This ball is amazing. I would recommend to anyone if it wasn't for the fact I bought the warranty and am now on my third ball because the first two cracked. I was only able to use the second ball for 6 games before it cracked. Both cracked in different spots. I really want my current ball to remain usable as it really does have amazing performance. I'm not optimistic however.
8/9/2021
By Renegade from Cheyenne, WY
Pros:
Great hooking ball, tremendous back end follow through
Cons:
Ball cracks after 20-30 games, I have had 2 and both of them have done this.
Best Uses:
No, I would not recommend this to a friend
Good ball but it cracks
Great ball until it cracks
Customer Questions & Answers | Reviews
Thanks for answering another customer's question! Once approved it will be posted here.