We'd like to offer you $5 off your purchase of $50 or more today!
Coupon excludes instant bonus items, hot deal items, and gift certificates.
Brunswick Fanatic
The Brunswick Fanatic bowling ball combines the I-Block Symmetric core with the Relativity V coverstock to offer a versatile ball. This purple/light blue ball provides great length with an angular backend reaction as well as strong hitting power. This ball is best used on medium to light oiled lanes.
Color: Purple/Light Blue

All colors do vary somewhat from the picture shown.

Coverstock: Relativity Max Reactive
Core: I-Block Symmetric (14#-16#)
Finish: 500 Siaair, Royal Compound, Royal Shine
Hook Potential: Medium/High 185 (scale: 10-250)
Length: Middle 130 (scale: 25-235)
Breakpoint Shape: Angular 120 (scale: 10-150)
RG: 2.540 (for 15# ball)
Differential: 0.052 (for 15# ball)
Recommended Lane Condition: Medium to Light Oil
A few tiny pit holes in the cover stock of the ball are normal
SKU: BRU60105818
Product ID: 10011
Brand: Brunswick
Category: Bowling Balls
Ball Performance: Upper Mid-Performance Balls
Back to Top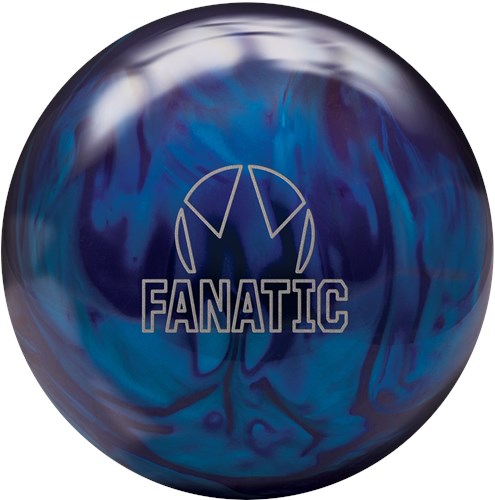 Similar Balls: Same Hook Potential, Lane Conditions & Coverstock as the Brunswick Fanatic.
6/30/2016
By
alex
from richmond va
Fanatic
Ball works very well some friction. Great ball for your regular house shot or when the track is fried . First night I took this to league I shot 277 the last game with it. Ball will always be in my bag for league night .

7/7/2016
By
Dave
from Bennington, VT
Bottom Line:
Yes, I would recommend this to a friend
Ball of the year!
Bowling Ball- Brunswick Fanatic
Coverstock- Relativity V Max
Factory Finish- 500 Siaair, Royal Compound, Royal Shine
Ball Layout- 65x4.75x35

The Brunswick Fanatic is a great all-purpose bowling ball that will fit really well on most medium oil patterns. The Fanatic is very clean down the lane, and responds extremely well off of the friction. I've had the Fanatic for a week now, and it rolls great on both wood and synthetic lane surfaces. I found the fanatic to be extremely good when the lanes started to transition. With the royal shine, the ball gets effortless length, but thanks to the core design, the ball makes a nice strong predicable backend motion. Compared to the Brunswick Danger Zone, I have the Fanatic just a bit cleaner down the lane, with more response to the friction. Compared to the Brunswick Melee Jab, I would say my fanatic is just a touch more predictable. Both the Jab and the Fanatic have a similar length, but the fanatic is just a touch smoother. The fanatic has already won me over, and I know that the ball is going to get back, and give me a great look to strike a lot on medium volume oil patterns. Make sure you check this one out July 12th!

7/15/2016
By
jmd878
from Baltimore
Bottom Line:
Yes, I would recommend this to a friend
Great Ball at a Great Price
I drilled my new Fanatic pin under to see how it rolled on a typical house patterns and to my surprise it worked extremely well. I had games of 257, 258 and 269 not bad for an all -purpose ball. The motion was easy through the fronts and very consistent and continuous through the pins. I would recomend this ball for anyone who wants a benchmark piece at a fair price.

Good Luck and keep hitting them hard
J. Dudley
Brunswick Regional Staff

"This review is my opinion and does not necessarily reflect that of the Brunswick Corporation."

7/17/2016
By
TB
from Reading, PA
The Fanatic is Fantastic!!!
I could not wait to get this ball once it was announced. The I block core is an absolute winner!! This ball is very clean thru the front part of the lane, picks up nicely in the mid-lane, and when it makes its strong continuous motion off the dry...watch out!! This ball sends pins like crazy! This ball should be the first ball out of your bag for your typical house patterns. Bowlers of all styles will find many uses for this ball. Another winner from Big B!!!!

7/22/2016
By
Charles W
from Grovetown GA
Pros:
Good length with controllable backend, Versatility
Cons:
None
Bottom Line:
Yes, I would recommend this to a friend
This ball is the perfect benchmark ball in the line
Brunswick Fanatic is a ball i have been waiting on for a long time. It's a polished version of the Brunswick Versa-Max. This ball gives outstanding length with a stronger backend motion than the Versa-Max. I drilled this one 30 x 4 3/4 x 70 just like my Versa-Max to give me that length with a smoother continuous motion in the backend. This ball is a must if you loved the Versa-Max, you will not be disappointed.

7/24/2016
By
cng260
from Greenville, SC
Pros:
Control, Length, Versatility
Bottom Line:
Yes, I would recommend this to a friend
Super Versatility and Great all Around Performance
Pin Length: 3.5

Starting Top Weight: 3 oz

Ball Weight: 15 lbs 3 oz

DRILL PATTERN

Ball: 60 x 5 x 35

X Hole (if there is one): small xhole low on val

BOWLER STYLE

Rev Rate: 375 rpms

Ball Speed:17.5 mph off hand

PAP/Track: 4 3/4 over 3/4 up

SURFACE PREP

Grit: 4000 Siaair with polish

Type: (Matte, Polish, Sanded): Sanded

LANE CONDITIONS

Lengths of patterns: 41 foot house

Volumes: Moderate

Type: house

BALL REACTION

Length: Clean through the front with a strong and smooth backend

Back End: strong arc

Overall Hook: moderately aggressive

Midlane Read: smooth with length

Breakpoint Shape: strong arc

COMMENTS

Likes: Length and predictable, strong backend motion

Dislikes: none

The Fanatic is a new controllable symmetrical ball featuring the core from the great C System Versamax. Many bowlers including myself have been hoping this core would return and it doesn't disappoint. It is about two boards straighter through the front and a foot or so longer than a Danger Zone. I can see this ball allowing me to stay closer to the friction on our house shot throughout this season. I also see the Fanatic being used on medium and shorter tournament patterns for long periods of time. The Fanatic is very versatile. I can change speeds and rotations and move throughout the lane. The Relativity V Composite cover should also enhance durability and extend the balls life span. Overall, this a great benchmark type ball that will perform for most bowlers on a wide variety of lane conditions.

8/4/2016
By
Kennon "Clark Kent" McFalls
from Charlotte, NC
Pros:
Great Color, Great ball shape, benchmark, versatile
Best Uses:
every time you bowl.
Bottom Line:
Yes, I would recommend this to a friend
Best benchmark ball on the market.
I love this ball. It allows me to hook it on the burn of a 48 foot pattern, and also allows me to have a smooth predictable motion when hit with surface. All around this will be the first ball out of my bag at every tournament.

8/4/2016
By
Kingofsqueeze
from Texas
Fanatic is great on any condition...
With my Fanatic I can move either outside straight up the boards on fresh or a short sport condition and it holds its energy. I love it.... Also, with the Fanatic with pin up 3-4 in pin I can play on just about any shot inside and I don't have to worry about not having enough to get back to the pocket. Great ball for just about any condition.

David Tullos

8/13/2016
By
Gabe
from san antonio,tx
Bottom Line:
Yes, I would recommend this to a friend
fanatic
This is a must have in your bag when you are going to bowl somewhere where you don't know what pattern is. It is going to be a reliable ball to read the lanes to let you know where you need to be playing on the lane.

10/1/2016
By
Ry
from Fort Wayne, IN
Pros:
CARRY IS PHENOMENAL, EXTREMELY VERSATILE, STRONG, CONTINUOUS, BUT PREDICTABLE BACKEND, WOW, EASY LENGTH
Cons:
NOT A THING!!!!!
Best Uses:
YOU NAME IT! ANYTHING BUT A FLOOD
Bottom Line:
Yes, I would recommend this to a friend
FAVORITE BALL OF THE PAST 5 YEARS!!!!
This ball has the C-System Versa Max core with an updated cover, and versatile is the key word with this ball! after 20 games on a variety of patterns I AM IN LOVE! Easy length through the fronts with such a strong move off the backend but so predicatable and readable. I have no worries about missing a little right with this ball with the recovery and hitting power of it.

Customer

Questions

& Answers

| Reviews
Question:
40ft synthetic Brunswick lanes, 7,8,9 board shot, need drilling for stroker
7/16/2016 - By
Fuzzy
Have an answer to this question?
Answer:
Hello! To get this ball drilled with us, you would need to know your exact measurements and enter them in when you select the customer drilling. If not, you can purchase the ball with us and then take it to be drilled at a local pro shop.
7/18/2016 - By
Bowling.Com Staff
0

of

0

customers found this answer helpful. Did you? Yes | No
Did you find this answer helpful? Yes | No
Thanks for your feedback!