Track Kinetic Black Ice
Track has created another mid-performance ball in the Kinetic line of bowling balls with the Track Kinetic Black Ice. This pearl bowling ball uses Track's Quick Response coverstock with the Shuttle core. The characteristics of this core help bridge the gap between symmetric and asymmetric cores. The Track Kinetic Black Ice offers length with a strong backend on medium oil conditions.
Color: Black Ice
All colors do vary somewhat from the picture shown
Core: Shuttle (16-14#)
Coverstock: QR-7 Pearl
Finish: 500, 1000, 1500 Siaair/Crown Factory Compound
Reaction: Length with strong backend
RG: 2.480 (15# ball)
Differential: 0.040 (15# ball)
Hook Potential: Medium
Length: Late
Recommended Lane Condition: Medium oil
Manufacturer's Warranty: 2 Years from Purchase Date
A few tiny pit holes in the cover stock of the ball are normal
SKU: TK60106728
Product ID: 13722
Brand: Track
Category: Bowling Balls
Ball Performance: Mid Performance Balls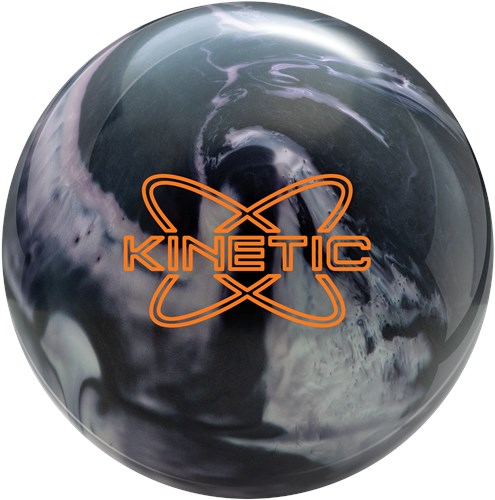 5/11/2022
By Lane Side Reviews from Ontario
Pros:
Fast response cover, stable core
Best Uses:
house shot, late on tournaments
Bottom Line:
Yes, I would recommend this to a friend
Late Hook / Friction Abuser
BUILT to tame the friction, this ball is perfect for late hook, or to abuse the friction you've created on the lanes. The cover is extremely fast response, so you can have confidence that when you throw it to the dry IT WILL SEE IT and HOOK!
Great for later when you have to move in!
5/5/2022
By Sweetpea Bowl from Worcester, Massachusetts
Bottom Line:
Yes, I would recommend this to a friend
Kinetic Black Ice
I have drilled a new Track Kinetic Black Ice. The Kinetic Black Ice features the same successful "shuttle core" found in the Kinetic Platinum. However, the difference between the Black Ice and the Platinum is that the Black Ice has a stronger cover- QR-7 pearl finished at Factory Compound. My "vitals" are a 405 rev rate with a PAP of 5 9/16 over and 1/8 up and tried on multiple fresh THS.I drilled mine with a 50 x 4 ¾ x 70 layout and threw it at box surface.

The intent of the Kinetic Black Ice was for it to be stronger down lane than the Platinum. In conformity with the intended purpose, compared to a similarly drilled Kinetic Platinum, I found that the new Kinetic Black Ice is about 2-3 boards left crossing the arrows and shows more motion off of the spot. I did a video on my Facebook page and the difference in ball motion is noticeable. If you liked the original Kinetic Platinum but looking for an option for higher volumes of oil, the new Kinetic Black Ice may well be your solution! I am definitely looking forward to adding this new Kinetic to the arsenal.

See your local pro shop for more information about the new Kinetic Black Ice by Track.

5/1/2022
By Bob Newman from Pacifica
Bottom Line:
Yes, I would recommend this to a friend
Track Kinetic Black Ice
The Track Kinetic Black Ice is another nice addition to the Kinetic line. It has the same time proven Shuttle core, but they have added a faster response pearl coverstock. I compared it to my Kinetic Platinum from last year and it read the lane a few feet earlier and is a bit stronger down lane. Overall, I would call it a good 4 boards stronger with my feet and 2 at the arrows. Very nice add.
4/22/2022
By Dave Han from Birmingham AL
Pros:
Good Mid Range motion
Best Uses:
THS, Medium sport patterns
Bottom Line:
Yes, I would recommend this to a friend
More than just skid flip
The Track Kinetic Black Ice is another pearl ball in the Kinetic line but does not roll like the Kinetic Platinum at all. In my opinion, I would compare the ball roll more to my favorite ball in the Kinetic line, the Emerald.

Mine was drilled 70x3.75x20, which is intended to maximize the skid-flip intention of the ball. However, in side-by-side comparison to the Black Widow Ghost, I found the Black Ice to pick up much earlier in the mid-lane with the OOB finish, and yet not sacrifice the backend motion I was looking for.

There's been a lot of buzz about this ball – and I foresee it doing very well for house shots and on medium sport patterns where you want something polished with a bit more grab in the mids. I highly recommend the Black Ice for your league & tournament bags.

Dave Han
Track Regional Staff
Vise Regional Staff

4/14/2022
By James from Maine
Pros:
Skid flip, medium oil monster, good length
Cons:
Light oil, super short patterns
Best Uses:
Good flipping asymmetric, medium and short sport patterns
Bottom Line:
Yes, I would recommend this to a friend
Track Kinetic Black Ice: Available 4-29-2022!!!
Here's a couple of quick hitters with the upcoming release from Track, the Kinetic Black Ice! The Quick Response cover, matched with the lower diff Shuttle core, bridge the gap between the world of symmetrics and asymmetrics perfectly for me.

I was able to shoot 746 my first three game set with this beast, it is a perfect fit between my Hammer 3D-Offset and the Radical Bigfoot. You can pre-order yours NOW from Bowler Builders Pro Shops, the WWRD is April 29th! Winter may be over, but you always gotta watch out for black ice! #trackbowling #kineticblackice #bowlerbuildersproshops
Video Submitted by Reviewer:
Customer Questions & Answers | Reviews
Thanks for answering another customer's question! Once approved it will be posted here.