Track Stealth
Track introduces the Stealth core in this upper-mid performance bowling ball of the same name. The Track Stealth solid reactive bowling ball features a core design that has a dense flip block on the bottom of the core. This design helps preserve the ball's differential numbers after drilling. Competitors desiring more from their symmetric ball will appreciate that the Stealth has a low RG and high diff combo. The Quick Response 9 (QR-9) coverstock offers more hook in oily lane conditions while also sustaining a powerful breakpoint reaction.
Color: Black
All colors do vary somewhat from the picture shown
Core: Stealth
Coverstock: QR-9 Solid
Finish: 500, 1000, 1500 Siaair
Recommended Lane Condition: Medium to heavy oil
Hook Potential: Medium-High
Length: Middle
Reaction: Strong midlane and backend
RG: 2.482 (15# ball)
Diff: 0.056 (15# ball)
Manufacturer's Warranty: Two years from purchase date
A few tiny pit holes in the cover stock of the ball are normal
SKU: TK60106769
Product ID: 13868
Brand: Track
Category: Bowling Balls
Ball Performance: Upper Mid-Performance Balls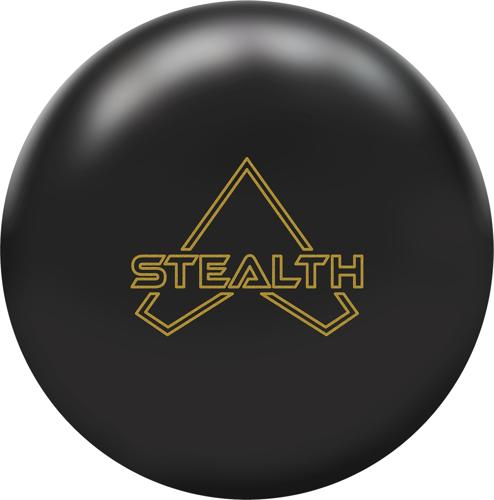 6/20/2022
By Dave Han from Birmingham AL
Bottom Line:
Yes, I would recommend this to a friend
Strong Symmetric Ball
The Track Stealth is a high-end symmetric solid in the Track line. It is definitely a strong overall ball motion.

Mine was drilled 50x4 7/8x15, which placed the pin well above my ring finger. The goal was to get a cleaner roll through the front part of the lane and still get a strong pickup in the mids/backend. What I found is that the out of box cover is so strong, that the layout did not matter, and it picked up too early on the house shot. Fortunately, the surface adapts to changes very well. I brought the cover up to 3000 abralon and got what I was looking for.

The Track Stealth will be 1st ball out of my bag on many THS conditions as well as sport shots that have volume. Plenty of surface changes to adapt to different conditions, but the strong ball motion will make this useable in many situations.

Dave Han
Track Regional Staff
Vise Regional Staff

6/17/2022
By Bob Newman from Pacifica
Bottom Line:
Yes, I would recommend this to a friend
Track Stealth gets 5 stars because they won't let me give 6. :-)
So I did an out of box video and didn't realize I had front 7. After the camera was turned off I threw 7 more before I had a flat 10. It is a strong symmetric solid that has continuation through the pin deck like an asymmetric. It just want's to carry from every angle. I shot an 11 strike 261 with it last night in league. The one big error was grabbing it and throwing it slow for a Greek church split. I also had trip 4's and messenger 10's and a few that were 10 back. :-) I wasn't sharp, but the ball made me look good. It is a couple boards stronger than my Brunswick Knock Out Black & Blue and finishes like my Columbia 300 Power Torq. It is the best of both worlds. It's already won on TV and honor scores are popping up every day already. This one is special.
6/17/2022
By Sweetpea Bowl from Worcester, Massachusetts
Bottom Line:
Yes, I would recommend this to a friend
Track Stealth
Here is my take on the new Track Stealth. The Stealth features a low RG/high diff symmetrical core with a QR-9 black solid cover. I drilled one with a 45 x 4 ¾ x 35 layout and threw it at box surface which is 1500 siaair. I have thrown it on THS and the 2022 PBA Chameleon pattern.
The motion from the Stealth I would characterize as a strong yet continuous motion. At box surface, the Stealth definitely requires some volume in order to get the ball through the front. Given my medium ball speed, I will likely being going over the ball with a 3000 siaair pad in order to make the Stealth more effective on our house shot which is lower in volume. However, when the Stealth picks up, it definitely has continuation. For those that have thrown the original black Brunswick Knock Out, the Stealth to me seems to be a little earlier and a bit smoother. While I have yet to change surface, my sense is that the Stealth, depending on surface prep, will be usable on medium to higher volumes of oil on medium to longer patterns.
See your local pro shop for more information on the new Track Stealth!

6/13/2022
By Mike Romero from Monterey, CA
Bottom Line:
Yes, I would recommend this to a friend
OMG!!!
OMG!!!! I love this ball! The Track Stealth has a great mid lane read and smooth ball motion. This allows me to keep the bowling ball in front of me and not have to swing it so much due to my high ball speed.

This ball certainly checked all the boxes. The stealth never lost energy as it hit the pins. The Track Stealth hits like a tank!!! You don't want to miss out on this ball! Layout: 55 x 4.5 x 30
Customer Questions & Answers | Reviews
Thanks for answering another customer's question! Once approved it will be posted here.