We'd like to offer you $5 off your purchase of $50 or more today!
Coupon excludes instant bonus items, hot deal items, and gift certificates.
Hammer Black Widow Red Legend
Hammer continues to make the stuff of legends. The Black Widow Red Legend takes the proven history of the Black Widow line and continues to turn it up a notch. This pearl ball creates length and backend like no other. Combine that with popular Gas Mask core and this is a ball that you will make your own legends with. This bowling ball is Carbon Fiber Infused! Carbon fiber is one of the toughest materials on earth. Hammer decided to add this material to the inner core of this ball for added strength and durability allowing them to offer an incredible 3 year warranty.
Color: Deep Red Pearl

All colors do vary somewhat from the picture shown.

Coverstock: NBT Pearl
Core: Gas Mask (includes Flex-Resin additive, Ceramix surface process, and Carbon-Fiber outer core)
Finish: 500, 500, 500, 1000 Abralon with Power House Factory Finish Polish
RG: 2.50**
Differential: .058**
** RG and Diff are based off of 15 lb. balls
Reaction: Strong mid-lane with aggressive backend
Hook Potential: High
Length: Medium
Recommended Lane Condition: Medium-Heavy Oil
FCC Rating: Total- 23.5, Finish- 7.25, Core- 8.75, Cover- 7.5
Manufacturer's Warranty: 3 year
A few tiny pit holes in the cover stock of the ball are normal
SKU: HAMHWBWRLEG
Product ID: 8785
Brand: Hammer
Category: Bowling Balls
Ball Performance: Upper Mid-Performance Balls
Back to Top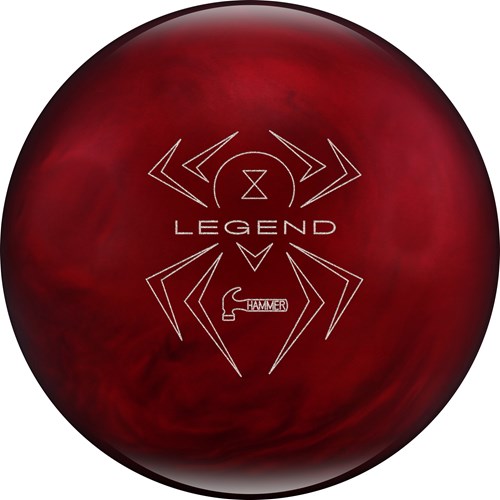 Similar Balls: Same Hook Potential, Lane Conditions & Coverstock as the Hammer Black Widow Red Legend.
2/16/2015
By
Sweetpea Bowl
from Worcester, MA
Pros:
Consistent reaction, Excellent Hit, Sharp looking
Best Uses:
Light Volume Patterns, Medium Volume Patterns, Suitable Many Styles, Variety Pattern Distances
Bottom Line:
Yes, I would recommend this to a friend
Legend Red...this Red Pearl STRIKES!
The new Widow Legend Red features the NBT Pearl cover along with the highly proven and successful "gas mask" core found on previous Widows and Taboos. Like with all current Hammers, the core is manufactured with "carbon fiber" and carries with it an industry leading 3 year warranty. The ball comes in a very sharp looking, polished red pearl color.
I drilled my Legend Red with a 65 x 6 x 75 layout, a layout that I have liked over the years in previous Widows/Black Taboos. I have thrown the ball on several different house shots and have always used the box surface.
The Legend/Legend Red combination reminds me so much of the original Black Widow/Widow Pearl combination...both highly successful balls from Hammer back in 2006-2008. The original Widow Legend has the same core but with the NBT Hybrid cover. By making a pearl version of cover, the specs sheet explains that the Legend Red should show additional length with additional recovery. In fact, the ball does exactly as advertised. The Legend Red shows more length and recovery than a similarly drilled/prepared Legend. I was actually amazed with the amount of ball motion I saw at the end of the pattern even with the weaker layout. As such, if you like the original Legend and are looking for a little more length for a drier pattern, the Legend Red will be your choice for certain. If you are bowling on heavy volumes, the original Legend or perhaps the new Bad Intentions by Hammer might be a better selection. The Legend Red shows excellent hitting power and ability to go through the pins consistently like with the original Legend.
As many already know, the "gas mask" core is very versatile and can be drilled to achieve many different ball reactions as well as suiting many different styles and rev rates. With the pearl cover, this ball will definitely be a huge asset on medium to lighter volume fresh patterns. Additionally, with this core/cover combination, I believe this ball will allow the player to chase the oil in and open up the lane. From all accounts, this ball is proving itself in the very short time it has been out on the PBA Tour.
The ball is a very sharp looking bright red pearl and will stand out when it is being thrown.
Be sure to see your local proshop operator about the new Widow Legend Red by Hammer.

4/14/2015
By
rustyb53
from Shreveport, LA
Bottom Line:
Yes, I would recommend this to a friend
Awesome Reaction
This ball has similar motion to the original Black Widow Pearl, but stronger on the back end. Mine is drilled with a 50 x 4.5 x 30 layout, and the reaction is great for my game. Really smooth through the mid part of the lane and holds a lot of energy to the pins. One of the best Hammer balls I have thrown.

4/21/2015
By
Bill G
from Trevose, Pa
Pros:
Great Powerful Right Fit
Great Bowling Ball
The first time I used this bowling ball in league play I rolled a 689 series. Nice break at the end of the lane. A nice power punch!

10/16/2016
By
KRB61
from Alex VA
Bottom Line:
Yes, I would recommend this to a friend
Worth every penny
When I first got this ball which I had drilled to be aggressive, I didn't like it at all ! It wouldn't move at all so I had to play it down the center and of course, that didn't work. My sons coach is a retired pro bowler and he told me I was muscling the ball and that was the whole problem. He instructed me to stand on the 20th board, look 1 board left of the second arrow and just use the normal downward motion in the swing and sure enough, the ball was moving perfectly ,and hooking into the pocket with great pin action. Time and time again, the ball went down the lane, curved into the pocket , & had tons of energy. Bottom line , don't muscle the ball ,use normal arm swing energy, let the weight of the ball do its thing on the down swing, roll the ball of the finger tips, pins will fly , and your score will go up and up.

5/11/2015
By
Dale
from Cleveland, Oh
Pros:
Great control
Cons:
Covering Easily Damaged
Best Uses:
Med Hvy Oily Lanes
Bottom Line:
Yes, I would recommend this to a friend
I love my hammer
novice league bowler, with an uncontrollable hook... My hammer red, has helped me get my book under control, and taking me from a 125 average to a hi game in the low 200's. I LOVE THIS BALL!!

6/8/2015
By
Tom
from Conway, AR
Bottom Line:
Yes, I would recommend this to a friend
Great ball
Just bought and bowled with the red legend. I loved the stable and predictable action of the ball. If I did my part and got the ball on my Mark it would take care of the rest. Excellent pin action. Pins just disappear when it hits the pocket. As the lanes broke down just minor adjustments to follow the oil and it kept on striking.

7/21/2015
By
GREENEFALLBACK
from GREENSBORO, NORTH CAROLINA
Pros:
Breaks Great, Looks Greatred Stock, Weght Is Perfect For Me
Cons:
Had To Change Cover Stock, Leaves The 10 Pin A Lot, Most Keep Spped Above 10
Best Uses:
Still Determining
Bottom Line:
Yes, I would recommend this to a friend
NOTHING HITS LIKE A HAMMER..WHEN IT HITS!
I LOVE THE WAY IT LOOKS AND THE WAY IT ROLLS DOWN THE LANES. HOWEVER I SEEM TO LEAVE A LOT OF 10 PNS WITH SOLID POCKET HITS. I HAD MY LOCAL PRO SHOP CHANGE THE COVER FROM THE FACTORY SETTING TO A DULLER LEVEL. RE-ADJUSTED MY FOOTNG AND RELEASE POINT AND GOT BETTER RESULTS. STILL WORKING THOROUGH "BETA" PERIOD. (16 LB BALL)

NORMALLY, I AVERAGE (175). LAST LEAGUE NIGHT I BOWLED TWO GAMES OF 199 AND 197. HOWEVER THE LAST GAME AGAIN I LEFT THE 10 PIN (8 )...TIMES. WITH SOLID POCKET HITS....SHOT 135?
HELP!

9/6/2015
By
unhappy bowler
from Grafton WI
Bottom Line:
No, I would not recommend this to a friend
7 months old and cracked like an eggshell !
waste of money !

9/18/2015
By
Slagny
from Buffalo, NY
Pros:
1st New Ball In Years, Does All I Expected, Great reaction
Cons:
Not Enough Games On It
Best Uses:
League
Bottom Line:
Yes, I would recommend this to a friend
Hammer products
This is a great new ball, lane conditions have changed so much in the past few years I wanted a ball that would react to them, Hammer has always produced good balls that are effective on all lane conditions and the "Legend" certainly proved itself.

11/14/2016
By
bowlerholic
from Dayton, Ohio
Pros:
Aggressive, Hits Great, Moves Beautifully
Bottom Line:
Yes, I would recommend this to a friend
I Love Hammer Bowling Balls!
I just purchased this ball and had it drilled tonight. I wanted an aggressive ball that hooks even in oil and this ball does exactly that. It's the best Black Widow I have ever owned!

3/2/2017
By
Jimmy Lanez
from San Angelo, Tx
Bottom Line:
Yes, I would recommend this to a friend
Nothing Hits Like A Hammer!!!
Nothing hits like a Hammer. This was my first upper level ball and I've bowled a 195 so far! A huge difference the low 130s to 160s with my Brunswick Rhino.

5/28/2017
By
The Old Dude
from Brunswick, Oh
Pros:
goes long and finshes strong
Cons:
ball is discontinued
Best Uses:
fairly down and in pattern, slight inside line
Bottom Line:
Yes, I would recommend this to a friend
great ball, strong finish
I throw the ball 13-14 MPH, ball I had didn't finish strong enough and left corner pins.
This ball had much more back end finish and gets those corner pins out.

Customer

Questions

& Answers

| Reviews
Question:
what core is used on a 12# Hammer Black Widow Red Legend ?
3/31/2017 - By
Gman775
Have an answer to this question?
Question:
Do u have one 14 lb 2oz 3-4 in pin 3oz top
5/5/2017 - By
Ld
Have an answer to this question?
Answer:
Hello. You can click to request this information in the blue box under the weight selection tab where it says "click to request pin/top weight".
5/5/2017 - By
Bowling.Com Staff
0

of

0

customers found this answer helpful. Did you? Yes | No
Did you find this answer helpful? Yes | No
Thanks for your feedback!
Question:
What are tha advantages of the Code Black
8/12/2017 - By
Jim
Have an answer to this question?
Answer:
For the Code Black this high torque, high differential core technology was very successful internationally so Storm is introducing it to the US through this high performance bowling ball. This core is paired with Storm's proven R2S Pearl Reactive coverstock and finished with a 1500 grit polish. This combination causes the ball to glide through the front part of the lane then create the unique breakpoint shape and backend reaction that Storm is known for. The Code Black will be more aggressive because it is a high performance ball.
8/15/2017 - By
Bowling.Com Staff
0

of

0

customers found this answer helpful. Did you? Yes | No
Did you find this answer helpful? Yes | No
Thanks for your feedback!