Take $5 off your purchase of $50+ today!
Coupon excludes instant bonus items, hot deal items, and gift certificates.
900Global Volt Solid
The 900Global Volt Solid upper-mid performance bowling ball uses the S72R Solid coverstock which has been modified to take on more oil and increase traction. The Charged Symmetric core used in this ball has a distinguished design that causes the ball to store energy for the backend. The Volt Solid offers a controlled and powerful reaction all the way down the lane when faced with medium to heavy oil conditions.
Color: Neon Green
All colors do vary somewhat from the picture shown
Coverstock: S72R Solid
Core: Charged Symmetric (14#-16#)
Finish: 2,000 Abralon
Length: Middle
Recommended Lane Condition: Medium to Heavy Oil
RG: 2.56 (for 15# ball)
Differential: 0.047 (for 15# ball)
A few tiny pit holes in the cover stock of the ball are normal
SKU: GLBBMGVS
Product ID: 12546
Brand: 900 Global
Category: Bowling Balls
Ball Performance: Upper Mid-Performance Balls
Similar Balls: Same Hook Potential, Lane Conditions & Coverstock as the 900Global Volt Solid.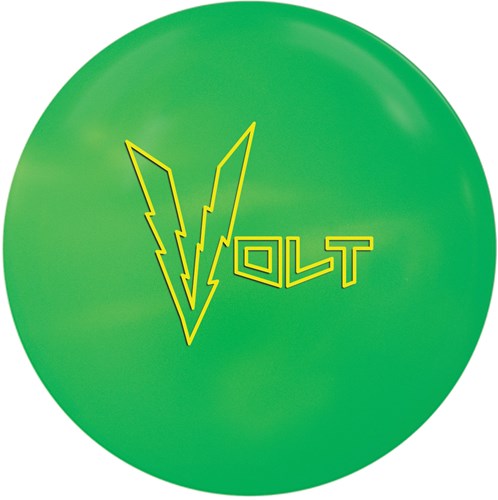 6/18/2020
By Joshua Bowen from Clarksville, Indiana.
Bottom Line:
Yes, I would recommend this to a friend
strong ball.
This is a great strong ball for a medium- heavy oil patterns.
Video Submitted by Reviewer:
4/3/2020
By Brandon Cordle from Wyandotte Michigan
Bottom Line:
Yes, I would recommend this to a friend
Can't get enough of this ball
First ball out of my bag. Works great in oil and in transition! Very predictable motion and versatility.
4/3/2020
By Rick from Penndel, PA
Bottom Line:
Yes, I would recommend this to a friend
The Volt Solid! Yes indeed!
Volt Solid • Prime • 800 Series
Coverstock • S72R Solid
Finish • 2000 Grit Abralon
Core • Charged Symmetric
RG • 2.56
Differential • 0.047
Layout • 70 x 4 ½ x 25
Tester • PAP 4 ½ R x ½ D
Lane Conditions •Med-Heavy Oil
The Volt Solid was a pleasant, welcomed surprise for me! Out of the box, this ball had its own unique character that stood out! Let's take a look!
Being a high-speed, low-rev player, symmetrical weight block balls can be a bit finicky for my game. However, the Volt Solid gave me a look I don't normally see from symmetrical weight blocks. "The Charged" core retained a lot of energy throughout the lane. It had a smooth and controlled motion, yet hit with authority while maintaining strong continuation through the deck. In fact, the only "roll out" I encountered was all operator error.
The S72R solid coverstock formula is a fantastic mixture! I took the box 2000 grit finish to a fresh THS and was able to have a smooth, inside look early on and enjoyed a sustaining motion well inside of the 10 board during league play most of the night. The cover likes oil! And it was evident when I took the cover down to 1000 for a medium-oil junior gold pattern. It provided excellent traction and predictability off the pattern. It gave me a motion I could trust and depend on even when my form wasn't at its best. I would highly recommend this ball to youth and collegiate tournament players transitioning from THS to Pattern bowling for that very reason.
In conclusion, the Volt Solid is an excellent ball. It's predictable and continuous even for high-speed low- rev players. It's dependable and consistent on med-heavy oil volumes and it hits with authority, clearly making this the first ball out of your bag. This ball is seriously worth the look! Check out yours today.
Rick Klimowicz
900 Global Regional Staff Member
Penndel, Pa
3/18/2020
By Stan from Dover, DE
Volt Solid
Volt Solid
Ball Specs
Cover Stock: S72R Solid
Finish: 2000 Abralon
Core: Charged Symmetric
Color: Neon Green
Layout: 50 x 4 3/4 x 40
RG: 2.56
Differential: 0.047
Intermediate Diff: N/A
Review
The Prime 800 Series Volt Solid features the S72R Cover Stock and the Charged Symmetric Core used on the Volt Pearl. However, we have added a catalyst to the mixture that will increase traction in the oil. As a mid to low rev player the Volt Solid allows me to move deep inside with a strong reaction and continuation through the pins. This ball will be great on medium to heavy oil patterns. My ball layout is 50 x 4 3/4 x 40. This ball was tested on a THS 41 Feet. This is a great ball to have in your bag, get one today! My ball review videos are posted on YouTube channel Stanley Waite.

Stanley Waite
900 Global Staff Member
Dover, DE
3/8/2020
By Mike from York, PA
Bottom Line:
Yes, I would recommend this to a friend
Great First Ball Out of the Bag!!!
Volt
Coverstock: S72R Solid
Finish: 2000 Grit Abralon
Core: Charged Symmetric
RG: 2.56
Differential: 0.047
Layout: 55 x 4 1/2 x 55
Tester: PAP 5 1/2 R, 1 1/2 D
Review:
The Volt Solid features the same core that the original Volt featured with a cover that is optimized with a new catalyst to handle more oil. This ball will be a great symmetric option for fresher lanes when you need something earlier and smoother off the spot. Look to use the Volt Solid on flatter tournament conditions when you want to keep your angles closed down and be a little more direct.
The aspect I liked the most about this ball is the predictable look I was able to see down the lane. On a fresh White #2 pattern, where the lane pattern transitions quickly, I was able to simply bump further in and not lose carry with the Volt Solid. This one performs as advertised for a nice starter ball out of bag for your medium to slightly more volume conditions.
The Volt Solid and the Volt (2019) make a nice one/two combination if you are looking for two great symmetric choices in the bag. Grab the Volt Solid today! Be sure to follow my ball videos on YouTube channel Michael Slatky.
Michael Slatky
900 Global Regional
Staff Member
York, PA
Customer Questions & Answers | Reviews
Thanks for answering another customer's question! Once approved it will be posted here.