Take $5 off your purchase of $50+ today!
Coupon excludes instant bonus items, hot deal items, and gift certificates.
900Global Aspect Solid
The 900Global Aspect Solid upper-mid performance bowling ball introduces the S77 Response Solid coverstock and combined it with the geometrically balanced Reflector Symmetric core. This ball was designed to offer control on medium-heavy oil. The cover creates more friction and the core gives a strong and stable reaction all the way down the lane. The 900Global Aspect bowling ball is ideal as a benchmark ball or a go-to ball when the lanes start to transition.
Color: Blue/Steel/Orange
All colors do vary somewhat from the picture shown
Coverstock: S77 Response Solid
Core: Reflector Symmetric (14#-16#)
Finish: 3000 Abralon
RG: 2.51 (15# ball)
Differential: 0.048 (15# ball)
Length: Middle
Recommended Lane Condition: Medium to Heavy Oil
A few tiny pit holes in the cover stock of the ball are normal
SKU: GLBBMGAS
Product ID: 12962
Brand: 900 Global
Category: Bowling Balls
Ball Performance: Upper Mid-Performance Balls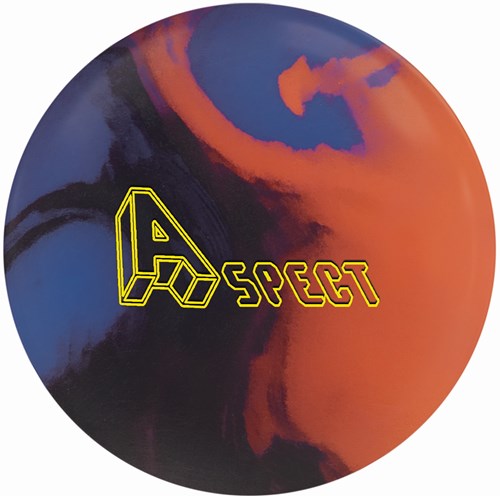 12/7/2020
By Todd P from Bay City, MI
Bottom Line:
Yes, I would recommend this to a friend
Very impressive ball!
What a great ball, especially on heavier oil. Leagues or different tournaments with different oil patterns, its a great ball to start with indeed! I'd leave the ball right out of the box indeed. If you need it to hook a little more you can hit it with a dry pad maybe 2000. It will lane shine back up, so its pretty nice indeed!
11/14/2020
By Donny Carr from Laurel Maryland
Bottom Line:
Yes, I would recommend this to a friend
Perfect benchmark ball
The 900 Global Aspect
If you are looking for a benchmark ball and you're not sure what to decide on, the 900 Global Aspect
should be your choice. The S77 response solid cover is perfect for getting a read on the lane pattern, and in many cases, there is no need to switch to another ball. It is a perfect blend of skid, hook, and roll, it does not over or under react on most patterns. Slower speed bowlers 17mph or less can use the aspect on slightly heavier oil volume. It is the first ball out of my bag to get a read on the pattern or to stay with it. For higher speed bowlers I would say drill the Aspect with little stronger layout, consult your pro shop
operator. For medium to low speed bowlers drill the Aspect with a medium layout. Take the guess work out of reading lanes get your 900 Global Aspect asap.
Donny Carr, 900 Global Staff
900 Global Striking Worldwide
10/25/2020
By Colton Riddle from Akron, OH
Bottom Line:
Yes, I would recommend this to a friend
Perfect Benchmark Solid
The Aspect from 900 Global is my new favorite ball. It is always the first ball out of my bag, this is my idea of a benchmark ball. The Aspect reads the midlane very well, but is also continuous and drives all the way through the pin deck. If you're looking for that first game solid that is controllable and doesn't overreact, then the Aspect is the perfect ball.
9/17/2020
By Rick from Penndel, Pa
Bottom Line:
Yes, I would recommend this to a friend
The 900 Global as is the Benchmark Ball!
Prime • 800 Series• Aspect
Coverstock •S77 Response Solid
Finish•3000 Grit Abralon
Core • Reflector Symmetric
RG •2.51
Differential• 0.048
Layout •75 x 4 1/2 x 20
PAP• 4 1/2 R, 1/2 D
900 Global has released its debut of the all new Aspect. With a brand new coverstock formulation and geometrically balanced symmetric core, the 900 Global Aspect is a definitive winner! Let's take a closer look.
The all new Reflector Symmetric Core actually merges two asymmetric cores together making this symmetric beauty a brilliant combination of dynamic strength and smooth stability in all phases down the lane. Also, while enjoying the predictability and smoothness this core provided, I noticed something quite unique to this symmetric core. It had a "fiery" response when it made its turn to the pocket. Being a straighter player and rev challenged, I welcomed this core's ability to retain its energy and yet still hit with authority. I had quite a few delightful smiles watching those "bad raps" turn into strings of strikes!
The S77 Response Solid Coverstock is a new formulation and I loved the friction it created! Whether on a THS or short-medium sport patterns, the cover blends effortlessly throughout the lane. On a THS, I found this cover was able to equalize those spotty and carry-down conditions you encounter following plastic balls and later night conditions. Further, I actually enjoyed moving in with confidence while staying out of the wrath of urethane. For a straighter and lower rev player, this was a much welcomed result.
In conclusion, the all-new 900 Global Aspect is a crisp and reliable new addition to the 900 Global revolutionary line-up. With the development of Reflector Symmetric Core and S77 Response Solid Coverstock the Aspect is the benchmark ball of choice and an asset to any arsenal in different conditions. See your local pro-shop operator and have yours drilled today. "Welcome to the Revolution!"
Rick Klimowicz
900 Global Regional Staff Member
Penndel,
8/27/2020
By Stanley Waite from Dover, Delaware
Bottom Line:
Yes, I would recommend this to a friend
Aspect
Aspect
Ball Specs
Cover Stock: S77 Response Solid
Finish: 3000 Grit Abralon
Color: Orange/Blue/Gray
Core: Reflector Symmetric
Layout: 75 x 4 1/4 x 40
RG: 2.51
Differential: 0.048
Review
The Prime 800 Series ALL NEW Aspect features the brand new S77 Solid Coverstock combined with a geometrically balance symmetric core. The Reflector core utilizes two asymmetric halves merged into one to create a symmetric core. I tested the ball on a 42 feet THS with 26.8 mls. As a medium to low rev player, I see this ball being great on medium to heavy patterns. I was able to play in the track area and deep inside without any loss of ball reaction or pin carry. This ball stands up in the midlane with a strong finish on the backend. My ball is drilled with the pin stacked over the ring finger. The Aspect is a must have for league and tournament bowlers. Now available for preorder at your local pro shop! My ball reviews are posted on YouTube channel Stanley Waite.
Stanley Waite
900 Global Staff Member
Dover, DE
Customer Questions & Answers | Reviews
Thanks for answering another customer's question! Once approved it will be posted here.