DV8 Collision
The DV8 Collision is a high-performance polished hybrid bowling ball that performs as good as it looks going down the lane. This ball introduces us to the Collision core and combines it with the Inciter Max Continuation coverstock which creates length with the strong backend motion that bowlers desire. The components of this ball make it ideal for medium to heavy oil conditions.
Color: Pink/Silver/Black
All colors do vary somewhat from the picture shown
Core: Collision
Coverstock: Inciter Max Continuation Hybrid
RG: 2.462 (15# ball)
Diff: 0.052 (15# ball)
Finish: 500, 1000, 1500 Siaair/Crown Factory Compound
Hook Potential: 305
Length: Middle
Reaction: Length with strong backend
Recommended Lane Condition: Medium to heavy oil
Manufacturer's Warranty: Two years from purchase date
A few tiny pit holes in the cover stock of the ball are normal
SKU: DV60106640
Product ID: 13661
Brand: DV8
Category: Bowling Balls
Ball Performance: High-Performance Balls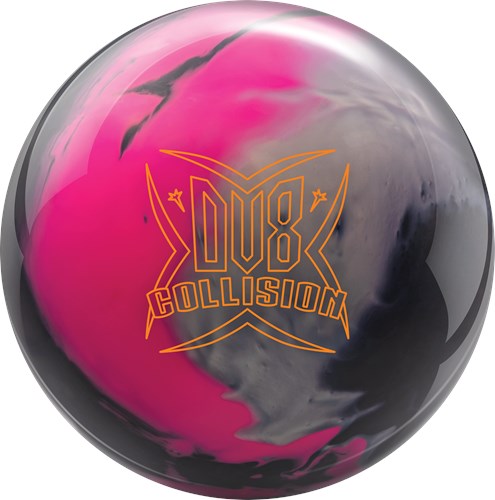 7/6/2022
By Bre from Bowie,MD
Pros:
Strong backend, strong mid-lane
Best Uses:
Transition, medium oil patterns
Bottom Line:
Yes, I would recommend this to a friend
HOLY BACKEND
This ball caught my immediately because of its strong backend. I am personally a huge fan of hybrids and this one nails it on all levels. The ball gets through the front well, reads the mid-lane, and provides a quick change of direction for perfect angular entry to the pocket. I love the shape of it and a plus is how it looks going down the lane.
6/8/2022
By Sweetpea Bowl from Worcester, Massachusetts
Bottom Line:
Yes, I would recommend this to a friend
DV8 Collision
A little late to review the new DV8 Collision. Mine is drilled 60 x 4 1/2 x 20. I have tried it on THS and 2022 PBA Salvino. At all times I've thrown it at box surface which is Crown Factory Compound.
The intent was length with a strong backend motion on medium to heavy volume patterns. The new asymmetric hybrid Collision by DV8, for me, offers a unique ball motion. What's interesting is when I threw the ball on THS, when I would throw it to the dry with my normal release, the ball was a bit "touchy" and would flatten out at the pocket. However, when I would move in on the oil, tighten my angles a bit and increase rotation, the DV8 Collision looked much better. In fact, on the Salvino pattern which is a longer , higher volume pattern, the Collision looked excellent. The Collision did not over skid and carried many off hits with the increased rotation and tighter angles. So, from what I see, the Collision might be a little more condition specific but in the right environment (medium/higher volumes with tighter angles) the Collision will definitely excel. This is the same ball that tied the Worcester County series record a month ago- 868.
See your local pro shop for more information on the DV8 Collision.
6/6/2022
By Tommy P from Toledo, OH
Pros:
Strong, down and in, whole lane
Bottom Line:
Yes, I would recommend this to a friend
Versatile ball
Such a great ball! Very under rated! I have not met a person that didn't love the DV8 Collision. For me this is my normal benchmark ball to read the lanes during practice. More times than not I stick with the ball for the first few games if not the entire set. I can play down and in with this bad boy or i can slow it down a little bit and play the entire lane. I truly love this ball and recommend it to every level of bowler. This is a must have in your bag!
3/19/2022
By Joe from Discovery Bay, CA
Bottom Line:
Yes, I would recommend this to a friend
Surprisingly Good!
Continuous……Strong……..Versatile………Exactly what every player wants to see out of a bowling ball and this one has all three. I added a bit of surface to the ball to tame down the movement and once I did that, it has been a go to on a wide variety of patterns.
3/7/2022
By Scott from Allen, TX
Pros:
Strong Continuous Hybrid
Best Uses:
Medium to Heavy Oil
Bottom Line:
Yes, I would recommend this to a friend
Great Strong Hybrid Rounded Motion
This ball is much stronger than I had anticipated. Being a hybrid, you get the best of both worlds. Really good traction in the midlane like a solid, and still retains enough energy downlane like a pearl. A great ball to start with to read the lanes. For me with above average rev rate but not crazy high speed, this coverstock really needs to see some oil or else it's been too strong, but man when there is a little oil this ball is great. Mine is drilled 65 x 3.5 x 25. Hits hard and the continuation through the pins is among the best I've seen, it just keeps going.
5/11/2022
By Lane Side Reviews from Ontario
Pros:
Great on House shots
Bottom Line:
Yes, I would recommend this to a friend
Skid Snap Hybrid with some hook
It's a great addition to the DV8 Line. A Hybrid with some shine Out of the box for some length. You can sand this and really make it hook!
Customer Questions & Answers | Reviews
Thanks for answering another customer's question! Once approved it will be posted here.